Gray's B 400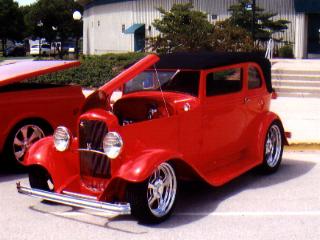 In 1932, Ford Motor Company introduced a body style that would later be sought after by many street rod builders because of its style and elegance. The B 400 is a convertible sedan body style that offered its occupants the roominess of a sedan with the sportiness of a drop top.
The B 400 featured on this page was built by Gray's Garage of Metamora,Il. Everett and Chuck Gray through the years have developed a certain build style that's exclusively all their own, and once again displayed it in their latest creation.
A casual observer might wonder while inspecting this street rod if the original flat head still powers it down the road. "NO WAY!" Everett likes horsepower and what better engine than the 4.6 32 valve Cobra power plant for the replacement of that tired flat head. This Cobra power plant transmits its power to a Tremec 5 speed and a fully independent Jag rear end. Check out the wild Everett Gray inspired wire covers sitting on top of the valve covers. We (J&B Microfinish) designed and manufactured these covers complete with the V-8 script and swoopy ball-milled line configuration.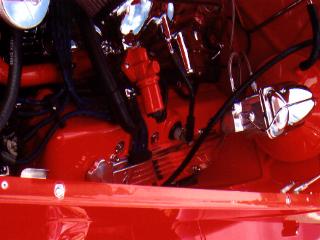 The body work and paint on this classic rod is flawless as usual. Starting with a sedan body, master metalman Walter Kowalski of Canada converted it to a B-400 body style. Needless to say, the results speak for themselves.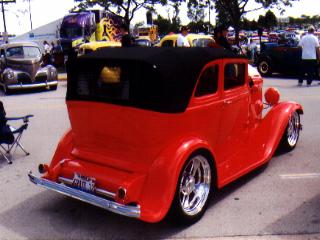 Looking inside to the interior you will notice a McFall's interior, stitched using top grade leather. The upholstery again exhibits the quality this shop is know for. Jim McFall and his crew also get credit for the stitchwork of the convertible top. Our (J&B Microfinish) solid billet steering column dress up kit was used by Everett to add finish and detail to the steering column.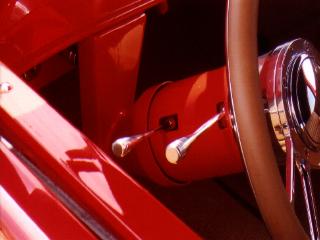 This B 400 has gathered much attention at various gatherings and local cruise nights this past summer. At the Pueblo, Co NSRA event this magnificent machine was awarded a "Pro's Pick" and at the Des Moines GoodGuys event this street rod was given the "Best Bitchin" award. In addition to these it was also awarded the "Rodder's Digest Award" at the "Shades of the Past" Rod Run in Pigeon Forge, TN. In addition to a full feature in the March 2005 edition of Street Rod Builder and a front cover on the January 2006 edition of Super Rod, Street Rodder, NSRA Streetscene, Rodders Digest, The Goodguys Gazette and Street Rod Builder have displayed this fine Ford.
Once again Gray's Garage has built a high profile rod for the masses to admire. There's more to come from this shop, so stay tuned.