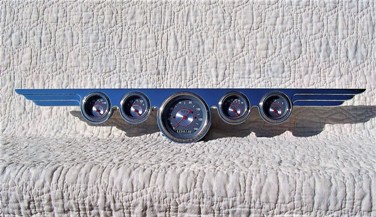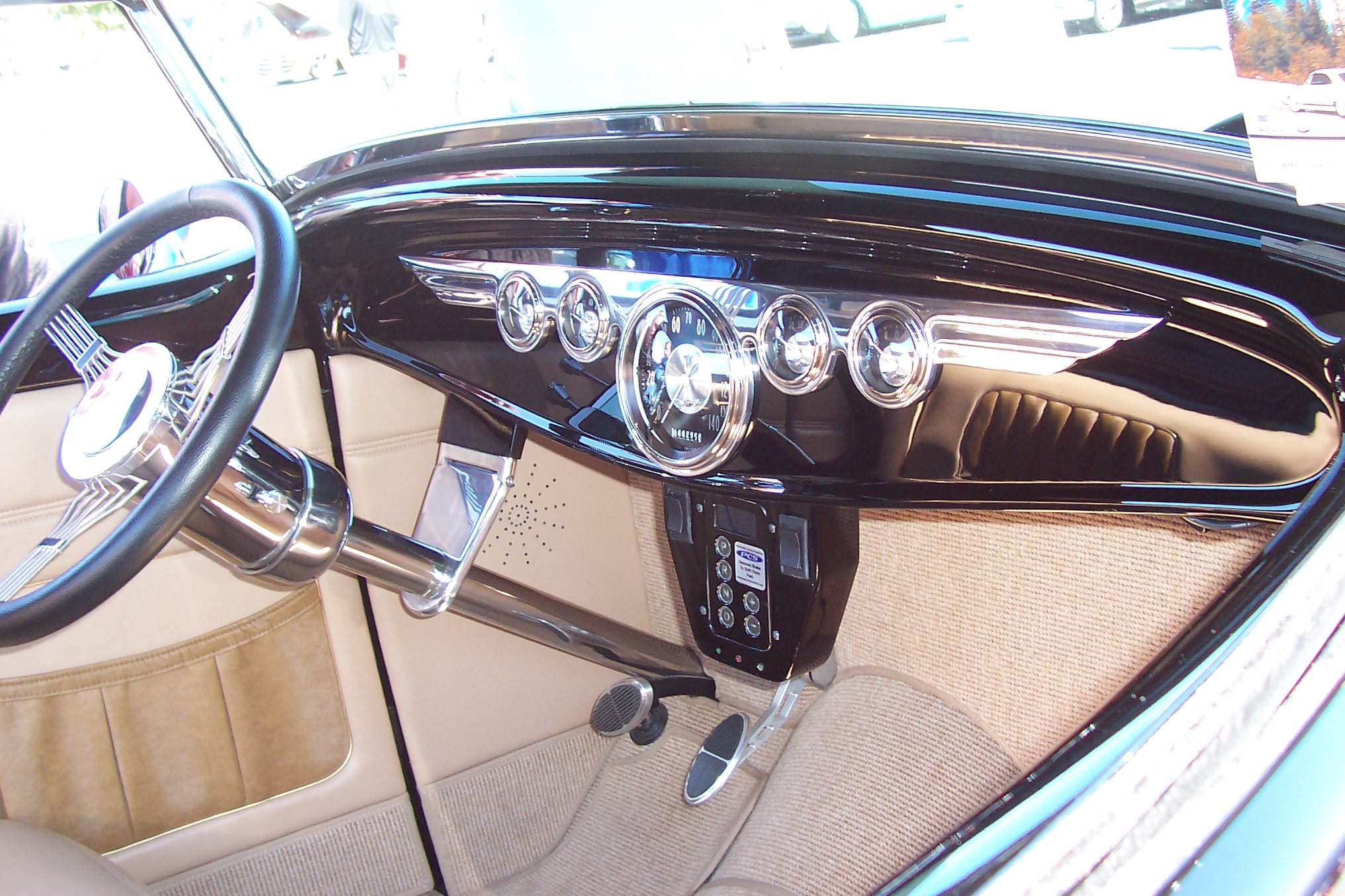 #1620 - "All American II"
With the popularity of our "All American" line up in full swing, we are introducing a new design of 5 & 6 hole panels, with a step milled wing tip that takes a traditional look to a different level. As with all of our dash panels, we will custom machine the gauge bores to accept any after market gauge on the market, (please specify size and manufacturer when ordering) Get yours today!

5 hole dash panel (4 3/16" tall x 27" long) $209.95
6 hole dash panel (4 3/16" tall by 31" long) $259.95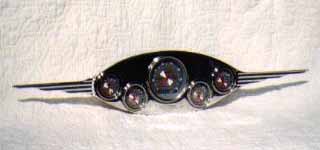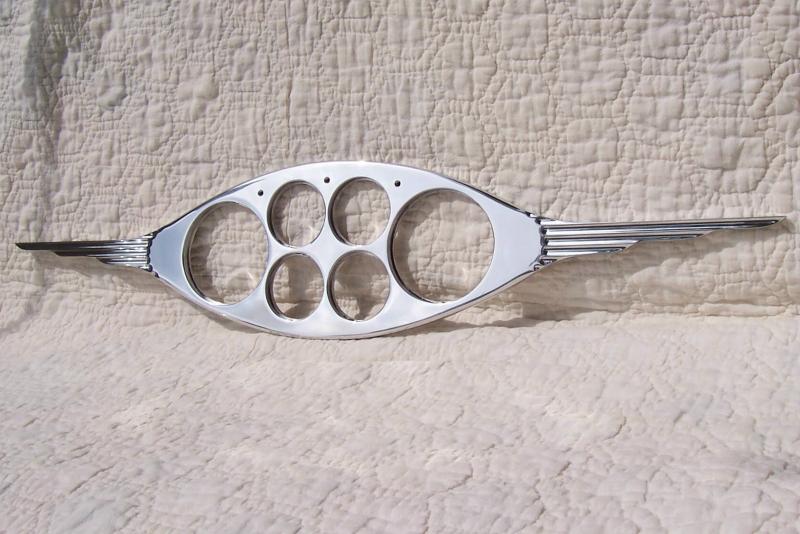 #1577 - "All American Dash Insert"
Hot off the milling machines of the J&B Microfinish shop floor is this brand new dash insert named the "All American". Designed with nostalgia in mind, this insert uses styling cues from both a 1932 Ford and a 1937 Hudson Terra Plane. The 6061-T6 billet insert comes standard with gauge bores that will accept all of the gauges offered by Classic Instruments. Custom sized bores for other brands are also available. The "All American" is a 5" wide and 26 3/4" long and is 1/4" thick. Stainless mounting screws are supplied with this insert. The dash was featured in the October 2003 and January 2005 editions of Street Rodder Magazine, the November/December 2004 edition of Southern Rodder Magazine and the October/November 2004 issue of Northern Rodder. Set your dash apart from the rest, get your "All American" today.
Polished:
$169.95 for a (5)hole dash
$199.95 for a (6)hole dash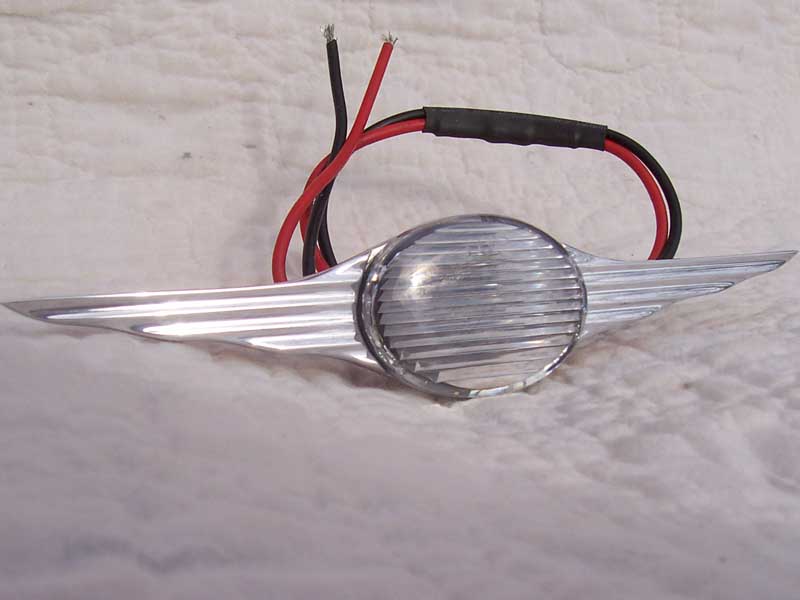 #1593 "All American" Interior Lights
Looking for a way to add more visibility to an otherwise darkened location of your interior and trunk area in your latest project? Well J&B has the solution for you. This new product, designed with the "All American" theme in mind comes complete with a lens that reflects the light rays downward, so this feature makes this product perfect for lower door, kick panel and trunk applications. .
The All American Interior Light kit comes complete with all necessary stainless steel mounting hardware. The light itself has a replaceable bulb so that when it burns out a replacement can be found at a local auto parts store.
Polished: $74.95 each
Brushed: $69.95 each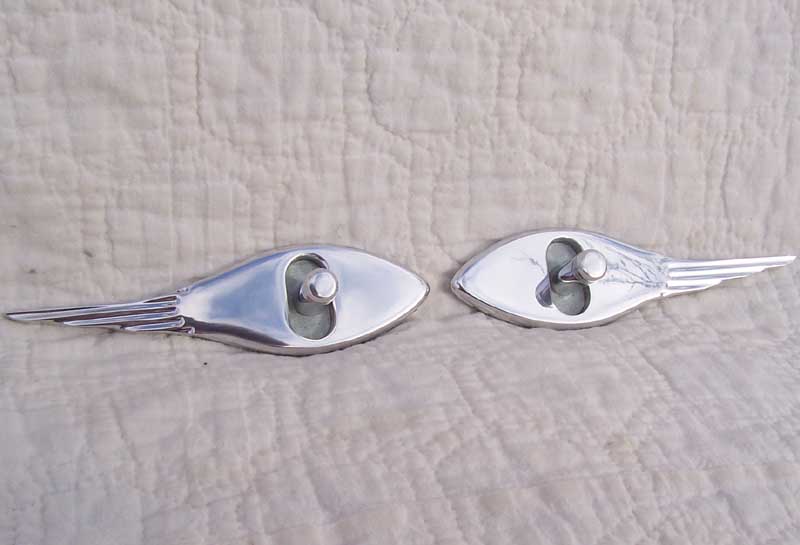 #1592 "All American" Door Latch Knobs & Trim
The All American Door Latch Knob & Trim package has been created to compliment any interior, especially when used with our other All American pieces. This kit comes complete with 3" long "" threaded rods to attach to your latch mechanism, as well as the necessary stainless hardward to fasten to your door.
Polished: $89.95 pair
Brushed: $79.95 pair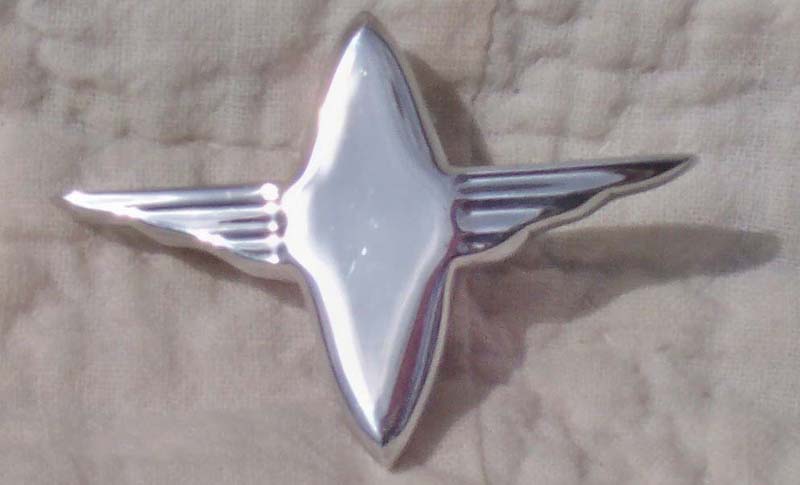 #1590 - All American Billet Seat Medallion
Keeping with the All American theme, we are introducing a winged, oval seat medallion that is sure to compliment the interior of your latest rod, custom, pro touring or classic truck. This product, one of a family of pieces, is designed to create a sense of symmetry in the final layout of your interior. If you already have a theme in place for your hot rod and would like to custom design your own shape, just give us a call and we will custom make whatever you need. Seat medallions come complete with stainless installation hardware.
polished or brushed $29.95 each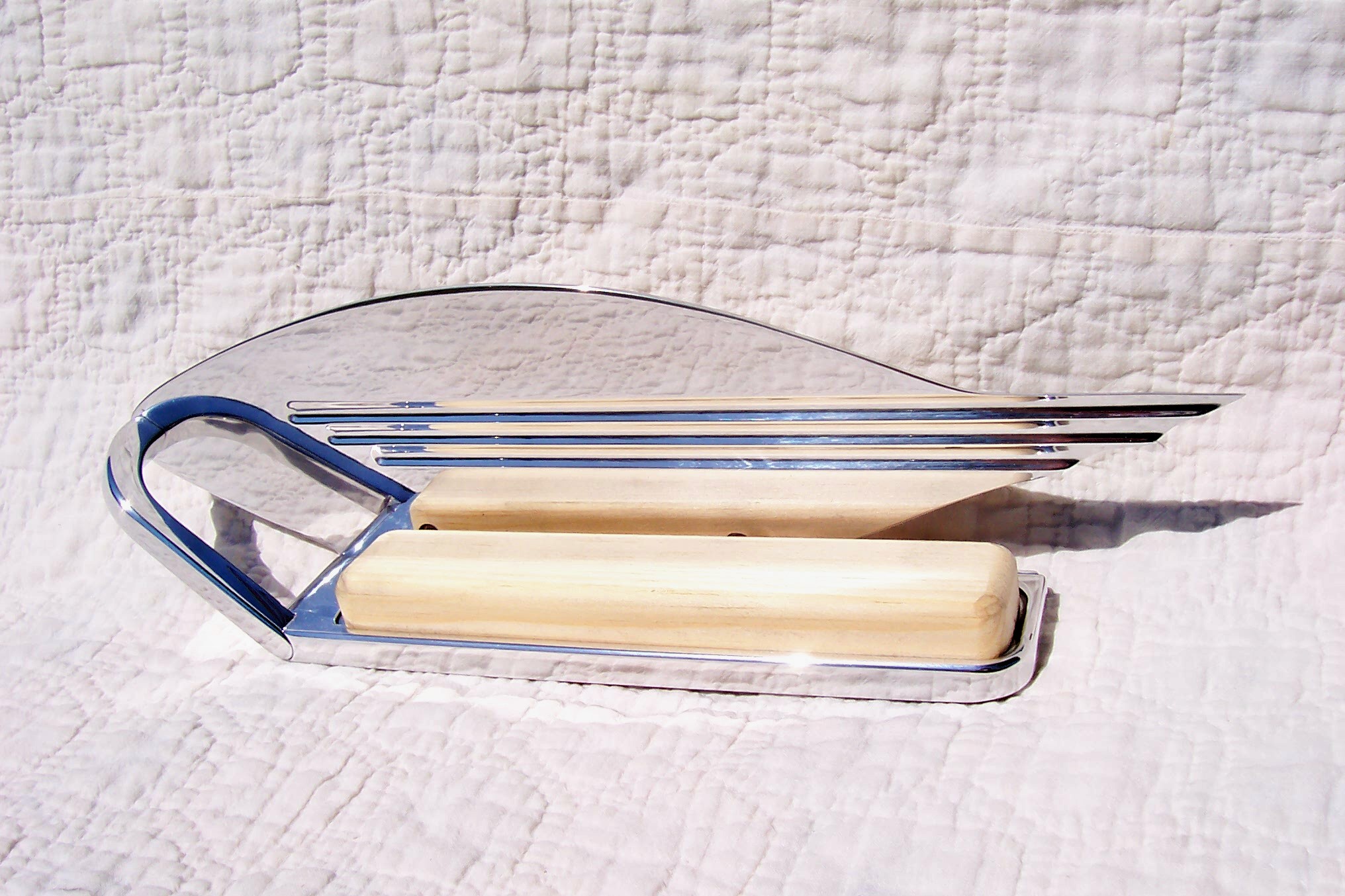 #1582 - All American Door Handle/Arm Rests
If uniformity in interior design is what you are looking for, this product is for you. These All American Door Handle/Arm Rests match the All American Dash Insert above in shape. Created to have timeless design, here's a product to give your interior the extra "pop" it needs. This product, along with one of our 6-hole "All American" Dash Inserts has been selected by the crew at "Street Rods by Michael" to grace the interior of the 2007 NSRA Giveaway Car.
Polished: $179.95 pair



#1587 - All American Power Window Switch Trim
Are you tired of looking at the same old rectangular or oval switch trim when you look at the interior of today's hot rods? Well, here's a product that can change that same old look. This new product, designed to have a "Deco" theme displays the same shape as our All-American dash insert and arm rests. When designing a family of accessories such as these, a sense of symmetry and uniformity is developed, allowing the builder to take the guess work out of selecting parts and pieces that he or she hopes will match. This product is now available with billet switches or black ABS luminated switches. Either way, this product comes with all the necessary hardware such as a wiring harness, terminals and instructions. Switch trim is available in polished finishes only.
DUAL SWITCH KIT FOR DRIVERS DOOR-SINGLE SWITCH KIT FOR PASSENGER DOOR
#1587A: ABS (Black) 3 Switch All-American Trim package $189.95
#1587B: Billet 3 Switch All-American Trim Package $279.95
SINGLE SWITCH KIT FOR DRIVER & PASSENGER SIDE DOORS
#1587C: ABS (Black) 2 Switch All-American Trim Package $169.95
#1587D: Billet 2 Switch All-American Trim Package $239.95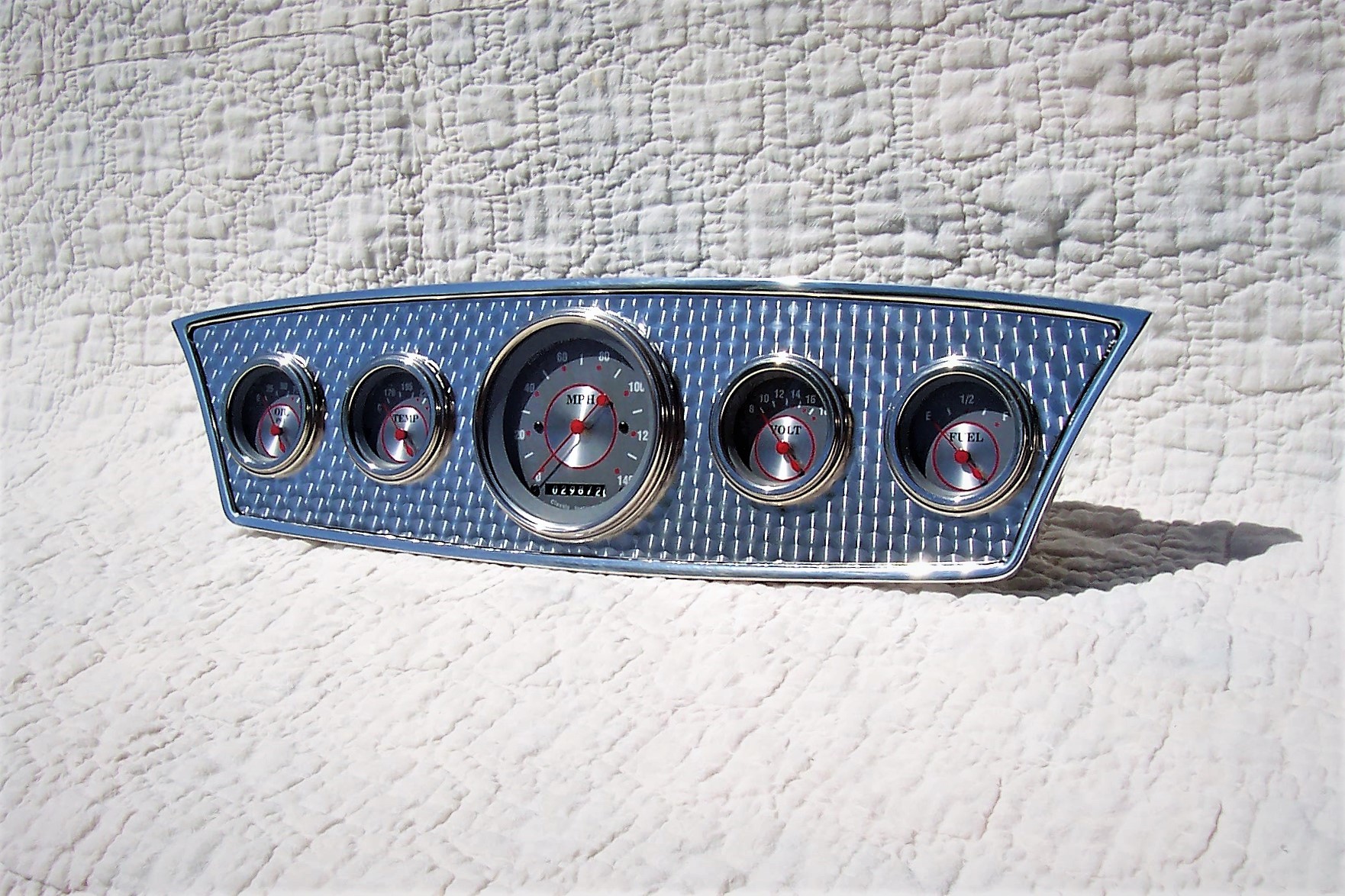 #1630, #1631, #1632, #1633 Traditional Dash II
With tradition as one of the prime considerations for the design of our product line, here is a dash panel that displays the traditional appeal that many are seeking currently. We've designed this panel to have several options. The top of the line option is an engine turned inset panel. Another option is either a polished or brushed inset panel (please specify when ordering). We can also provide the inset panel unattached to the outer panel, so if painting or plating of either panel is to be accomplished, it will make this process possible (also specify when ordering). Shown in the photo above is a 5 hole panel, we also provide a 6 hole panel for those who want a tach or another instrument located in the panel of choice. This panel will accept all 2 1/16", 2 1/8", 3 1/8" & 3 3/8" gauging from all manufacturers. When ordering please specify what size and manufacturer you plan on using.

5 hole panel is 4" tall x 18 1/4" long
6 hole panel in 4" tall x 22 1/4" long

#1630 5 hole polished or brushed inset panel $189.95
#1631 5 hole engine turned inset panel $229.95
#1632 6 hole polished or brushed inset panel $219.95
#1633 6 hole engine turned inset panel $259.95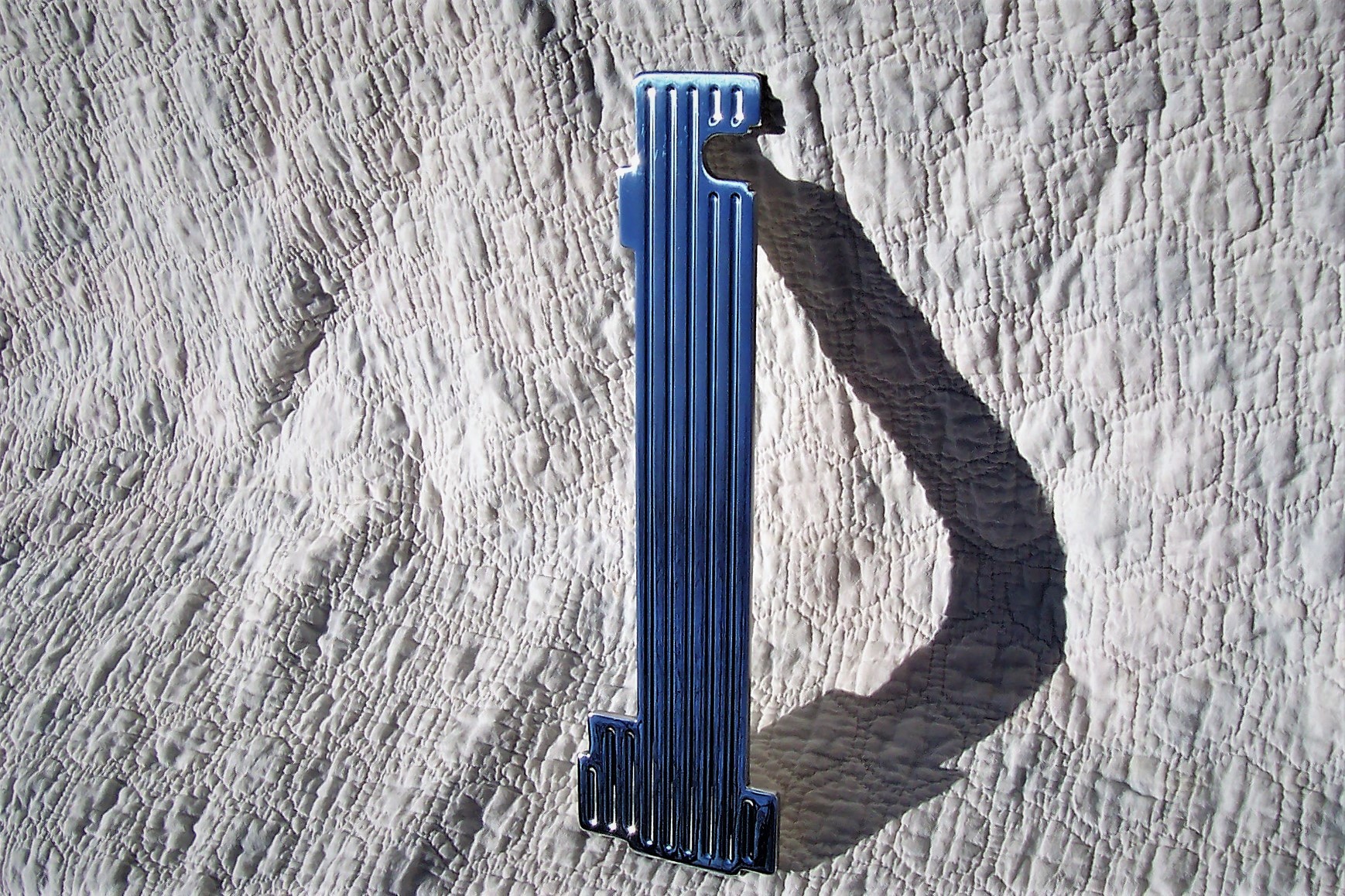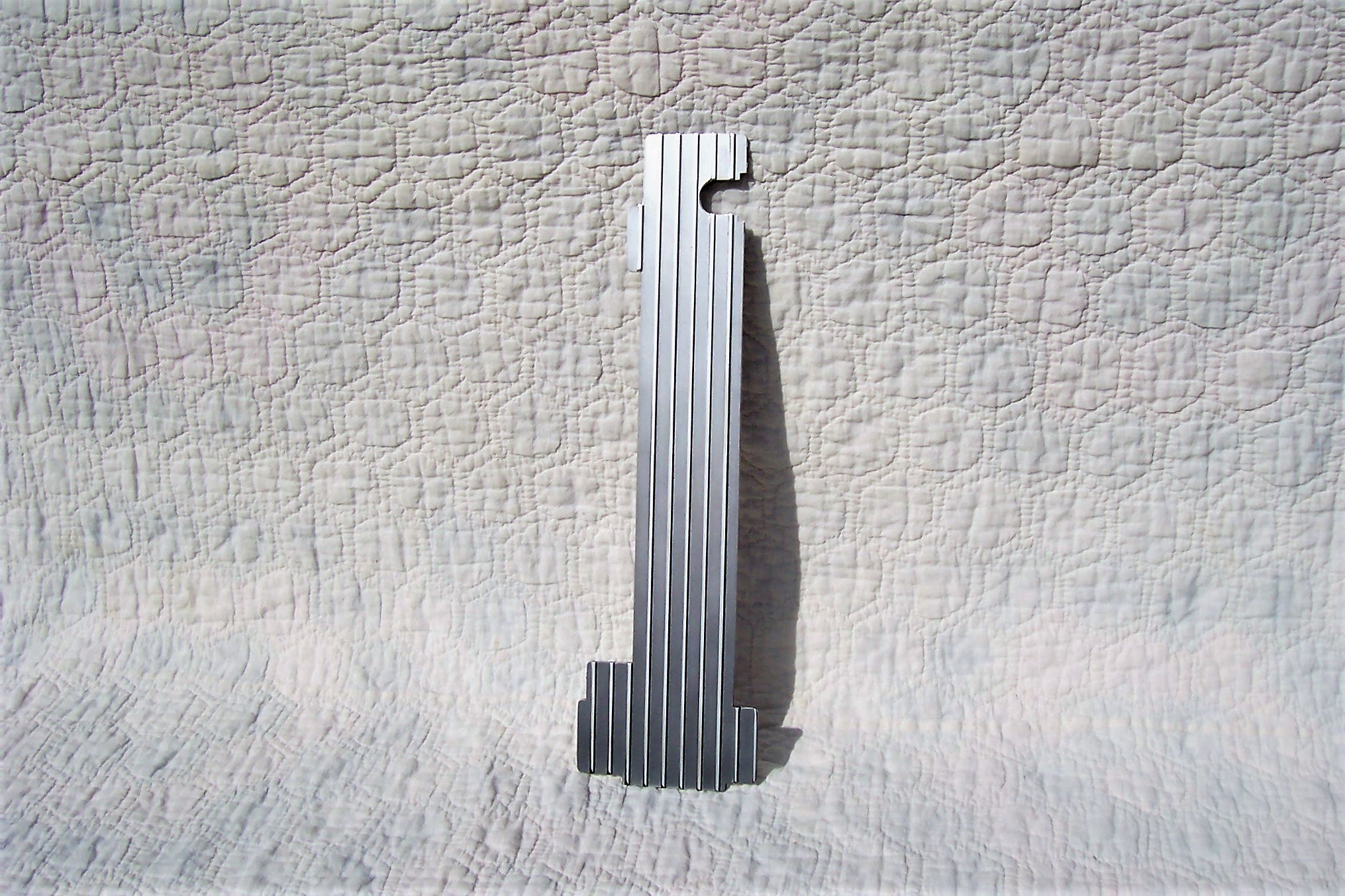 #2160, #2161, #2162 "Highway Star Series" LT Motor Top Plate
For all the LT Motor enthusiasts, here is a dress up plate for the top of the injector plate that comes in three options: polished without ball milling, polished with ball milling and finned for a traditional look. These dress up plates are for 1994 & up IROC, Trans Am & SS motors.

#2160 polished top plate w/o ball milling $119.95
#2161 polished top plate with ball milling $139.95
#2162 traditional finned top plate $199.95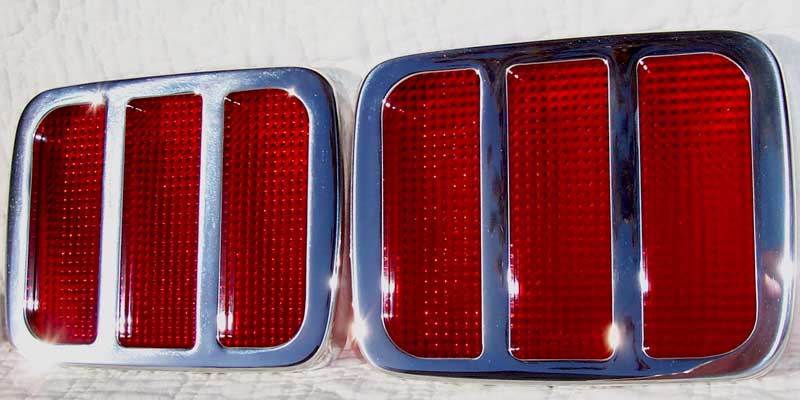 #2158 - "Horsepower Series" Billet Taillight Bezels
This product focuses on the current street machine movement and can help the builder to further enhance the quality of the design and build.
Made for the 64' - 66' Mustang, there isn't any reason why these taillight bezels couldn't be retrofit to other makes or models. Two finishes are offered - brushed and polished and also a red prismatic lens is available upon request. Mounting these bezels is a snap. They are designed to bolt through the OEM light fixtures with hidden fasteners provided. With a smooth and clean appearance, this product will highlight any early model Mustang street machine.
"Horsepower Series" Billet Taillight Bezels: $320.00 Per Pair
Red Prismatic Lens: $30.00 Per Pair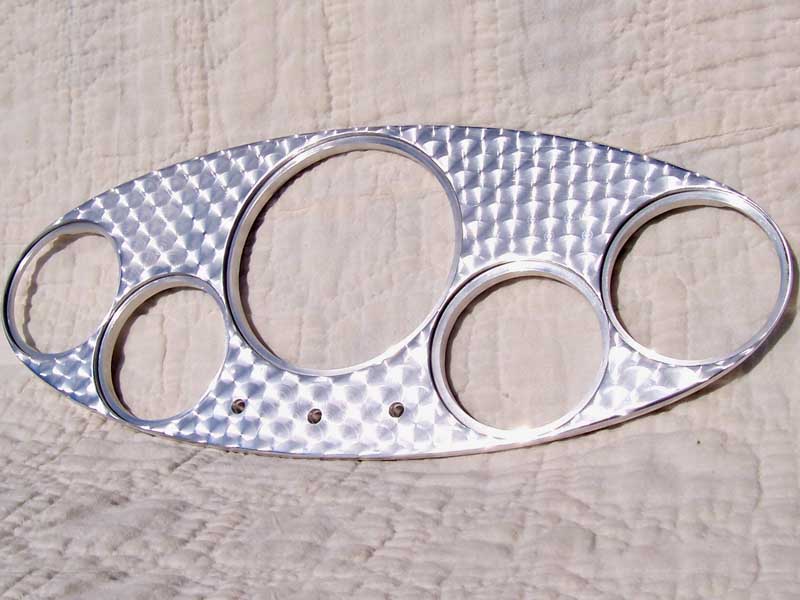 #1596 - "Traditional Series" 32 Ford 2 or 5 hole Dash Insert
The popularity of traditional parts for the 32 Ford is on the upswing and to fill that need, we have decided to make available to the public a traditional 32 Ford 2 and 5 hole billet aluminum dash insert machined to fit the original opening of a stock 32 dash. Available brushed, polished and engine turned, this piece will highlight the dash area of your Deuce, while allowing the use of after market gauging. Available with or without led indicator lights for turn signals and high beam.
PLEASE NOTE: This insert, due to its size limitations will fit all 5 gauge kits from all manufacturers using a 3 1/8" speedometer. Stewart Warner, VDO and Speedhut are the only three manufactures that make their 3 3/8" speedometer small enough to fit into the confines of the original 32 opening. So when ordering 3 3/8" & 2 1/16" gauges, Stewart Warner, VDO and Speedhut are the only gauges that will work. When ordering the 2 hole insert, all 3 3/8" gauging will fit.
Brushed: $99.95
Polished: $119.95
Engine Turned: $169.95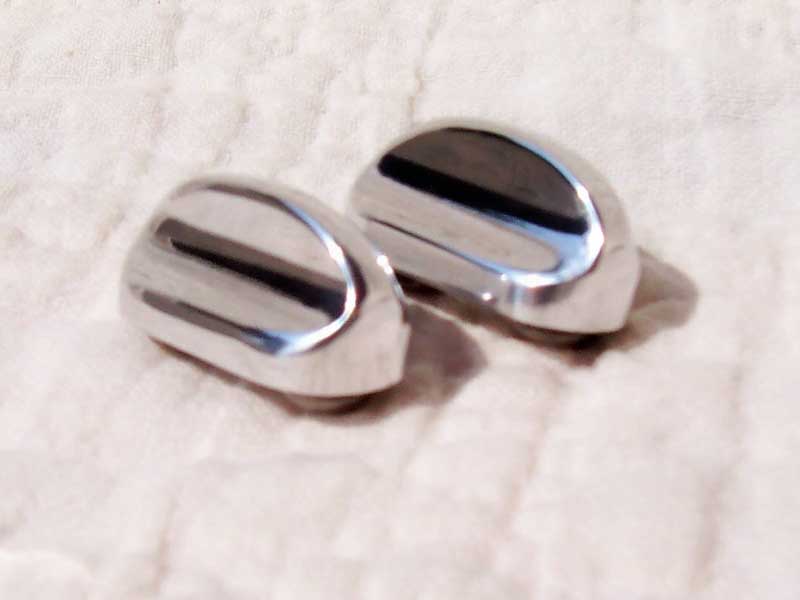 #1595 - "Traditional Series" 46-48 Ash Tray Knobs
The original upper dash ash tray knobs for the 46-48 Ford were made of plastic and through the years, from sunlight, they have deteriorated and changed color and/or broke and fell apart. This is why we are introducing billet aluminum replacements for these years of cars, machined with the same basic shape of the originals to keep the traditional theme intact. These knobs can be used in many other ways also, such as glove box doors, console ash tray doors, and other areas of your car or truck. The "Traditional Series" 46-48 ash tray knobs are available polished or brushed.
Brushed: $20.00 per pair
Polished: $25.00 per pair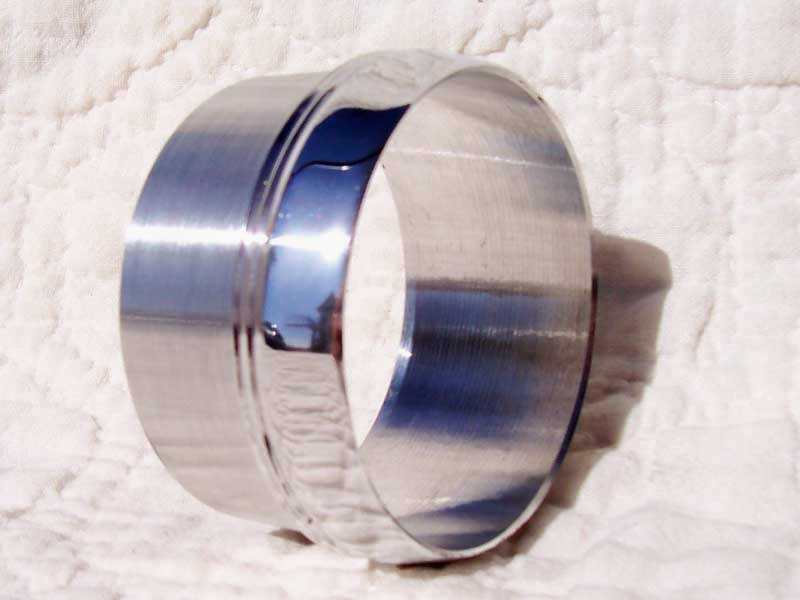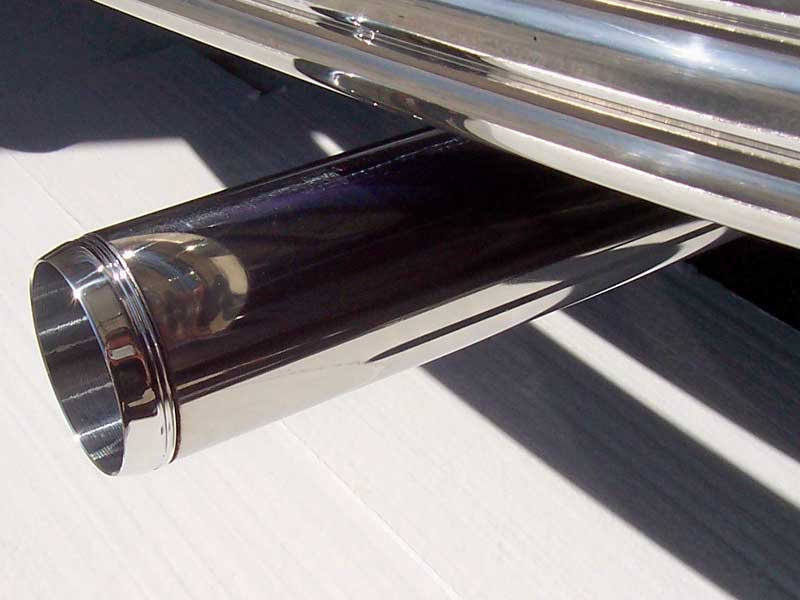 #2157 - "Highway Star" Series Billet Exhaust Outlets
Designed to give extra styling to the outlets of your performance exhaust, these "Highway Star" Exhaust Outlets finish off an important part of your favorite Street Machine, Street Rod, Late Model Muscle Car, or Classic Truck. Made from solid 6061-T6 billet aluminum bar stock, the standard size will fit 2 1/2" diameter exhaust tubing. You say you currently have 3" diameter exhaust, well that is okay. We can make you a set that will fit just about any size tubing. We are busy working on new designs and shapes also, so if you have an idea for a different shape , let us know and we will make them for you using your design.
2 1/2": $59.95 per pair.