Blood Sweat & Gears


Here is a pair of the midwests finest El Caminos. The red 1972 is owned by Diz Demes of LaSalle,IL. The maroon 1966 is owned by Rick Ratajck of Peru,IL. Both vehicles exhibit and extreme sense of detail. This pair of cars is always in the running for major awards wherever they go.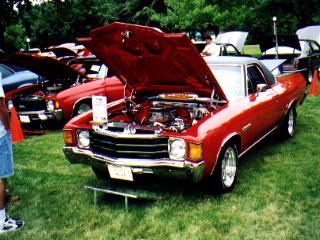 Diz Demes's 1972 Chevy El Camino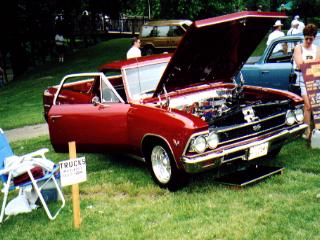 Rick Ratajck's 1966 Chevy El Camino
Diz's car features a "Smooth as Glass" red paint job and a detailed undercarriage. The engine is a venerable ZZ 502ci equipped with "Dual Quads". While inspecting this street machine at a show one might say to himself, this is a trailered car because of its cleanliness and lack of "road rash", WRONG. This ElCamino is not a show only car. Diz drives this car everywhere, including the most recent Hot Rod Power Tour from Arlington, TX to Green Bay, WI!! This spectacular SS most recently was awarded the "Sensational 70's Pick" at the 2005 Goodguys Heartland Nationals in Des Moines, IA.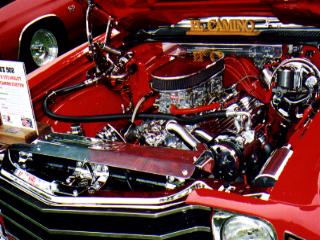 We hand made the radiator cover, wire harness cover, battery coverline lock cover, wiper motor cover, brake booster check valve, and the "ZZ" insigina plate in the interior.
Rick's 1966 also exhibits this same detail. Extremely smooth body work and paint and a recent install of a big block make this car a standout.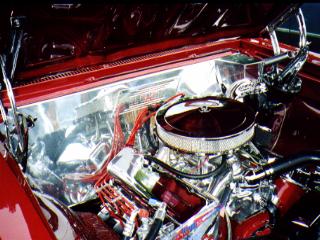 We fabricated the sculptured firewall for this hauler, which incorporates engraving by Unlimited Creations in Pontiac,IL.