Gray's Garage 32 Roadster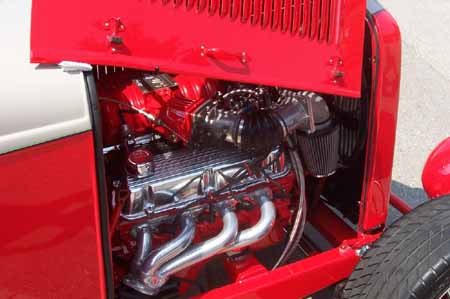 Gray's Garage has built numerous 32 Ford Street Rods. Built in various themes, the cars this crew has built are among the best in the nation.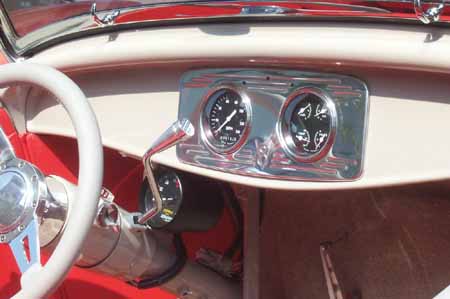 The 32 Roadster shown on this page displays the craftsmanship they're known for. Starting with the frame, Everett Gray chose a Cornhusker Chassis and proceeded to modify and assemble it with a Heidts polished stainless front end and a chrome plated Jag rear end. Next, a roller cam fuel injected 5.0 liter Mustang Motor was bolted to the chassis, complete with an electronic A.O.D. Ford overdrive transmission. Four wheel disc brakes were then retrofitted to the car so it would have as much "WHOA" as "GO". Kilbourne Rod Shop supplied the fiberglass body in which 2-inch chopped, stainless stands were installed. Boyd's supplied the billet wheels to give this Roadster a contemporary look.
Chuck Gray is usually the man responsible for the fine bodywork and the smooth as glass paint work on most of the cars Gray's Garage has built in the past. However, this time, Todd Weichman, Everett's son-in-law got the nod and came through well. The two-tone paint has a unique style with a good choice of colors.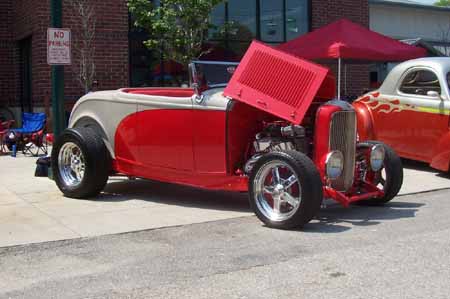 Kevin Jackson of Bartonville, IL upholstered the interior, done in red Ultra Leather. We (J & B Microfinish) fabricated the one-off billet aluminum dash insert, complete with an engraved V-8 logo, per Everett's request. This insert is loaded full of Classic Instruments to keep the driver fully informed of engine and road conditions.
Street Rod Builder, N.S.R.A. Street Scene and Rodder's Digest Magazines all have featured this radical roadster and considering this rod was built to be driven, and does so on a regular basis, this is quite an accomplishment for the gang at Gray's Garage.