Rivette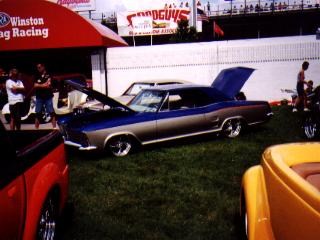 This 1963 Buick Rivera built by Tim & Carrie Strange of Strange Motion Rod & Custom (Cambridge, IL.) is a car definitely on the leading edge of the custom car scene.
"Rivette" is the name selected by Tim for this in the weeds custom. You see, this car sports a 1995 Vette LS1, 4L60E running gear and is bagged on all four corners, complements of Air Ride Technologies. Colorado Custom supplied a set of billets---20"X8" in the rear and 18"X7" up front.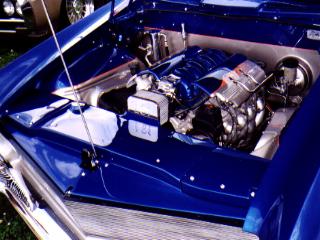 The "way cool" Tutone paint was applied by Tim and then wet sanded and buffed. The colors are Vette Pearl Blue on top and Mercedes Smoke Silver on the bottom with some pearl orange, yellow, and raspberry hot licks seperating the two.
Some unique metal work was fab'ed by Tim also. Check out the recessed brake booster, the front core support area and the trunk enclosure.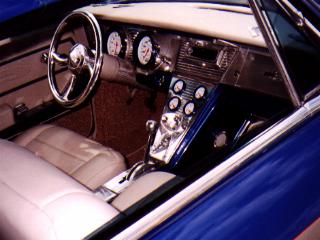 The interior work was stitched by Carrie and features a sculptured set of flame licks that are subtle but very effective. The Mercedes carpet that Carrie selected and skillfully installed lends itself well with the surrounding billet and stitch work. Speaking of interior work, Tim asked us to fabricate several dash and console pieces. These pieces, in conjunctionwith the Auto Meter "Phantom" gauges and trick shifter, highlight the dash and console areas and provide a unique contrast to the leather work and the pearl blue sheet metal work. These milled inserts were selected as one of Super Rods "150 All Time Tech Tips".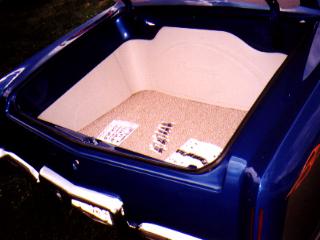 Magazine coverage for this car has been phenomenal. This cool custom has been featured on the front cover of Custom Rodder, Popular Hot Rodding, Northern Rodder and Super Rod Magazines.Hot Rod magazine also featured this Strange custom along with a couple of foreign magazines.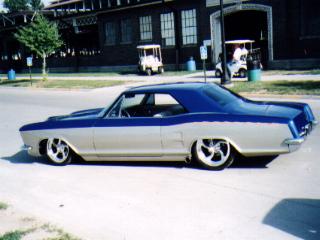 This custom in its debut run (Indy GoodGuys Event), was selected out of a field of many as the "Rodders Rep Pick". This same car also recieved a "Custom Rodder Top 10" in Des Moines. Super Rod selected this custom as one of its Top 100.
Well, there you have it. Another Strange Creation from one of the custom car building leaders. Congrats Tim & Carrie on a job well done.