Kolorado LS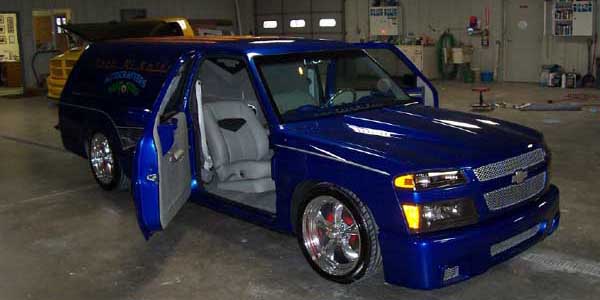 Artistic expression comes in many forms in this hobby we enjoy. Some like to be traditional with their expression, others like to be contemporary, still others like to use both and create a whole new look.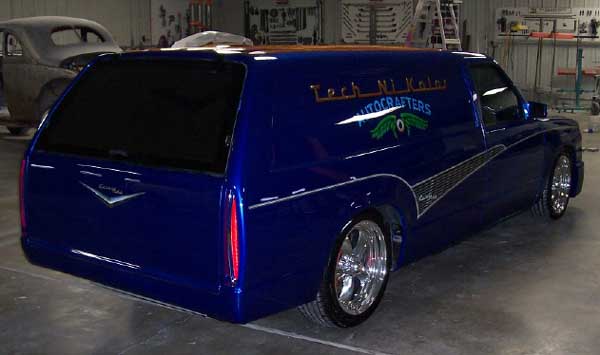 Larry Seabert, owner of Tech-Ni-Kolor Autocrafters, Inc. of Dwight, IL designed and built this marvelous mini S-10 with a lot of thought and execution. Larry originally made an engine and transmission swap, using a 350 TPI and 700R4 combination. Along with a few other modifications, the truck looked like everyone else's mini pickup. With dare to be different thinking and a real desire to someday have a sedan delivery, Larry began the design process of what was to become a fresh and progressive mini sedan delivery.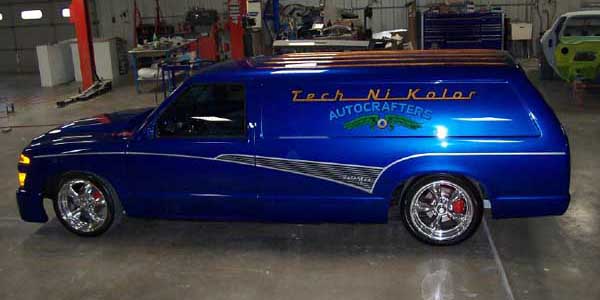 The first event to take place was the removal of the body from the frame. Next up, the frame was modified and outfitted with a Ford 9" rear, complete with disc brakes and it in turn was bolted to a triangulated 4 link rear set-up with Air Ride Tech. air bags. The front suspension was assembled with 2" drop spindles and Air Ride Tech. Shockwave air bags. American Torq thrust 18" wheels and Michelin High Performance rubber was installed. The tired four banger was replaced with a 1992 Camaro 350 TPI, rebuilt by Jake Burkhart and was dressed up with custom one-off engraved valve covers that we ( J & B Microfinish) made for Larry, complete with Tech-Ni-Kolor carved into the valve cover tops. Other engine mods include a Billet Specialties Tru Trac pulley and bracket kit, a wiring and computer set-up by Street and Performance and full length Flowmaster exhaust. The 700R4 trans received a B & M shift kit to ensure accurate and firm gear changes.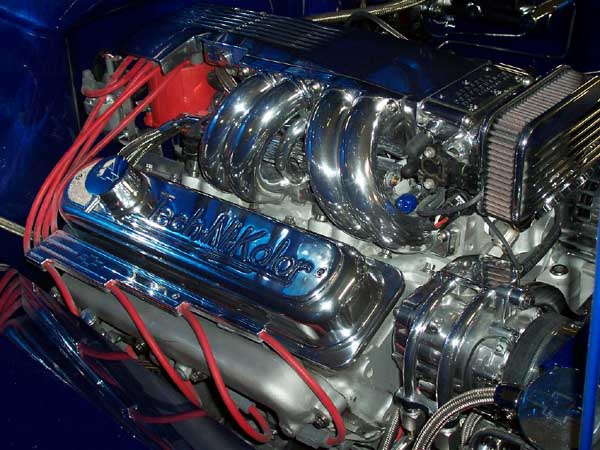 Starting with a 1987 S-10 pickup Larry began the body work process by grafting two S-10 Blazer roofs and a tailgate section. The pickup box was bolted & welded to the cab. The side panels were made and then welded into the window openings. Custom inset molding was then fabricated by Larry and machined smooth by us, ( J & B Microfinish). This inset molding was later cut to fit and flush mounted which gave this area of the truck a uniform look. 1999 Cadillac tail lights were fitted to the rear section of the truck. As seen in the picture, this modification in my opinion is way cool. Moving to the front, an entire 2006 Chevy Colorado front clip was sectioned to the S-10 fenders, a handmade cowl panel was then fabricated. Hagan Hinges were then bolted to all doors. Another trick feature was the installation of a Rock Valley gas tank with the filler hidden inside the truck. Lastly, Street Scene bumpers were modified to fit and installed.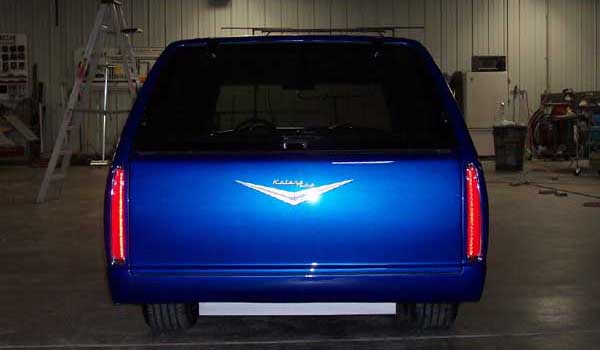 Once all the necessary body work was completed, it was off to the spray booth where Larry applied the special mix Viper blue. All the graphics were performed by Steve Connor, our favorite being the rear tailgate "V" and side trim.


The interior is a standout in this custom truck. One highly notable feature was the sectioned and lengthened 55 Chevy dash with custom handmade extensions on the doors. This, along with the handmade console add a traditional flavor to the inside of this radical ride.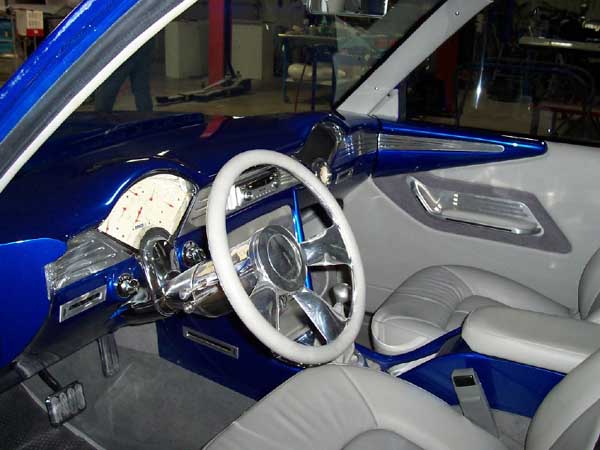 Classic Instruments provided Larry with their awesome Bel Era gauge package and two Air Ride air pressure gauges, located in the console trim. Twin Cities Upholstery completed the interior layout and design. Graytones in Ultra Leather and cloth with black panels were selected and stitched to the interior of this sedan delivery.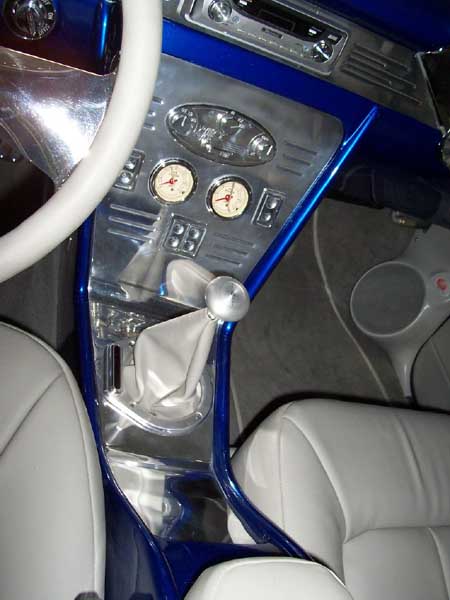 We (J & B Microfinish), handmade the billet dash and console trim and then polished it to a mirror finish.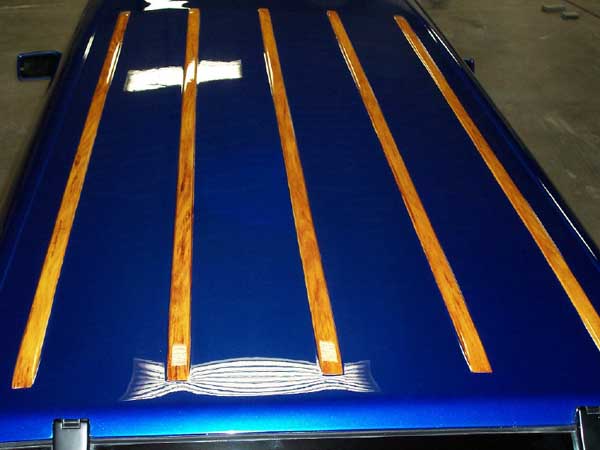 Although Larry performed much of the build, he did have some help. Dave Hansen and Kerry Trednick get credit for helping with the bodywork and paint, while Dave Hansen also gets the nod on the installation of the Painless and Street and Performance wiring and stereo installation. Rounding out the list, Phil Becker gets credit for fabricating the cowl panel and dash top.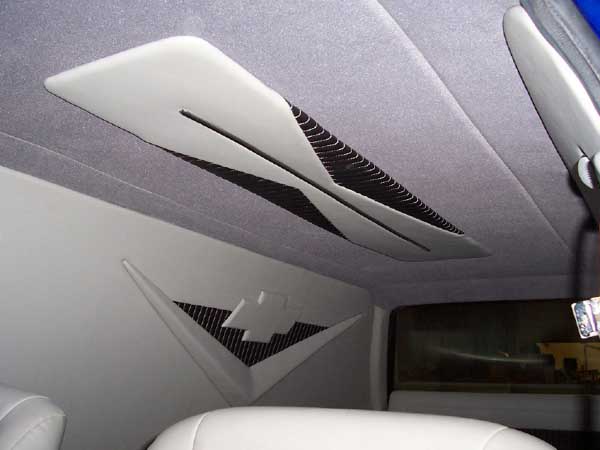 Larry decided he would like to debut his ride at a notable event. After some thought, the Starbird Show in Wichita, Kansas was selected. This show and the Starbird Show in Tulsa, Oklahoma are known for the cutting edge Kustoms (and Customs) in attendance every year. Larry's Kolorado did very well, as it received a "Statement Award for Artistic Design". He was also given a Top 5 in Class Award. This was an excellent debut and one Larry and crew can be proud of. The next show on Larry's agenda was the VetteFest in Chicago. The Kolorado received two awards, the "Gold Bowtie Blvd. Award" and the "Diamond Award" which is given to a vehicle that is shown at the VetteFest for the first time. After that it was on to Detroit to the prestigious Autorama event. With over 1,000 cars participating and over 165,000 people in attendance, this show is the biggest of its kind in the world. At this event, he took home "Best of Show", "Outstanding Detail" and "Outstanding Display". In 2007 Larry's Custom Panel was chosen for a "Fine Nine" Award at the Tulsa Darryll Starbird Rod & Custom Show. With this mini delivery built to be driven, you may see this truck tooling down the road in the near future. This is the way Larry built this truck and wouldn't have it any other way. Larry's truck was recently displayed with a 5 page feature in Volume #34, #8 of Truckin Magazine and in Street Trucks, Sport Truck & Midwest Musclecar Magazines.