"SU BURB"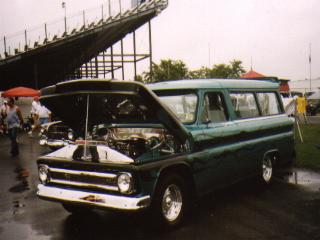 Tom Spaulding of Indianapolis,IN chose an unusual body style in his custom 1964 Chevy Suburban. However, after looking at this burb, one has to admit that this is one "cool truck".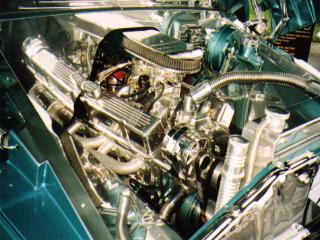 This truck has a potent powerplant. A 383 c.i. 553 HP engine which was built by Amazing Race Cars and displays 550ft/lbs of torque on the dyno. A turbo 400 was built by Coan and has been assembled with all the necessary race componets.
Tom asked us to design and fabricate several billet pieces in the engine compartment and interior. The engine compartment displays our inner fenders, firewall, core support panels, upper and lower cowl panels, brake booster check valve, and an under hood panel. Looking into the interior we fab'd several dash pieces, overhead and lower console pieces, door trim, sill plates and headliner trim to add the necessary pizazz.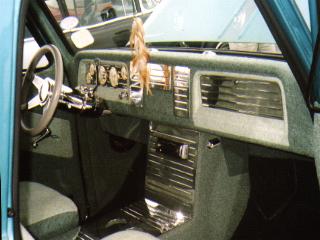 The way-out interior was tastefully upholstered by S&K Precision Upholstery of Mooreville,IN with 2 different colors of tweed. The paint and body work was executed by James Brothers. The flames were layed out and shot by Sansing, and the plating was done by Burgess Plating & Polishing.
The 1964 Suburban has been featured in 3 magazines--Chevy Truck, Pickup & Panels and Classic Chevy World twice. Competing on the ISCA show circut for years, Tom has compiled an impressive array of awards also. This custom truck finished 1st in class in the ISCA International Points Championship in 1997, 1998, 2002, and 2003. This hot truck was also awarded Best Interior in Evansville, Toledo, & South Bend, Best Engine at Toledo and Best Truck & Van in Columbus. Just recently at the Indy Hot Rod Nationals this Suburban won the Classic Chevy Pick.
As stated in the first paragraph, this truck is an unusual choice for a customizing project. This hot rod truck pushes the envelope and dares to be different, and this is what hot rodding is all about.