Lakeside's 65 Mustang
2009 "Muscle Machine of the Year" Finalist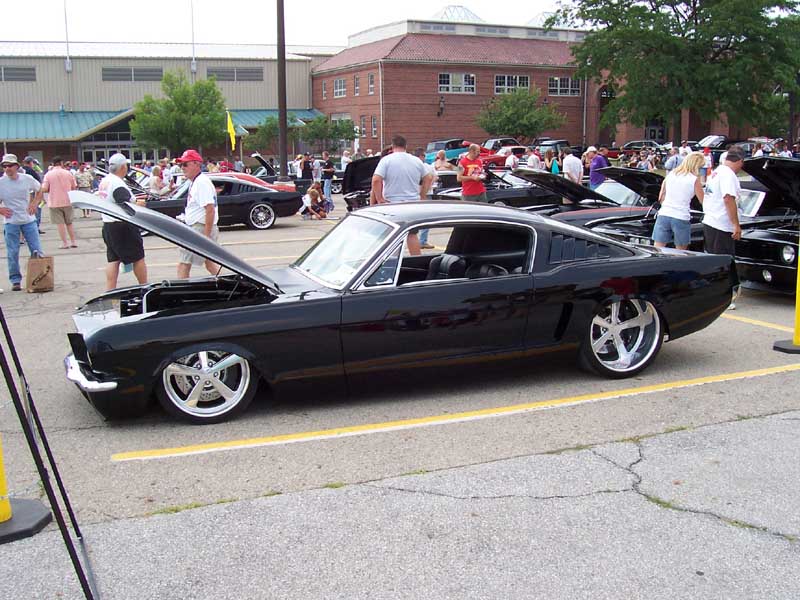 Lee Iacocca's brainchild, the 65 Mustang immediately became popular after its introduction in 1964. A large and diverse gathering of car enthusiasts stormed the nations' dealerships to purchase one. The key to this success story was not only the innovative styling, but also the numerous options and ways in which these pony cars could be purchased.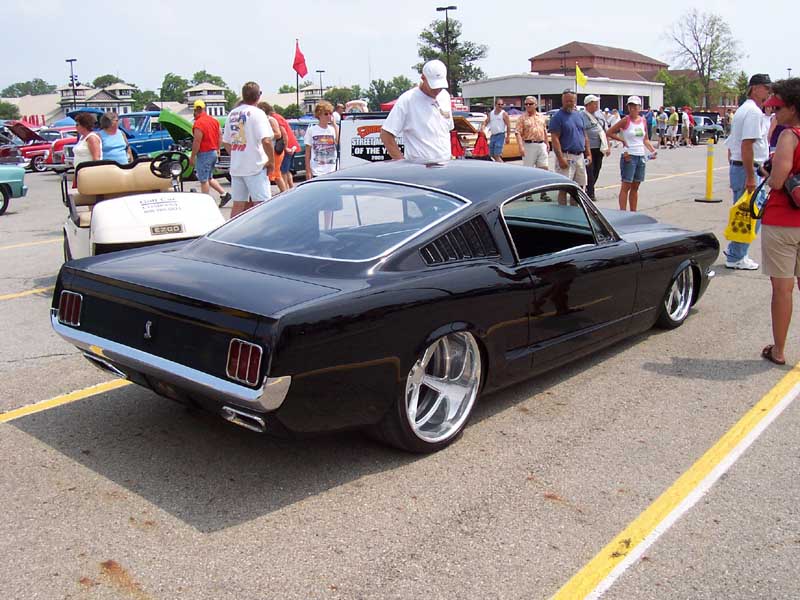 Yaniv Sananes of Miami, FL owner of the bad boy featured on this page had always wanted to modify one of these cars, using current technology. After talking with his friend Neil, they collectively decided to embark on a journey that would reproduce, at the end of their travels, a street machine that would gather much attention.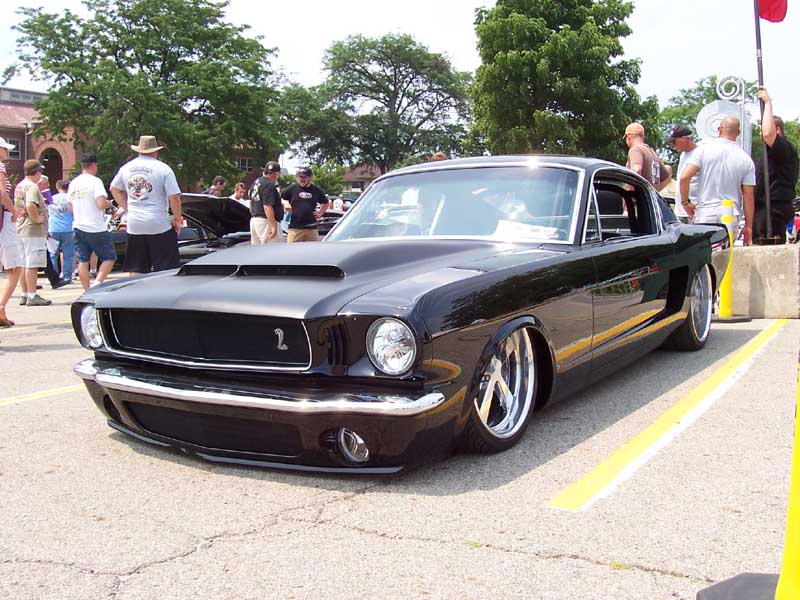 They decided to employ the skills of Roger Burman and the Lakeside Rods and Rides crew to handle the build. The reputation and finished products built at this shop have had award winning style and national success with street rods, custom and street machine builds in the recent past. Street machines of the distant past were built for straight line performance only, mostly using pro-street chassis, narrowed rear ends, massive blower motors and the like. The new generation street machines are built for straight line performance and road race (slalom course) conditions, hence the name "G" Machine was adopted for this new breed of custom car. With the Lakeside crew having successfully built one of these "G" Machines last year in the form of a 68 Camaro, they clearly understood what it would take to build another. Only this time the Mustang would be even wilder than the Camaro.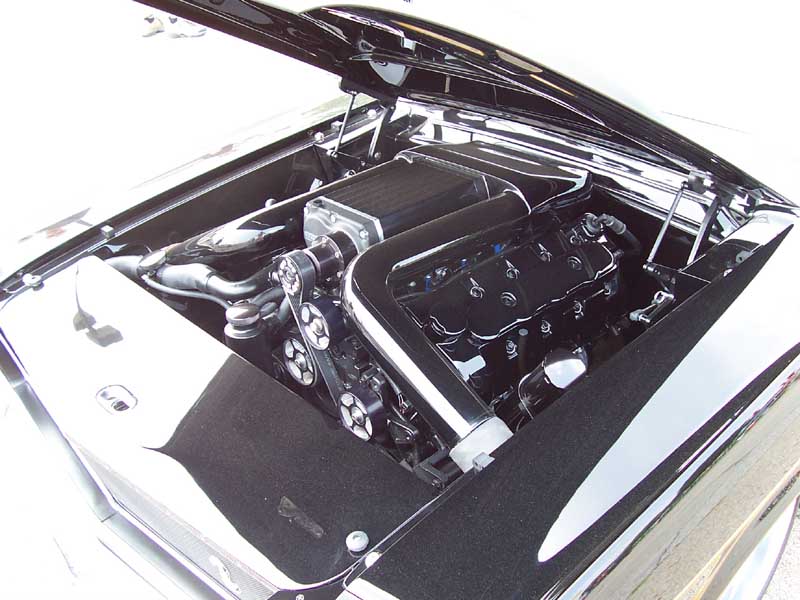 Starting with the chassis, a full tube chassis and roll cage was built for this pony and a 4.6 Cobra motor, complete with Kenne Bell blower were selected and installed. A wild custom made exhaust complete with handmade polished cast aluminum tail pipes and handmade stainless mufflers was installed and I must say the result of all this custom work is incredible. With the chassis and drive train complete, it was time to tackle the bodywork. Looking at the photos of this feature car you will notice many subtle body changes to improve styling and function were performed by Lakeside. The front facia and chin spoiler were all hand fabricated. This modification gives the car a lower, meaner stance. The hood and scoop were also hand fabricated, with the scoop giving the impression of a cobra snake that's ready to strike! The louvers next to the headlights were made functional and plumbed into the air intake of the engine to allow this blown pony to breathe like a thoroughbred. The lower rear quarter louvers were made into functional brake ducts to allow the massive rear disc brakes the chance to cool under heavy braking. The "B" pillar louvers were flush mounted for styling considerations. Looking a the rear quarters you will notice the fender lips have been shaved and the entire quarter panel has been reshaped to make room for the massive Michelin rubber which have been mated to billet Intro wheels, 18's up front and 20's out back.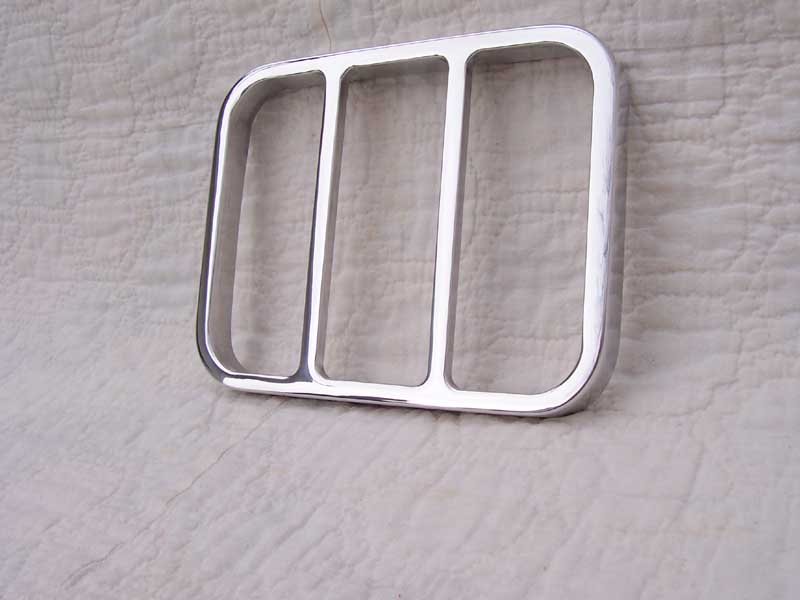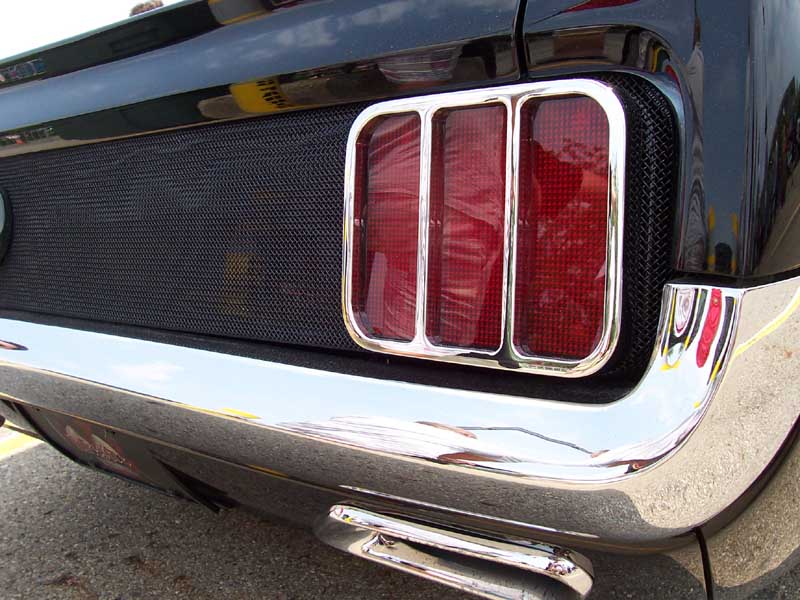 Speaking of out back, Roger asked us (J&B Microfinish) to make a set of billet one-off taillight bezels that house super bright LED lights. Screen material was used to cover the rear valance panel that the taillights sit on, and give the rear of this car an aggressive texture. A subtle rear deck spoiler was made and molded into the trunk lid, a very nice touch indeed. The bumpers were Frenched and the rear pan was made to accommodate the aluminum tailpipe extensions. Harley headlights were used and the rocker panel chrome trim was eliminated, while the rockers were extended downward to cover the tube chassis. Last, but not least, the flawless body work was covered in PPG black by the Lakeside crew. Many, many hours were spent on this Stang and while there were many other mods performed to it, I believe this feature will drive one point home and that is there is nothing like good ole American ingenuity and it is alive and well here.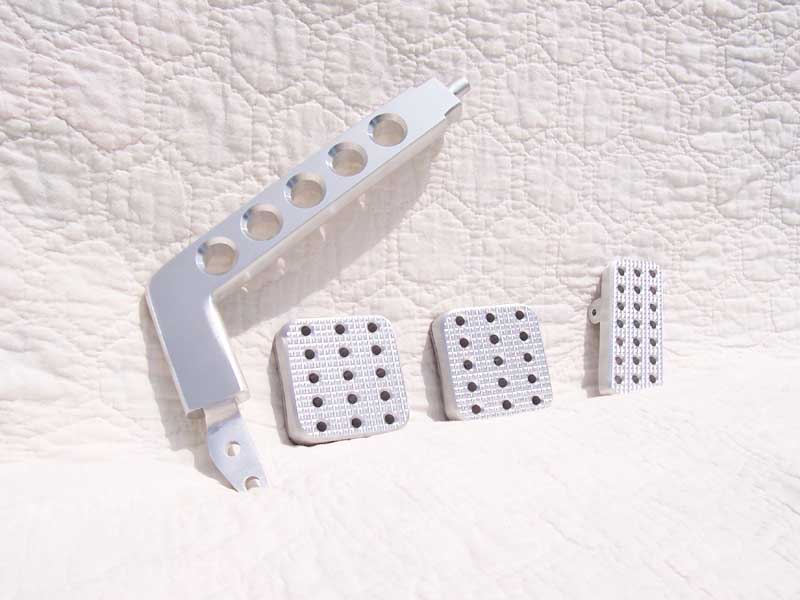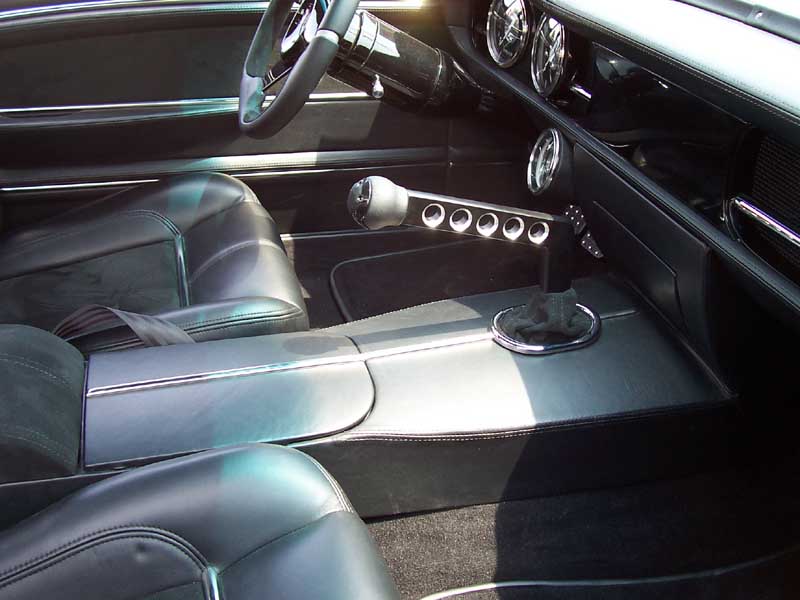 Looking into the interior, a plush and business like leather interior was stitched by Dan Weber of Weber's Custom Interior of Alexandria, MN. Roger asked us (J&B Microfinish) to custom make a billet shifter to attach to the Tremec transmission, and a set of control pedals (gas, clutch, brake) to add that special touch. These parts machined with lightening holes were powder coated flat black and the holes were chamfered after coating them to give them a classic and consistent look.
As with all the cars that have been built at Lakeside Rods and Rides, this hot rod was built to be driven, which is a true testament of how well a car has been screwed together. No cream puff here, folks!!! At the Kansas Goodguys Event this magnificent Mustang was selected for the "Muscle Machine of the Year" finalist award.