LIGHTNING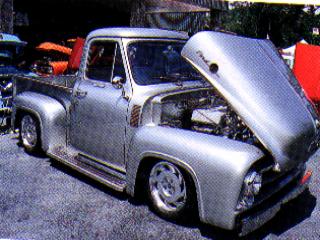 Jim Blackburn of Clarksville, GA is not your ordinary classic truck enthusiast. His very fine 1955 F-100 is also unordinary. After buying this truck back in 1969 from AT&T,Jim slowly began transforming this retired telephone truck into a rolling masterpiece. This is after it spent several years as a farm truck.
This F-100 has alot of "go power",thanks to a 1995 Ford Lightning 351 c.i. powerplant. This engine is mated to a E40D overdrive transmission. The suspension is fully independent,as it is out of a 1996 Corvette.
The leather interior really stands out in this truck. It exhibits a timeless look. Jim's 1955 F-100 was a finalist for Classic Truck of the year in Pigeon Forge earlier this year. This "effie" was also featured in "Truckin" and "Street Trucks" magazines.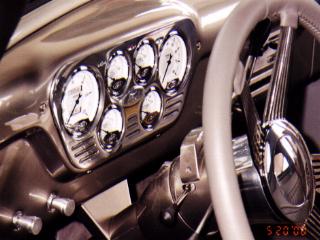 We manufactured the 6hole 53-55 billet dash insert for this hot rod hauler,and with the white face Motorsport gauges,it added the final punctuation. We are manufacturing this dash for all 53-55 F-100's call for yours today!