Twisted Dakota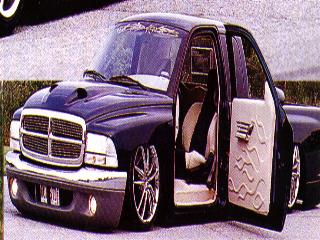 Shane Albright's 1996 Dodge Dakota is the first body dropped Dakota known to mankind. This magnificent mini boasts many modifications to attain that down in the weeds look. Major surgery was done to the firewall and the frame. Shane dared to go where no man has gone before, shaved door handles, suicide doors, reworked tailgate, a unique license plate mount and a rolled pan are just a few of the body mods proformed by Shane, Andy McDonough, and Jody Hall of The Drop Shop in Pikeville, KY.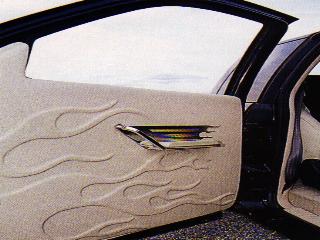 The interior is a sight to behold: sculptured flames grace the door panels, headliner, and rear deck. To take the flame theme to new heights, Shane purchased and installed our flamed armrests, along with a one-off flamed dash insert that sets this hauler apart from the rest. We also fabricated 2 sets of a/c vents for the dash area.
This truck in it's debut year has collected a full feature and front cover shot in "Mini Truckin" Magazine. An event shot from the "Indy Truck Bash" appeared in a recent edition of "Truckin" and "Street Trucks" Magazine.
Shane and his crew are some young guys that are going to be the future of hot rodding. After viewing this dropped Dakota, we are sure that the future of hot rodding is bright. Congratulations Shane on a job well done!!!!