Mid Fifty F-100


Mid Fifty F-100 Pickups are definitely hot!! This fine example owned by Steve & Rhonda Henne of Temucula,Ca in on the cutting edge.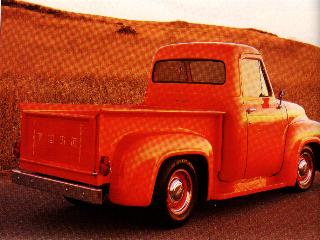 The '55 shown here is a culmination of 18 months of considerable effort performed by the Henne's and Randy Clark and crew of Hot Rods and Custom Stuff in Escondido, Ca. Randy and his crew built the Ridler Award winning car of last year a red '49 dubbed "M-80". With this kind of skill at hand its no wonder why this truck is a stand out. The theme for this F-100 was to look basically stock on the outside, but it also had to have the modern amenities. Power steering, disc brakes, air conditioning, and independent suspension are just a few of the creature comforts incorporated into this ride.
Keeping the Ford theme alive and well, a 302ci small block Ford was prepped by Dave West of Hot Rods and Custom Stuff and installed along with an AOD transmission. Every nut and bolt on the engine and the entire truck for that matter, has either been plated, painted, or polished.
Rick Macintosh of Hot Rods and Custom Stuff sprayed the House of Kolor Tangelo Pearl paint.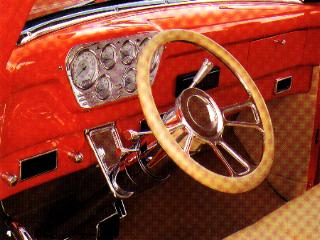 Ron Mangus of Custom Auto Interiors, stitched the vanilla malt colored leather interior. Speaking of interior work, we manufactured the polished billet 6-hole gauge insert. It was purchased through one of our dealers, Mid Fifties F-100 Parts in Golden Valley, Az, part number 1573. This insert is the only one like it on the market and it features a hole for a tach, which allows the driver to be better informed of driving conditions.
This mid fifty Ford in its debut year garnered a front cover and full feature in the newly formed Truck Builder Magazine, published by Buckaroo. This Tangelo Beauty was also featured in Custom Classic Trucks Magazine.
This truck also was awarded a Boyd Coddington Sweet Sixteen Award at the Goodguys Event in Delmar, Ca, amongst many other awards at other events.
According to Steve & Rhonda, there is no question as to what to do with such a work of art. They plan to drive it to local shows and generally just have fun with it. After all isnt fun what it's all about.