UPS Panel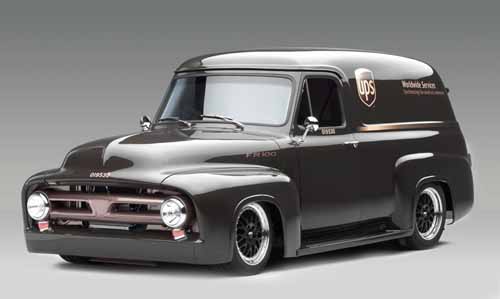 The good folks at Ford Racing Performance Parts and UPS put together this wild concept 53 Ford Panel just in time for the SEMA Show. This panel truck was built to showcase Ford's new 5.0 liter cammer motor now available to the hot rod public. Suspension upgrades include a FR500 Mustang independent unequal length control arm front suspension, and a modified SVT Cobra independent rear, all mated to a McLaren fabricated tube chassis.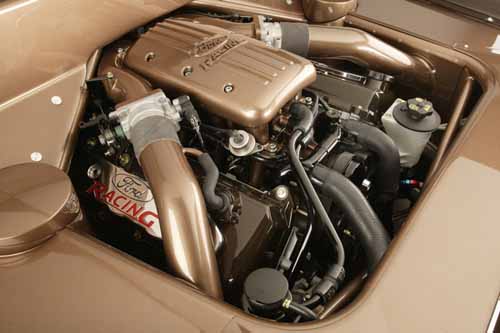 The team at Ford incorporated an Eaton Gen IV roots-type blower and a top mounted intercooler to make this big brown truck ultra quick in the "fast delivery" department. Get this, expected horse power is in the neighborhood of 600 and the torque somewhere near 500 ft.-lbs. Look for this supercharged version to be available to the public in 2005.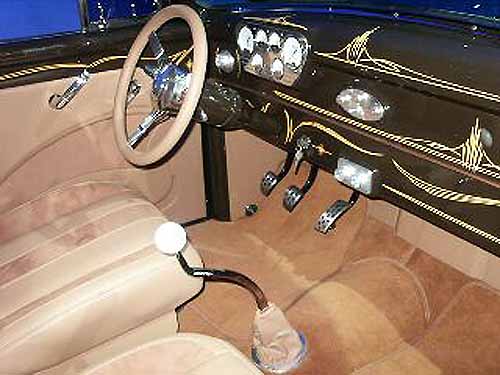 Our #1573 53-55 F-100 6 hole dash insert was utilized in the project along with a set of retro-style Ford Motorsport Masterpiece gauges that highlight the dash and add that special touch.
The paint and body work was done in a flawless manner. PPG UPS brown tinted clearcoat was the color of choice. UPS supplied F.R.P.P. with authentic UPS decals which includes special vehicle identification number 019530. This number officially certifies this panel as part of the fleet.
Last year F.R.P.P. unveiled two 53 FR100 pickups for the world to drool over. This years UPS FR100 panel is a cut above and really shows the involvement of both Ford and UPS in the hot rod movement. We are glad to be part of this movement and like the F.R.P.P. staff, we too are "Racing into the Future".