P-Town Deuce Roadster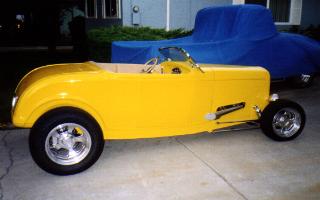 George & Carol Withers of Pleasanton,CA are the owners of this very fine 1932 Ford. With George's heavy duty drag racing past, it isnt a surprise that a deuce as nice as this would come rolling out of his garage. You see, George teamed up with the owner Rich Guasco and pilot Larry Huff, among others, to form the "PURE HELL" racing team in 1990. This AA/Fuel altered car is the most well known and successful car of its type on the planet. The original "PURE HELL" can be seen at the NHRA Museum in Pomona,CA. Rich recently had surgery, which temporarily shut down operations. If you would like to become a corporate sponsor, now's your chance!!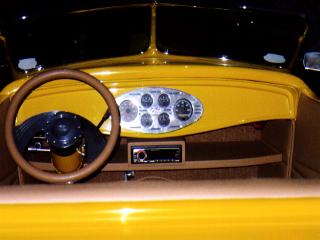 George built his 1932 Roadster with nothing but the finest accessories and components. The chassis was built by Atterbury Street Rods, Morgan,CA. The diffrential is a 9" Ford (Currie) unit, the body is by Harwood, Duval windshield, ZZ4 Chevy engine mated with a 700 R4 AOD, with the exhaust systems coated by Accessories Plus, Belmont,CA. The interior was sculpted by the very capable hands of Sid Chavers Upholstery in Santa Clara,CA. The hot rod yellow Dupont paint was squirted by the Renteria Bros of Morgan Hill,CA and Kevin Vornhagen Body and Paint of Brentwood,CA.
The Goodyear "Eagles" were mounted to Budnik "Famosa" wheels.
Special thanks to Rich "PURE HELL" Guasco, Dan Clifton and Carol Withers for assistance and support throughout this project.
Last but not least, we manufactured the billet 6 hole dash insert that houses the VDO gauges complete with a tach. This 6 hole gauge dash insert is #1568 and can be seen up close in the online catalog section of this website.