Rick's Super Nova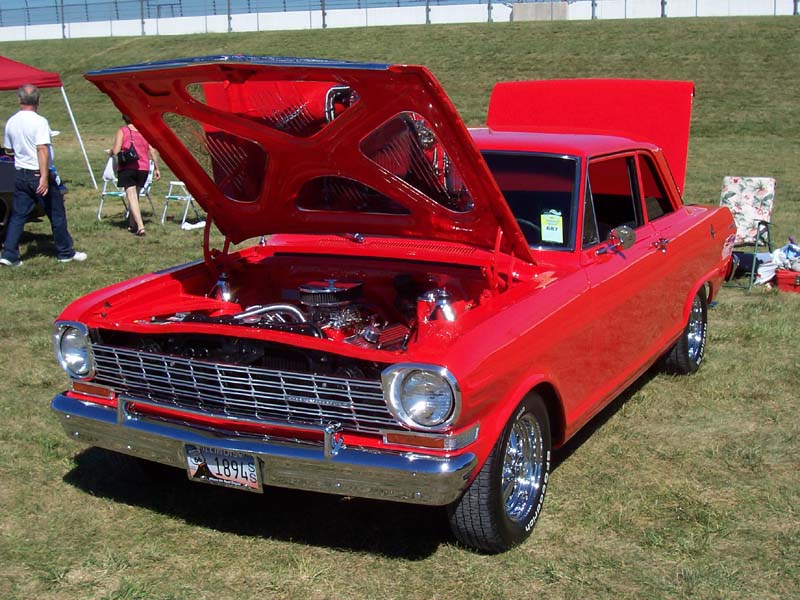 Mid and late 60's Nova's have always been a favorite amongst drag racers and hot rodders. "Grumpy" Jenkins and "Jungle" Jim Lieberman are just two of the many that come to mind who used the Nova for their racing endeavors.
Rick Tonkovic of Channahon, IL is the owner of this fine 1963 Nova 300 featured on this page. Rick, a long time car enthusiast, has taken the restoration of his Nova the extra mile by meticulously going through the car and fixing and/or replacing any detail that wasn't up to his high standards.
First on his list was to replace the old, tired front end bushings with polyurethane replacements. Then, disc brakes were retrofitted along with performance shocks. BF Goodrich rubber was then installed on some after-market rims. Front rubber consists of P19570R14 while in the rear P22560R14 rubber was used. These upgrades allow for better handling and road feel, after all, Rick enjoys driving this car to and from local car shows. The rear end consists of a 12 bolt limited slip differential with a 4:10 gear and an aluminum support cover. Some stiffer, heavy duty station wagon leaf springs were located and installed to allow more power to the pavement with less wheel hop.
Next up the electrical system was removed and replaced. As Rick puts it "The bowl of spaghetti wiring" was completely dismantled and a new wiring harness was assembled by Rick's son Jim to make it a nice, neat and dependable unit. Oh by the way, the father, son bonding was great as both Rick and Jim spent numerous hours together restoring this beauty.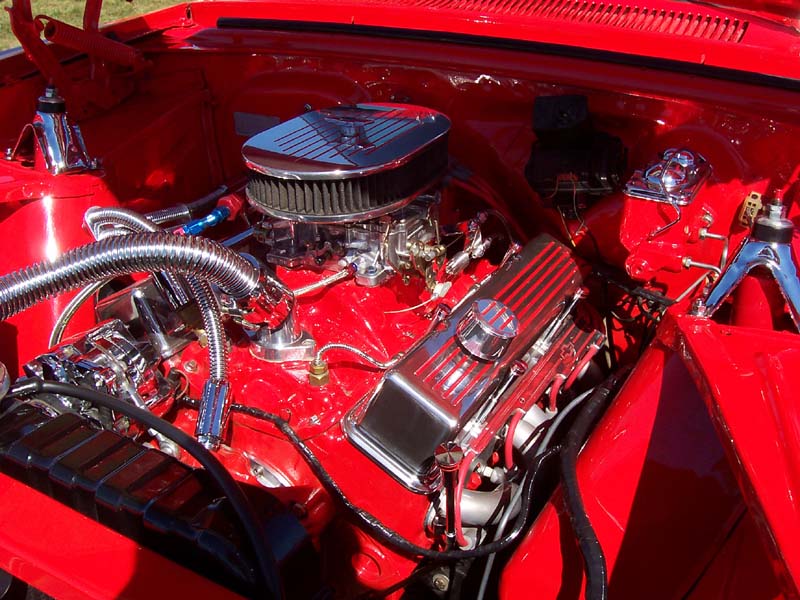 The engine of choice was a 327 c.i. Vette motor. Rick, not happy with the stock tune-up decided to install 2.02 heads, along with boring the cylinders .030" over, installing a Crane 480 lift cam, complete with roller tip rockers. Rounding out the engine modifications, Rick installed a steel crank, high-rise manifold, 600 CFM Carter carb, and MSD ignition. This engine puts out 375 HP to the flywheel, and when considering its installed in a 3000 pound car, complete with a turbo 350 and a B & M 3000 stall converter, this set-up will propel this car with authority.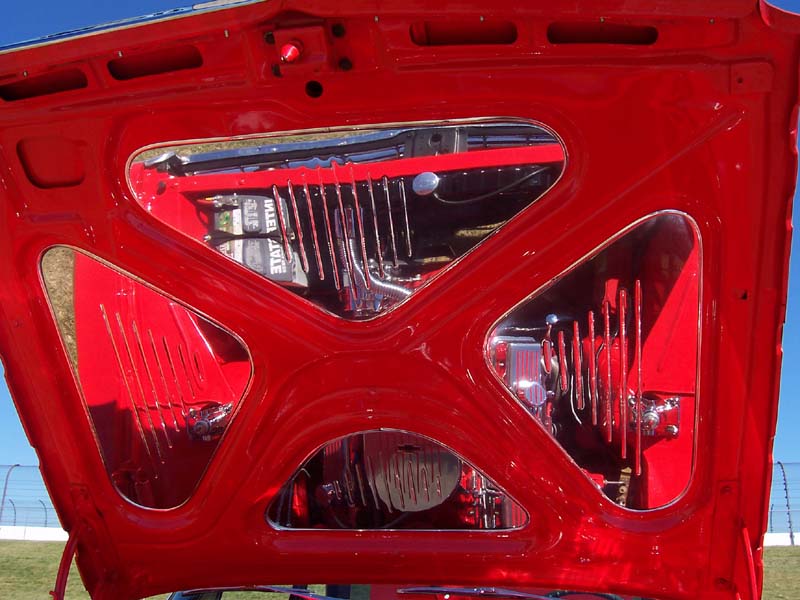 The engine compartment has been beautified to the max by Rick with all areas painted, plated, polished or powder coated. We (J & B Microfinish) were called upon by Rick to fabricate some milled billet under hood panels that reflect the engine and its surroundings back to you as you walk up to take a closer look.
One look at the body of this Nova and you can tell a lot of time was spent massaging this car into shape. Many of the old body panels were replaced with new panels including new front fenders, quarter panels, rockers, deck lid, doors and trunk floor. These new body panels and the rest of the body and inner fenders were painted with a custom mix polyurethane red color that turns orange in the sunlight. You've really got to see this car in the sun; the paint color really jumps out at you.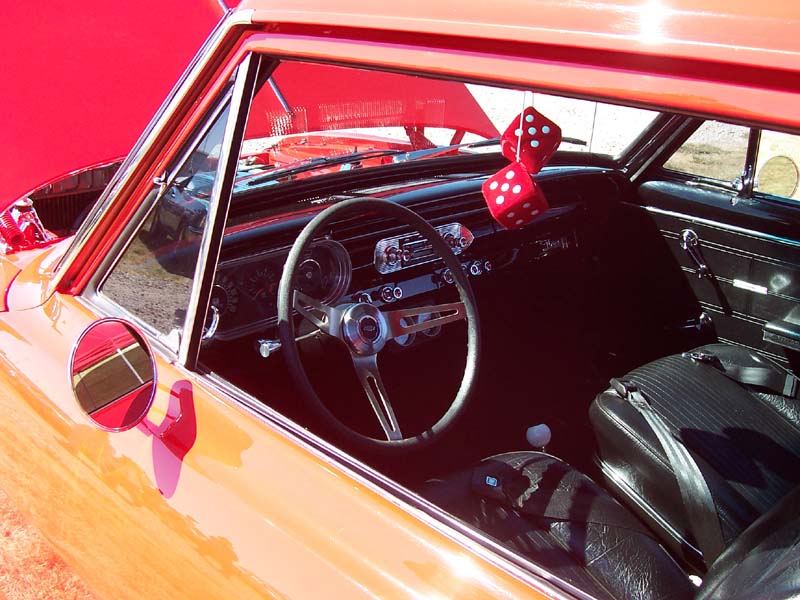 Boss interiors of Naperville, IL turned the 1967 Buick bucket seats that Rick provided into the original look of the 1963 Nova buckets. Rick installed much of the interior himself and the results look good throughout.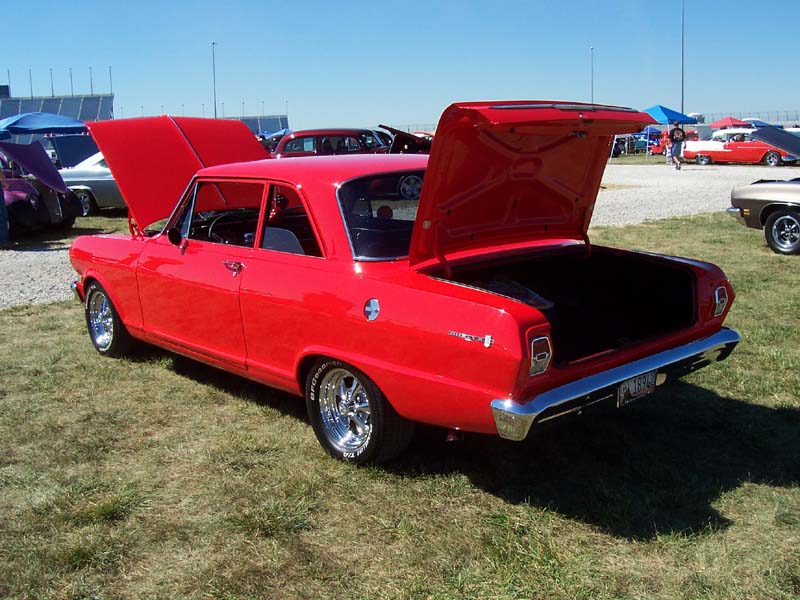 Rick's Super Nova has won many awards throughout the mid to northern Illinois region. One of his finer moments, however, came at the Rt. 66 Super Chevy event where it won the "Outstanding Nova" award. Rick also was the Street Class Winner at the 2008 Joliet Super Chevy Event. Look for this impressive ride at a show near you. If you like Nova's, you'll like this one.