Lakeside "Scar" 67 Camaro
2010 Goodguys "Street Machine of the Year"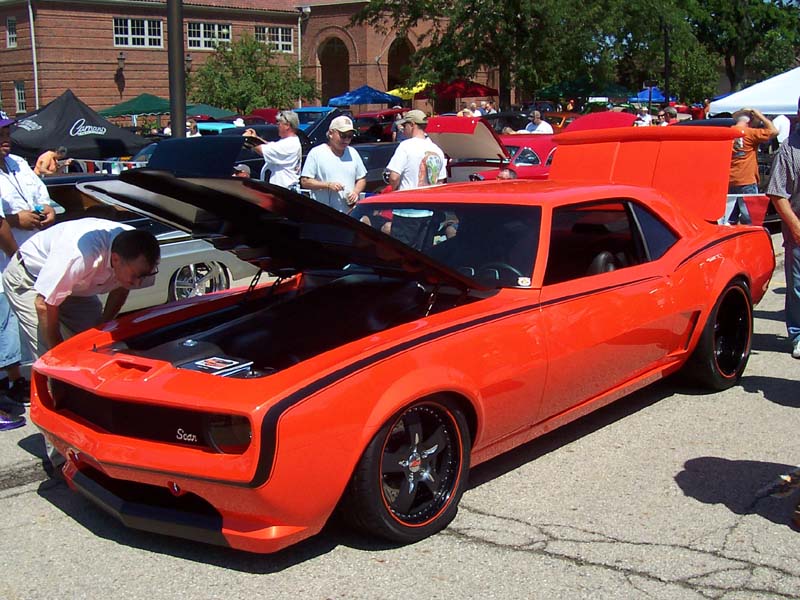 Every year in mid July a Street Machine is selected from a gathering of the world's best at the Goodguys Nationals in Columbus, Ohio, to be awarded the "Street Machine of the Year" crown. It's a prestigious award and pro builders have gone to great lengths to achieve it.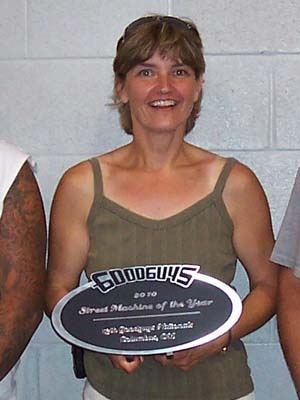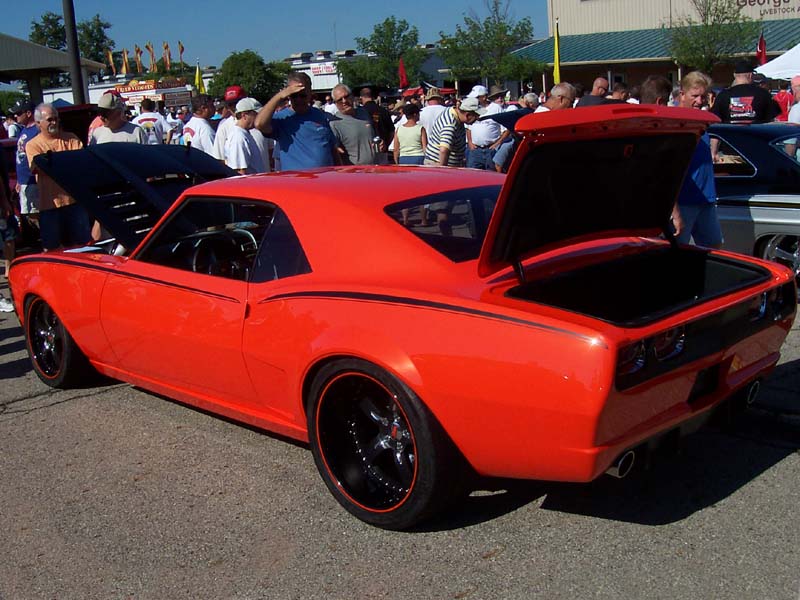 Karen Leisinger, owner of this 67 Camaro, is the first woman in history to have won this award. Initially, Dave Leisinger, Karen's husband had a vision of combining 2010 Camaro design elements into a 67 Camaro that would improve upon the styling of the 1st generation Camaro body and interior. Karen and Dave at that point contacted Eric Brockmeyer and had him draw a sketch incorporating their ideas with his and the final renderings produced a masterpiece. Roger Burman of Lakeside Rods and Rides was then asked to build the car from the renderings provided. Roger knew from observing these renderings that this was a very progressive build because of the radically restyled body, which meant tons of sheet metal work was ahead.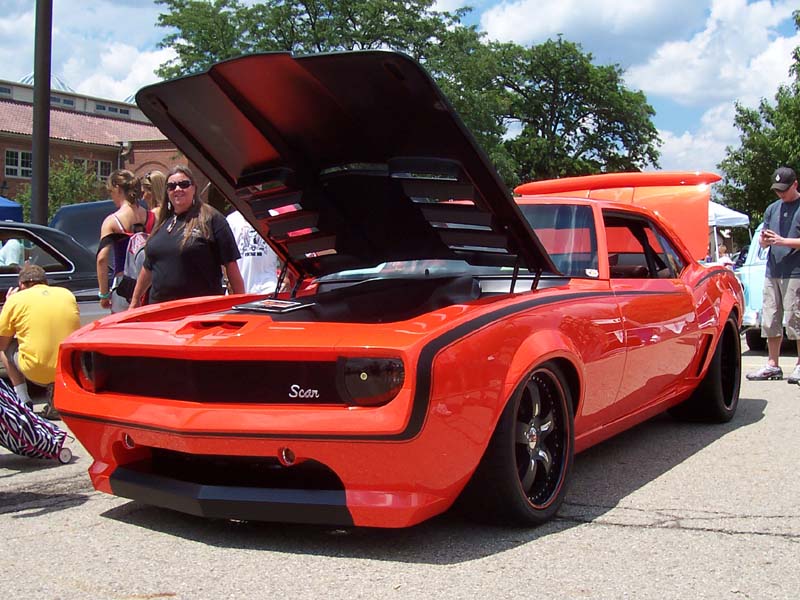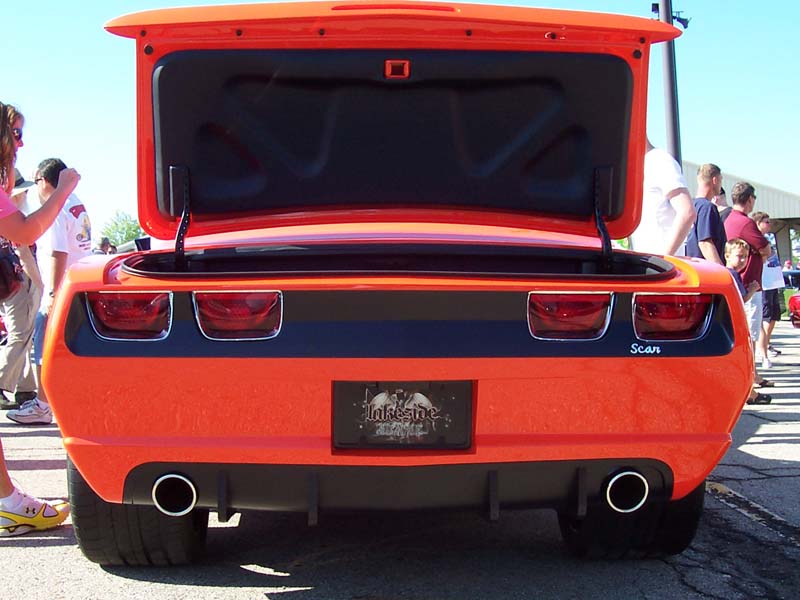 First up a one-off chassis was made, and a very stout one at that. The Lakeside crew knew going into this build that this car was going to run the Autocross, and rigidity was of the utmost importance. Karen, an accomplished autocross contestant was going to be one of the pilots of this rocket ship and she knew if she wanted to be at or near the top of the field she needed the right equipment. This is why Detroit Speed and Engineering was called on to provide their Hydroformed components. The differential of choice was the venerable 9" Ford. Boze black powder coated (with polished accents) wheels were mounted to Michelin Rubber. Wheel sizes were 20" x 12" in the rear and 18" x 8" up front. Next up was the decision of which motor to use to give Karen the necessary horse pressure. After some deliberation a 600 HP GM LS (ASA) motor was selected, mated to a Gear Star 200R4 transmission.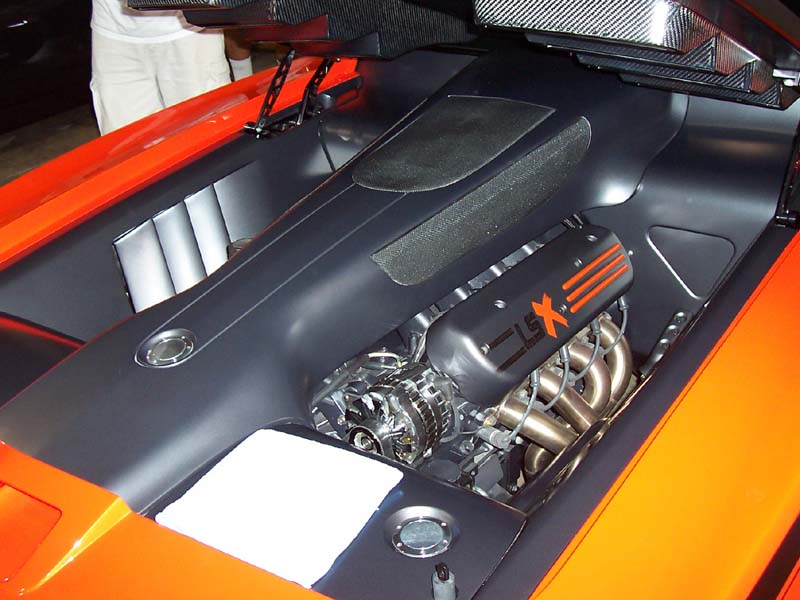 After the chassis build, the Lakeside crew knew the biggest challenge was ahead. Every panel of the existing 67 Camaro body was about to be sliced or modified in some way. The wheel base was extended 2 inches in front, 2010 Camaro headlights, taillights and roof skin were borrowed from a donor car. The rear quarters were moved up 2 ½ inches, with working brake ducts grafted to the rear quarter. The front and rear facias were completely reshaped and restructured, the fenders were flared 1 ½ inches in the rear and an inch in the front to provide tire clearance for the massive rubber. A carbon fiber hood was used as was a custom fabbed rear deck spoiler. The glass was all flush fit to the body which is a very nice touch. The engine surround consisted of bead rolled and embossed panels all coated with gun metal gray. All powder coating was accomplished by Extreme Powder Coating. The engine cover doubles as an intake plenum that's molded to the exterior scoop. Maybe at some point you're asking yourself "why was this car named Scar?" It's because of all the cuts and modifications to the body that this skilled crew went through to complete the task at hand. Through all the bumps in the road, Karen steered the project towards completion. She also provided Lateral G.net and Pro-touring.com with some teaser construction photos that enabled enthusiast from all over the nation to view the build in progress. After completing the precise body work, the car was shot with PPG custom mix pearl orange, 2002 clear coat with black satin stripes. The car in the sun exhibited a hue unlike any other car I've seen. This probably came from the laser straight body panels also. The "Scar" script emblems front and rear were milled from billet by hand by us (J&B Microfinish) and then polished to a mirror finish front and sides.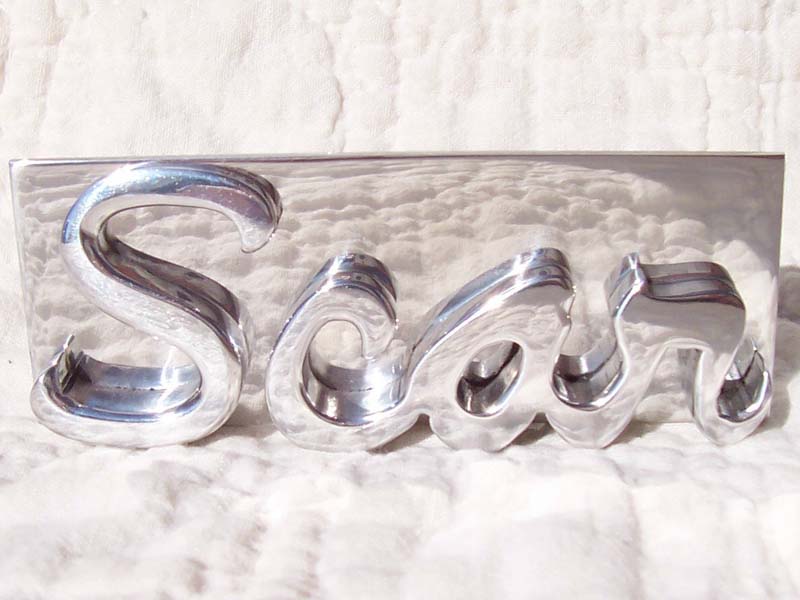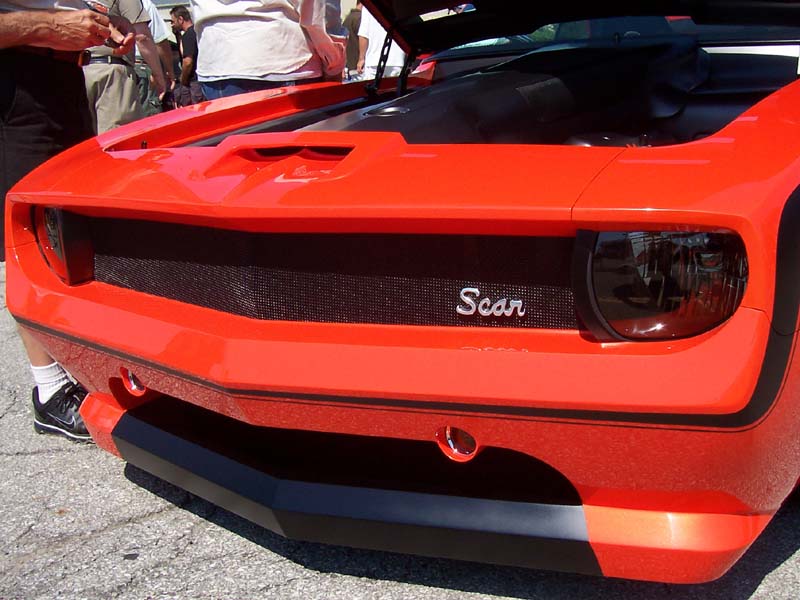 Looking in the interior is a custom built dash by Lakeside complete with one-off gauges built by Classic Instruments. We (J&B Microfinish) milled and turned the Brockmeyer inspired one-off gauge bezels for the Classic gauges, while Lakeside made all other interior panels, console and trim. Dan Weber of Weber's Custom Interior was then called upon to handle all the upholstery (interior and trunk). He used top grade leather and stitched it using orange thread. We (J&B Microfinish) custom made the "Scar" by Lakeside engraved sill plates. We milled triangular shaped pockets into the face of the sill plates so that Corian inserts could be made and fastened to the assembly. This tri-angulated geometry coincided with metal work on other panels of the car to provide a structural theme.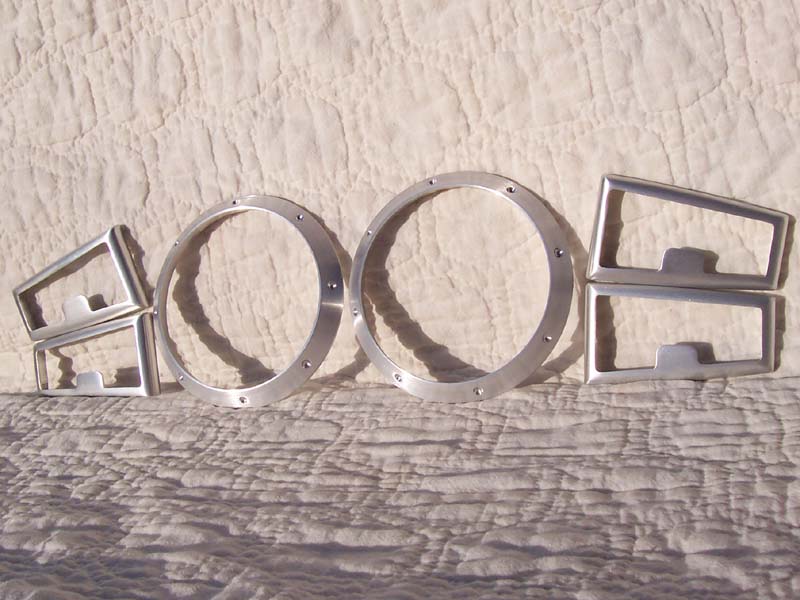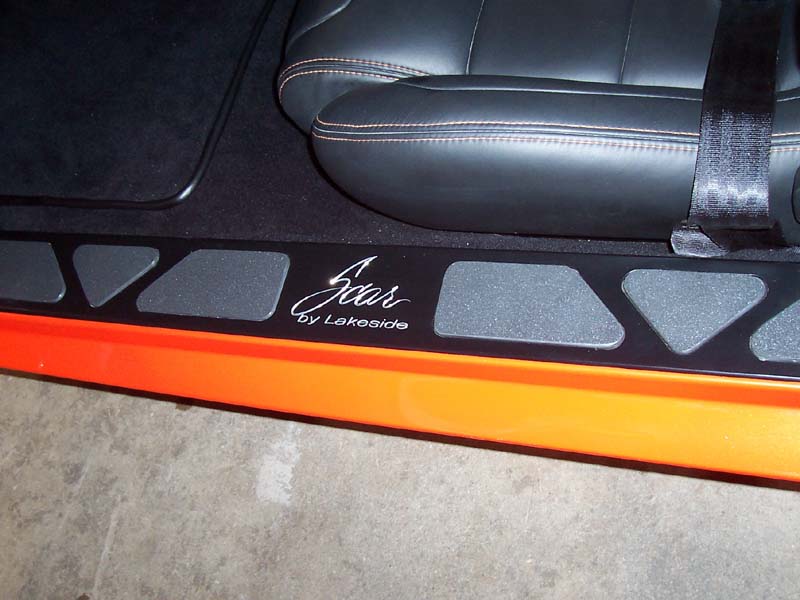 As stated previously Karen is the first woman to have won the S.M.O.Y. award. What I haven't mentioned until now is that although we have made parts for other S.M.O.Y. finalists, this is the first time that we were asked to make parts for the winning car. This "Scar" car was featured in the December edition of Camaro Performers Magazine, "Scar" was given a 6 page feature and a partial front cover. Also in the November issue of Goodguys Gazette "Scar" was given a front cover. It has also been featured in Popular Hot Rodding and Super Chevy Magazines.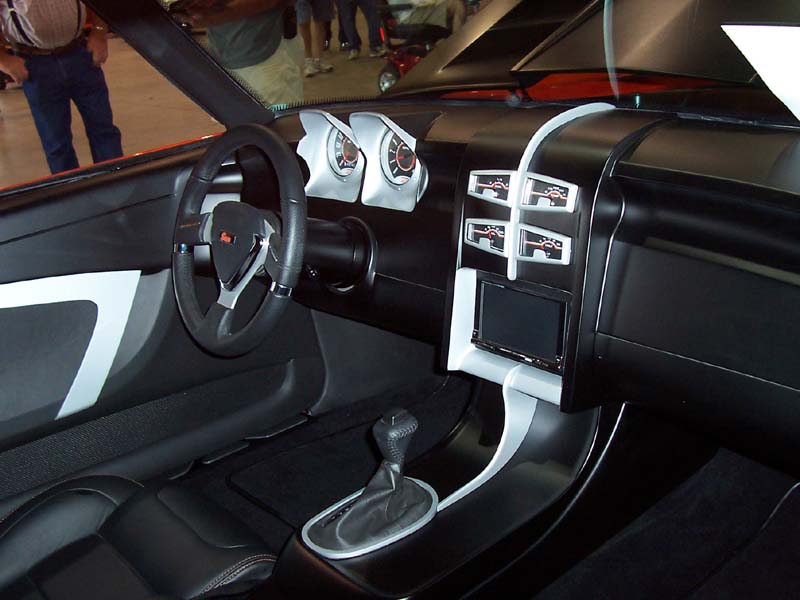 At the Nationals and in blogs posted on websites several enthusiasts commented that this car should have been the Camaro GM should have built. That may be true, but I know one thing for certain is that Karen, Dave and their sons Josh and Jared are very happy with the win and we couldn't be happier for them.