Jess' 69 RS Z/28
2007 Goodguys Muscle Car of the Year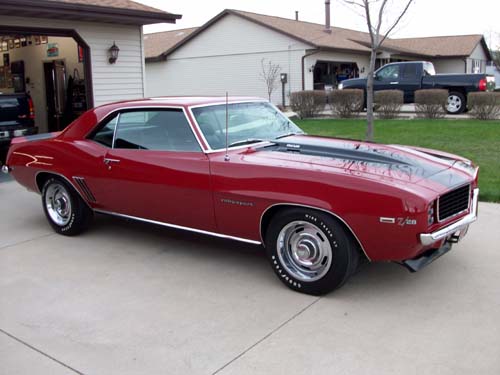 Jess Mygatt of Forrest, IL is the proud owner of this 1969 Camaro RS Z/28 original numbers matching muscle car. Most of this pristine car was built by Jess in his home garage. This captivating Camaro under went a complete nut and bolt rotisserie restoration. One of the few details Jess farmed out was the body work and paint. Here he had Brian Cornish of Lawton, MI do his specialty and the results are noteworthy. Brian shot the car using paint code 52-52 Garnet Red, and also painted the black Z/28 stripes.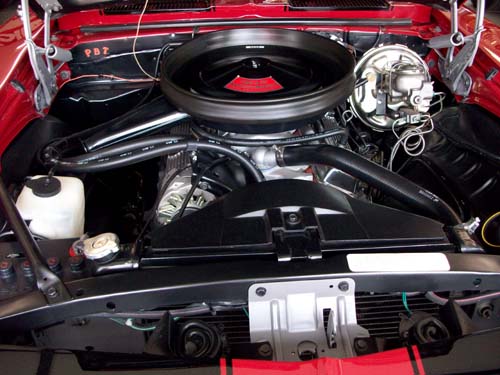 The frame was powder coated and the suspension was thoroughly rebuilt. Factory horsepower figures for the 302 Z/28 engine were documented at 290 HP. However, the secret was out long ago that these engines, along with their Boss 302 competitor, were pumping out more like 375-400 real world ponies. The factory figures were advertised extra low due to insurance problems of the era in which these engines were produced. A stock Muncie M21 close ratio 4 speed, complete with the original Muncie shifter reside in Jess' "Z". The 3.73 geared 12 bolt differential has also been left stock and the original Rally wheels, shod with Goodyear wide tread GT E-70-15 tires were bolted on.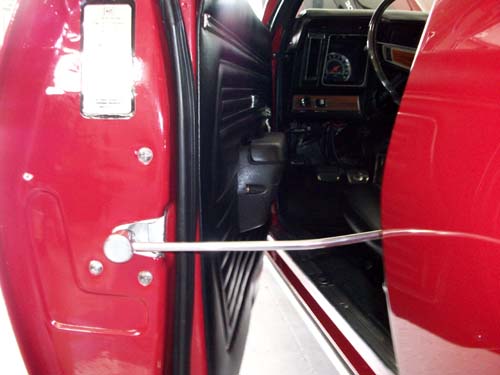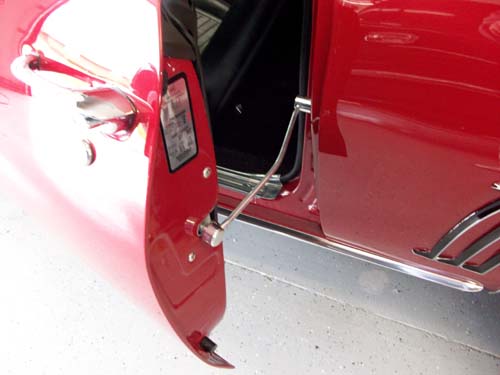 The interior, all redone by Jess, has also been left stock and is as immaculate in detail as the rest of the car. Jess asked us (J & B Microfinish) to make a set of our Billet Door Holders for his "Z", so he could show the door jams to spectators at local and national events.
Speaking of national events, Jess' Z/28 was chosen from a large field of regional event finalists as the "Goodguys Muscle Car of the Year" for 2007. Truly this is a prestigious honor and Jess says he feels very fortunate. His "Z" has also earned Super Chevy Gold at Indy, Joliet and Milan, MI for 2007. Magazine coverage for this muscle car includes the fall 2004 edition of Camaro Performers Magazine (Super Chevy), and multiple features in the Goodguys Gazette in which the May 2008 edition features Jess' Camaro with a full page color feature.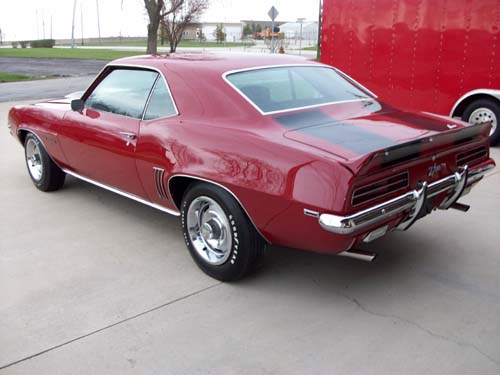 Through hard work and toil, Jess has restored and brought a car back to life from an era of more simple and less hectic times. This is why I believe the old car industry is doing so well. Camaros, Mustangs, Challengers and the like were cars that were fast, had great design, were affordable and could usually be worked on with simple hand tools. Could it be that this is why the big three are going back to these retro inspired designs?