SHAZAM


37 Fords have really come into their own. This fine example, owned by Jim and Pat Talaga of Plainfield,Il has got to be the finest 37 Cabriolet we have ever seen. Built by Jim along with Ken Juricic, Seneca,Il, Shazam exhibits an elegant look but at the same time subtly shows a "Bad Boy" style.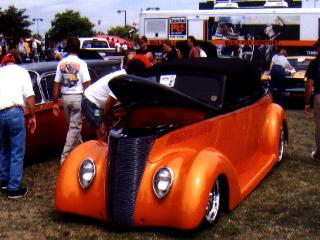 The powertrain consists of a twin carbed 454 big block equipped with a Comp cam and lifters. Coan supplied the trans to transmit the big block power to the 9" Ford assembled with 3.55 gears.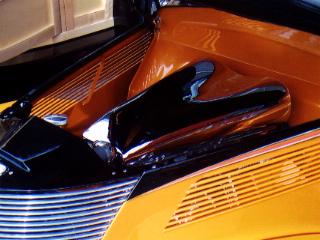 The chassis is equipped with an Air Ride unit that is mated to a Heidts front suspension. Billet Specialties supplied the billet rollers, 17x7 fronts and 20x8 rears.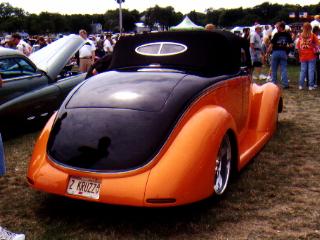 The interior is a work of art. Shobers Trim and Upholstery in Montgomery,Il stitched the interior with Garrett leather then covered the floor with wool carpet. Exotic metal work is evident in the dash and door garnish molding areas. Jim wanted to highlight this metal work so he asked us (J&B Microfinish) to fabricate billet deco trim and the results speak for themselves. We have also fabricated some tonneau cover "V" wing trim pieces for this hot rod. Jim selected a glide seat and then cut it to fit.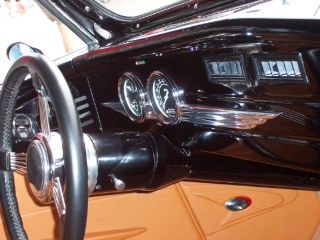 Much time was spent on the body to achieve the low, mean look. The top was chopped 3", headlights and front fenders were lowered 3" over frame (rear), hidden hinges, and smooth running boards to name a few of the many mods. The front grille is another key detail. The grille was handmade and features a distinctive wrap-around shape.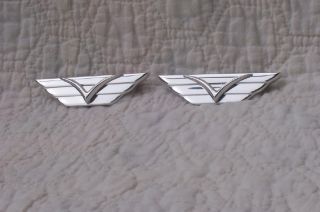 St.Aubins of Manteno,Il and Chuck Gray (Grays Garage) of Metamora,Il shot the beautiful House of Kolor sunset pearl and PPG Black paint. Bob Thrash of Manteno then applied the awesome beltline graphics.
Jim debuted Shazam at this years Detroit Autorama and came home with a couple of awards. The Indy Hot Rod Nats was Jims next stop where Shazam was awarded a "Boyd's Pick". Shazam was also awarded a "Fab 5" award at the Great Lakes Nationals in Waukesha, WI, a Shades of the Past "Top 25", the "Coolest Convertible Award" at the 2005 NSRA Milwaukee Nationals and was selected "Top 5" Pro's Pick at the NSRA Northern Nationals in Kalamazoo, MI. It was displayed in a 5 page feature in the April 2005 edition of Rodder's Digest and also has been displayed in Street Rodder, Rodders Digest and Street Rod Builder Magazines.
Exquisite styling, a mean stance and striking colors spell success for this 37 Cabriolet. Congrats to Jim and Pat in creating a truly fine hot rod.