Wonderful Woody's


Built with pride in central Illinois, here is a pair of woodys that sparked a lot of interest at various national events this past summer. Both cars were built by Gray's Garage, Metamora,IL and display the excellent detail this shop is known for. Everett Gray owner of the red 38, and Gary McCormick, owner of the green 39, went to great lengths in building these wooden cars.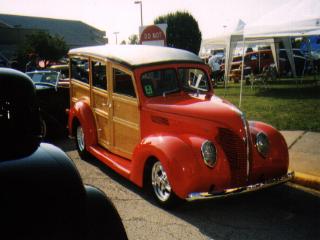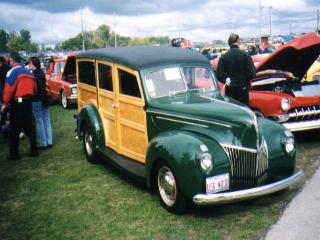 Everett once again built one of their tried and true chassis, complete with a Heidts front end and a 9" Ford rear end. Everett, being the Ford guy that he is selected and installed a 302 engine complete with a C-4 transmission. Gary on the other hand, selected a Chevy Ramjet and installed it along with a 700 R4 transmission.
Body work, paint and assembly, done in flawless manner was executed by Chuck Gray. The 38 has PPG Hot Red top coat and the 39 exhibits a PPG Macks green color.
The construction of the wood cabs was done by Mike Nicols of "Woodys by Nicols" in Michigan. The finished product is admirable and speaks for itself.
Once again McFalls did the upholstery work, which displays rich looking leather and stitch work that is awesome.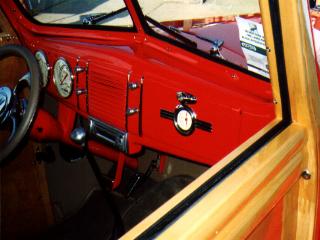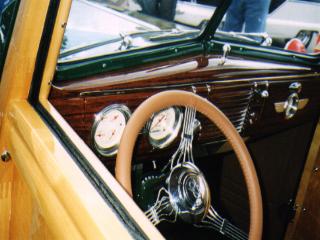 Everett and Gary asked us to make various winged dash pieces in both cars. In Gary's 39 we manufactured a set of tunneled billet gauge pods that give the wood grained dash a different look. These pods enclose a set of Classic Instruments gauges, which look great in the finished cars.
Everett's 38 was recently displayed in NSRA Street Scene Magazine and Gary's 39 was awarded the "Wonderful Woody Award" recently at the Goodguys Great Lakes Nationals in Waukesha, WI in only its second outing. Gary's 39 has also been displayed in Street Rodder, Street Rod Builder and Rodder's Digest Magazines.
While cruising in Gary's 39 at the Great Lakes Nats, Everett showed me some new projects they will be working on in the near future. While I can't say what those new projects are, let me say they will be innovative and creative and I can't wait to see them at a cruise-in or national event soon.