USA32Ford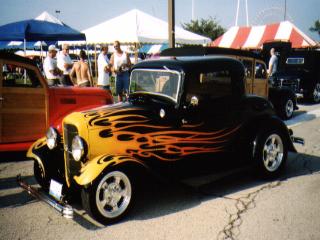 32 Fords are what the majority of the rodding population considers the most popular year of the hot rod of all time. This black beauty owned by Gary McCormick of E. Peoria, IL and built by Gray's Garage of Metamora, IL represents the timeless appeal this year of car demands.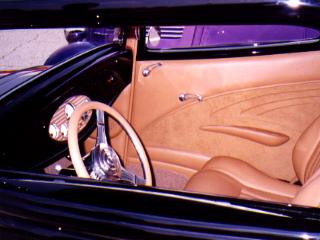 This deuce coupe has had a frame built by Everett Gray and Gary himself. What has become one of the cornerstones of a Gray;s Garage built rod, is the installation of a Jag rearend. Everett and Gary handled this chore quite well. A Heidts stainless I.F.S. rounds out the chassis work.

Another cornerstone of a Gray's built rod is the installation of a Ford engine. Heck, Everett, Chuck, Gary, and crew have been building Ford powered rods back before building Ford powered rods was cool.
This car proudly displays a 385 horse 351 Windsor and I might say it has a very healthy rumble. Check out the 14" billet air cleaner assembly. This air cleaner was made at our facility and features a "Art Deco" design milled into the top. It also features 3 teardrop ball milled grooves milled into the top for extra appeal. We also milled a winged V-8 insignia for the interior to give it extra punctuation.
The next highlight to be featured is the paint and metal work. A well-known saying comes to mind while gazing at this dark deuce. "It takes guts to paint 'em black". The black on this car looks like it's 10 miles deep! Chuck Gray squirted the paint on this car and also did some of the metal work. Merle Berg of Bellevue, IA reworked and chopped the top and is responsible for most of the other flawless metal work.
Another highlight is the McFall leather interior. Jim McFall and crew of McFall's Upholstery in Iowa City, IA do excellent stitch work, as is evident of the interior photo shown.
This deuce coupe was recently displayed in the NSRA Streetscene magazine and Goodguys Gazette. This fine car was chosen out of a field of 3,400 rods to be a Top 5 Pick at the NSRA Nats. North and was also awared the "Deuce Doins Pick" at the Goodguy's Heartland Nationals.
Well as usual, Gray's Garage has more than a few irons (Or should we say "logs") in the fire. We will keep you posted. Stay tuned.