32 Roadstar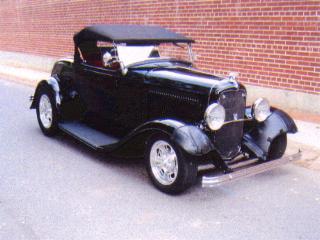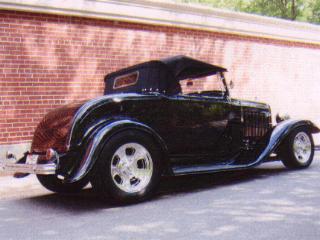 Burt Litton of Burt Litton Street Rods in Marietta,GA has been building hot rods for years. This fine 32 Roadster represents the fine work he and his crew are capable of producing. Burt chose only the finest components in the build-up of this hot rod.
Chassis work consists of a deuce factory frame with triangulated 4 bar hooked to a Currie 9" Ford with limited slip 3.73 gears. Chassis Engineering supplied the dropped axle with Deuce Factory polished batwings and a 4 bar set-up. The front end is sprung using Durant super low monoleaf springs. The steering components consist of a Mullins steering box hooked to a Flaming River rack while Lecarra supplied a Banjo style steering wheel. The road wheels were made by Billet Specialties (Legacy) and BF Goodrich rubber are the tires of choice.
The engine that was selected is a ZZ4 350 crate motor with an Edelbrock carb and Sandersons full length headers. Burt completely fab'd his own stainless steel exhaust and then polished it to perfection. Never Rust supplied the stainless mufflers.
The ZZ4 engine is mated to a 700R4 and along with the converter was supplied by TPI.
The super smooth body is a Westcott. A Rootlieb hood, LeBarron Bonney top and a Bob Drake grille round out the manufacturers selected for the build-up of the body.
Burt's modifications to the body consist of laying the windshield back 4 degrees along with a 2" drop. He also dropped the seats below the floor level and attached them to the frame. This mod allows him the option of moving the seat back under the rear cowl of the body for more leg room. Other body changes include a modified rear body top support and cowl lines for better flow front to back.
Dupont Super Jet Black basecoat/clearcoat paint was sprayed over the entire car. The results of which are excellent.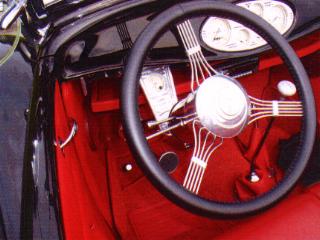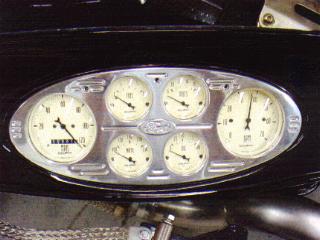 Looking into the interior you find a beautiful wine colored leather covering the glide split backseats, door cards and the like, all upholstered by Burt himself. He decided to have us make a custom one-off 6 hole 32 billet insert that would fit inside the opening of the Westcott 32 dashboard. Burt, once a model maker for GM and I might add, was one of the model makers that built many of GM's prototype cars of that era, made us a plastic model of a steering column clock insert and the dash insert. These models enabled us to manufacture the billet inserts with precision. The dash insert along with the Auto Meter Antique gauges makes a statement and gives the roadster a different look.
With this kind of craftsmanship on hand its no wonder Street Rod Builder Magazine selected this car out of a field of 4500 other rods at the Indy hot Rod Nationals to do a full photo shoot and feature in an upcoming magazine edition.
After observing the pictures and text of this deuce, one might think that this car makes a nifty show car. However, a show only car this deuce is not. Burt has already driven this car many miles and plans on driving it many more. This mindset is at the root of hot rodding and Burt Litton has captured this spirit with his 32 "Roadstar"