Roger Hogan's 55 Ford F-100

2011 ISCA Truck of the Year

2010 Goodguy's Truck of the Year (Late) Finalist

2010 Truck of the Year F100 Super Nats. Pigeon Forge, TN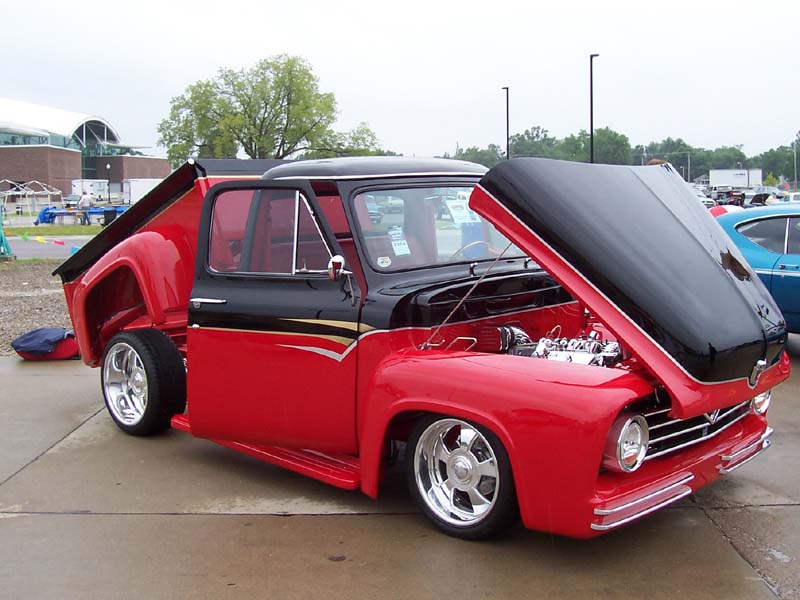 Roger and Carolyn Hogan of Farmington, MO, owners of this magnificent classic truck know the meaning of detail. One look at their F-100 will tell you that.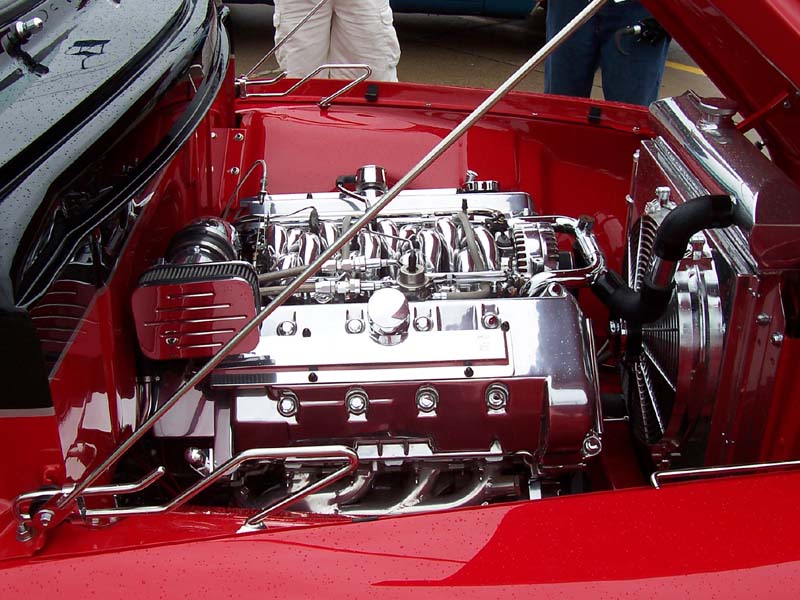 The build started with the frame, as most builds do. Roger selected a stock chassis and then proceeded to "C" notch, box and base coat, clear coat it for rigidity and overall appearance. To the frame, a Heidts Mustang II Superide II front end was installed by Mike Gamble Street Rods along with stainless coil overs, Heidts polished power steering rack & pinion and Wilwood brakes with polished calipers. A 9" Ford, plated by Street and Performance was installed in the rear, complete with 3.73 gears. The rear suspension consists of a Heidts stainless four link. The engine of choice is a very good one indeed. Roger wanted more than the usual horsepower for his hot rod hauler. A 32 valve 4.6 liter Cobra motor was located and installed by Mike Gamble Street Rods into the engine bay. Fully polished, this engine exhibits a "jewel in the box" appearance while providing plenty of get up and go! The Cobra motor was mated to a Ford electronic A.O.D. This unit was polished by Street and Performance while the stainless plumbing chores were accomplished by Scott Thatch. The transmission mounting bracket was chrome plated by Advance Plating. Roger spent many hours filling and sanding not only the frame but the entire body as well. After the painting process was complete Roger also installed all the brake lines. At this point a polished aluminum drive shaft was installed and a custom polished 2 ½" stainless exhaust was installed by Mike Gamble Street Rods complete with polished Borla mufflers. Last but not least a set of Billet Specialties Vintec wheels were installed. Wheel and tire sizes are as follows: 18" up front mounted to a 245/40ZR-18 B.F. Goodrich G Force rubber and 20" out back mounted to 275/35ZR-20 B.F. Goodrich G Force tires.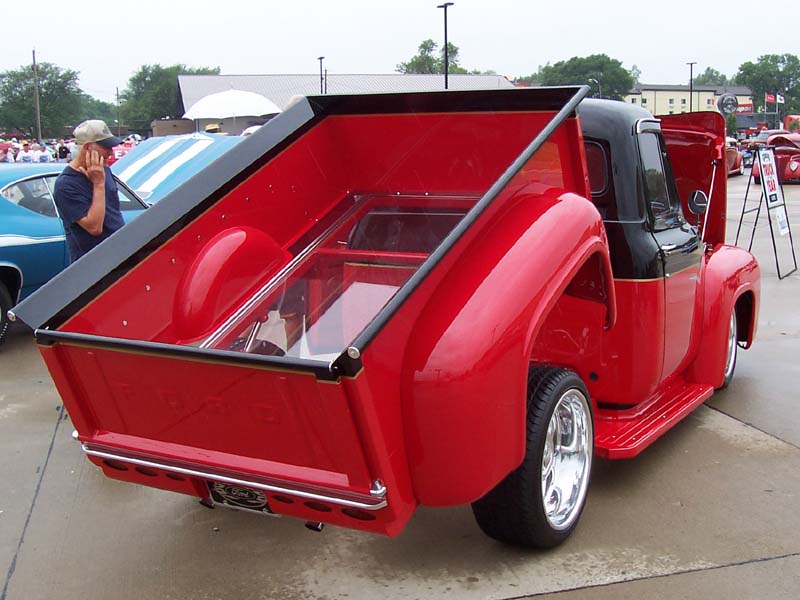 The stock 55 Ford F-100 body was next on the agenda. Mike Gamble Street Rods of Arnold, MO performed many of the body mods and John's Auto Body, Inc of Imperial, MO prepped and painted the body using a custom mix DuPont paint. The two-tone black over red also incorporates silver and gold trim and graphics. Terry Altman of Trique Manufacturing custom made the custom grille and bumper brackets and also the tilt bed frame and modified the Mid Fifty F-100 front tilt hood kit. The Lexan bed floor was made and installed by Mike Gamble Street Rods and it allows for an unobstructed view of this effie's undercarriage.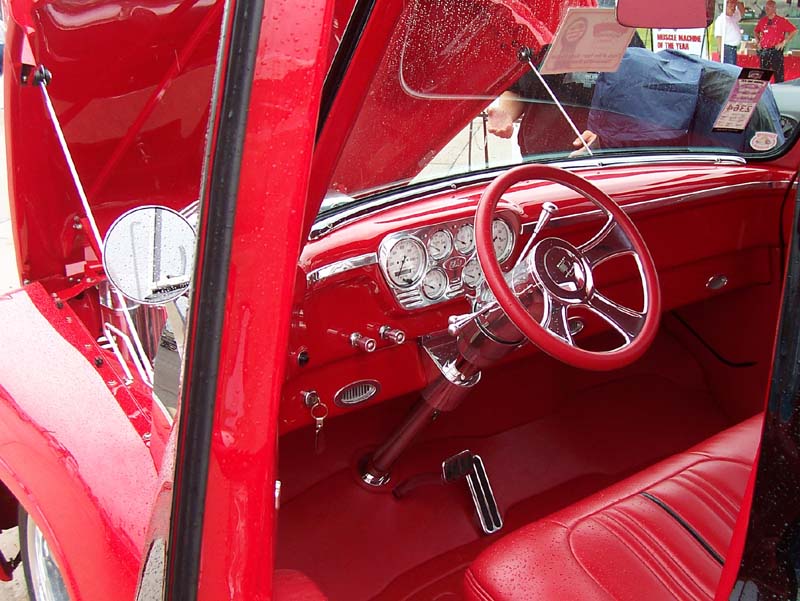 Mike Roth of Perryville, MO stitched the interior using red ultra leather and black trim. He also custom made the bench seat and covered the floor and the headliner with ultra leather to complete a very uniform look. We (J&B Microfinish) manufactured the polished billet 6 hole dash insert for this effie which was purchased from Mid Fifty F-100, along with a set of Autometer gauges. This fabulous F100 was featured in Classic Trucks, Street Trucks and the Goodguys Gazette.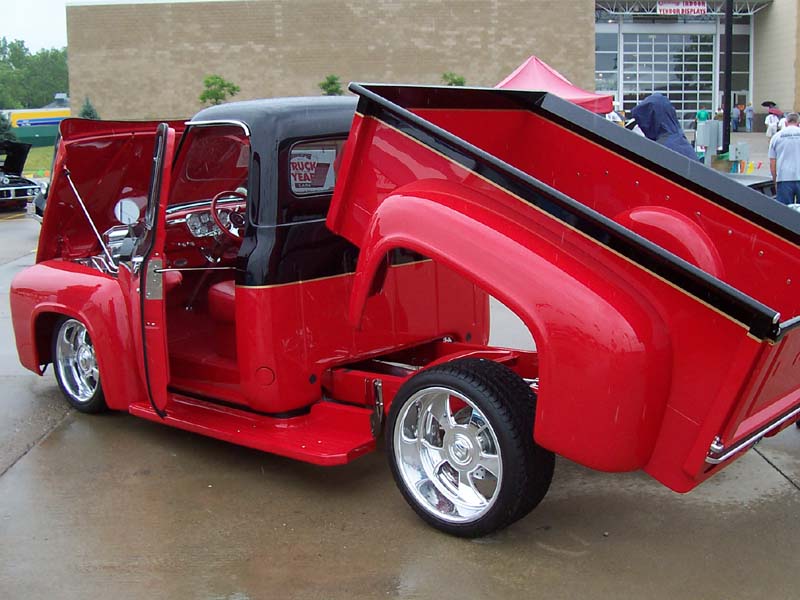 Major awards given to this F-100 have been many. Roger's radical F-100 was awarded the F-100 Supernational Ford "Truck of the Year" for 2010 at Pigeon Forge, TN. In October 2009, at the Goodguys Lone Star Nats, this truck was awarded a Trick Truck Corral Pick and a Roush Ford in a Ford award. It was also selected by the I.S.C.A. in 2010 as the Best Truck of the Show at Kansas City, Chicago, DesMoines & Duluth. A Casi Cup winner at Kansas City and Duluth led the way to it becoming an I.S.C.A. Truck of the Year finalist. The I.S.C.A. awarded Roger's fabulous F-100 the Truck of the Year honors for 2011. Recently at the Goodguys Heartland Nats, in DesMoines, IA Roger's F-100 was selected as a Truck of the Year (Late) Finalist and it will be in the running for this prestigious award also, to be announced in October on the Goodguys website. In 2012 this fabulous F-100 was awarded a Shades of the Past Top 25.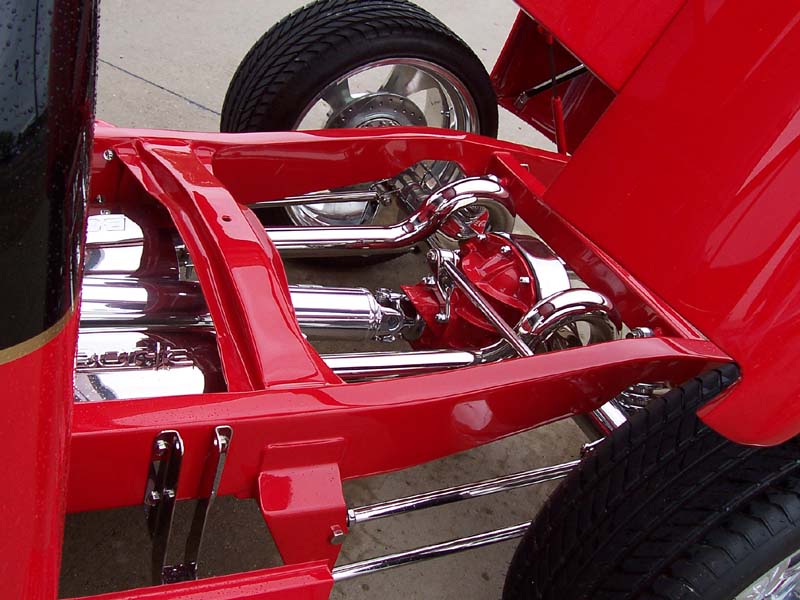 Success usually comes about by hours of preparation and hard work. This preparation and hard work is clearly seen in this F-100 project. We wish the best to Roger, Carolyn and family and we would like to congratulate them on honors received for they truly have deserved them.