Flamed 34


Bob & Gayle Snedden of Streator, IL are the owners of this cool 34 Ford 3 Window Coupe. Built by Sho N Go Speed Shop, Streator IL, this hot rod exhibits many modern amenities. Stance is one of the more important features of any car built, and this car has it down, thanks to the Air Ride Shockwave Ride Pro set-up that Sho N Go installed. The 16" American Racing "Hopsters" look excellent on this car also.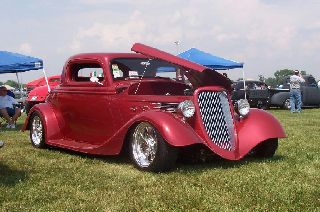 You may be wondering, while viewing the pictures above, where all the trick flamed, billet work was done. It was fabbed at our shop (J & B Microfinish) in Pontiac, IL. It was then sent to Precision Plating in Quincy, IL for the chrome plating. These pieces include the Flamed Hood Side Vent-I-Plates, and Flamed Extensions, Flamed Hood Nose Piece and the Flamed Valve Cover Plates, T.P.I. Wirelooms, Mini Breathers and Dash Knobs. Mike Mathias, owner of Sho N Go and I came up with these designs to create a truly one-off look.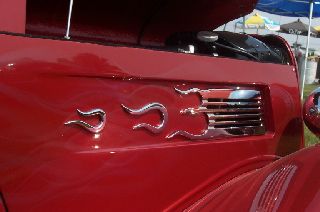 The paint on this 34 is also a custom one-off creation, consisting of a custom-mixed PPG red, with a 4 color pearl ghost flames, finished off with PPG Diamond Ice in the clear. Some trick body work was also accomplished including shaved bumpers, license plate surround smoothed and relocated and the top was chopped. All body work and paint was performed by Garage Jobs of Streator, IL.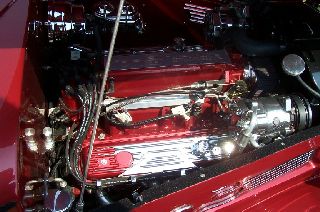 The engine in this beast is a GM Performance Ram Jet, hooked up to a 700 R4 which is connected to a GM 10 Bolt Posi Unit.
Ultra Leather interiors are becoming quite popular these days. The tan Ultra Leather stitch work, accomplished by Twin City Upholstery, Bloomington, IL is a nice contrast to the PPG red paint. Tilt steering, power door and trunk release, A/C, P.S., P.B. are just a few of the creature comfort devices incorporated in this ride.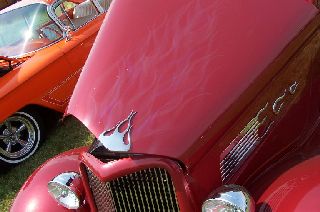 The World of Wheels in Chicago was the first show that this car was displayed at, and it was well worth the travel time. This hot rodded 34 was awarded a major I.S.C.A. Award there and is likely to pick up many more at shows across the midwest.