Kapitz Kustom


Custom rods through time are built in various styles. Some are built with a hard core traditional style, others are built using the contemporary look. This 1954 Ford, built by Doug Kapitz of Brookfield, WI blends the two styles together in a unique way.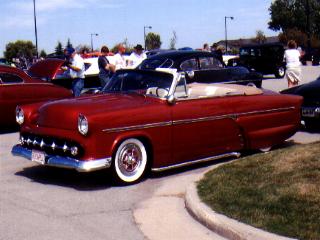 Nosed and decked, lowered and shaved defines only a few of the body mods incorporated into this beauty. A Packard rear clip was grafted to the rear which enabled Doug to use a pair of the ever so popular Packard taillights that graced many customs in the past. However, upon closer examination the taillights have a different look. This is because they were shortened a bit. This is one of those mods that only a trained eye would be able to pick up on. The 56 Ford rear bumper was also narrowed by 6 inches to accomodate the narrower 54 Ford body.
Looking into the engine bay, Doug chose a 351 Windsor, producing 330 horsepower. Doug decided to keep the powertrain all Ford using a C-6 automatic. An idea we are certainly for.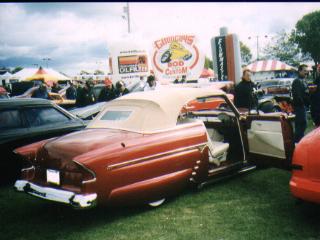 The chassis is equipped with disc brakes with 3" drop spindles and a Ford 8" rear end.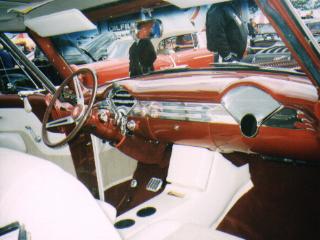 The interior speaks elegance. Stitched by Custom Top Shop of Butler,WI it displays comfort mixed with style. Doug decided to incorporate a pair of rare door arm rests and pulls from the rear doors of a 56 Lincoln with good results. The power bucket seats and modified console come from a 69 T Bird. Check out the aluminum, milled flamed dash insert. It was fab'd at our shop out of sheet aluminum and it added a contemporary look to the finished custom. Oh by the way, that's a 55 Chevy dash thats been shortened to fit the 54 Ford, complete with a Dakota Digital display.
Doug feels he would not have been able to complete this awesome project without the help of many others who include Vic Capeletti, Dale Schneider, Joe Wiensek, F&L Customs, his painter Ron Light and Jewel who did his chrome plating.
Doug's custom was selected out of a field of approximately 1900 cars at the Goodguys Great Lakes Nationals in Waukesha, WI to be given the "Coolest Custom" award and the "Best Radical Custom Award" at the 2005 NSRA Milwaukee Nationals. It has also been displayed in The Goodguys Gazette.
One final note, Doug's 54 custom took 6 years to build. After inspecting this custom rod, I've got to say the results are well worth the wait.