Gray's 34 Buick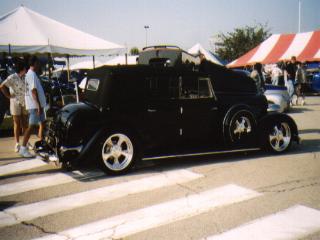 With Buick celebrating 100 years of building cars, it is only fitting that a street rodded Buick should be built to honor its mark. This 34 Buick convertible sedan, in which only 138 were made, did just that and more. This elegant streetrod, built by Everett and Chuck Gray of Gray's Garage, Metamora,IL and owned by Patrick and Linda Magee of Stony Point, NY was one of the show stoppers at this years N.S.R.A event in Louisville. It was awarded a pro's pick there, and will more than likely pick up many more awards in the future.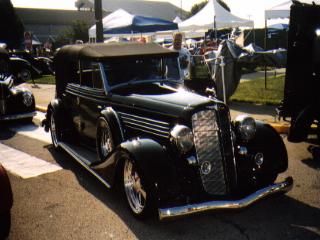 This car started its new life with many of its parts in boxes and many others missing completely.
Starting with the chassis the Gray's chose to graft an aluminum corvette front end and a Currie 9" rear end complete with a "Shockwave" air suspension to the much modified frame. Billet Specialties 20" Legacy wheels were then selected and installed. Choosing a power plant was a "No Brainer" for the Gray's as they decided to install a dual quad 455 Buick and a 700 R4 automatic overdrive.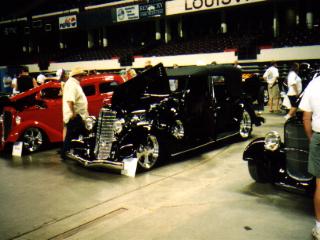 The paint and metal work was again done in flawless manner. Many of the panels and pieces on this car were handmade. Everett & Chuck decided to have "Andy's Restoration" help them out in the making of some of these parts and Andy's came through superbly. The color is PPG Concept Black and the car shines like a diamond.
McFall's Upholstery once again was chosen to do the necessary stitch work to the interior and convertible top. Oxblood was the color chosen for the leather and it displays a very distingushed look in the finished car. Speaking of interior work, we manufactured several stainless screws, bolts, knobs, and nuts for the convertible top and other areas of this masterpiece.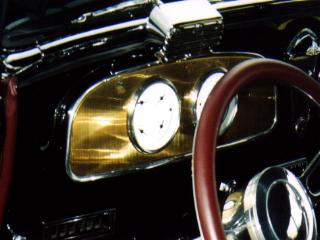 Check out the dash insert. This piece was completely hand machined by J&B to resemble the original dash insert. The only difference is that this insert encases 2 modern gauges, one of which is a 4 in 1 gauge. This idea enables the elimination of the original "tired" gauges and at the same time allows the use of new gauges with accurate readouts to be used. The insert was constructed of a polished billet aluminum outer shell and a polished ball-milled brass insert.
Excellent craftsmanship throughout and a big wheel, in the weeds stance spell success for this special Buick. It has already been awarded a Top 25 at Shades of the Past in Pigeon Forge and has been displayed in NSRA Street Scene, Street Rodder, Rod & Custom, Street Rod Builder and American Rodder. Word has it that there's another mid-thirties Buick that will soon be rolling out of Gray's Garage. We're looking forward to it.