Pinkee's Blue 33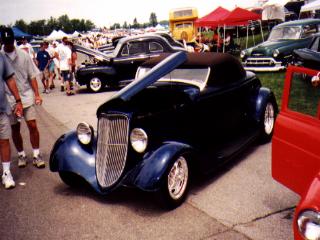 This beautiful 33 Ford, built by Eric Peratt and crew (Pinkee's Rod Shop) of Loveland, CO and owned by John Kokoska of Powder Springs, GA is typical of the elegant rides built by one of the premier rod builders in the country.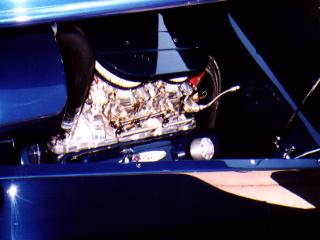 Does this car have class or what? It blends racing heritage with the superb fit and finish evident on all of Pinkee's rods to date. This racing heritage is predominant in the 410 c.i. small block, equipped with TRW forged pistons, Comp cam, and Edelbrock twin 500 cfm carbs. Let's not forget the full length S&S headers. Many of these components were suggested by John Kokoska who has an affection for 60's drag cars, especially gasser coupes. Oh, by the way the engine was built by Tom Conway who is a friend of Johns and also a NHRA pro drag racer.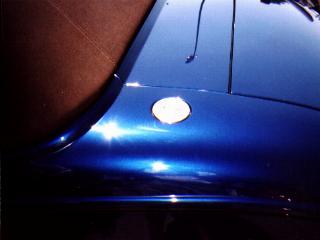 The body was built partly by Don Babb, with help from the crew at Pinkee's. The lift-off aluminum top, aluminum hood sides, bobbed rear splash apron and much of the body bracing (designed by Ron Covell) was fab'd by Pinkees. Eric and his crew also performed all of the metal finishing required to make this rod stand out. Next the 33 was transported to LaSalle,CO home of Nice Rides Restoration where the car was shot with DuPont blue metallic Chroma Premier paint. The results of the metal finishing and paint speak for themselves. The interior, stitched by Steve Pearson's Upholstery Unlimited in Clinton, IA uses Nubuck leather material for its covering. This material resembles material used to make bomber jackets and gives the rod an exotic look. The trunk area was fitted with a two piece luggage ensemble, which is reminiscent of design features incorporated in Gull Wing Mercedes. This classic rod features a J&B Microfinish gas filler fitting and gas cap as one of its details of design.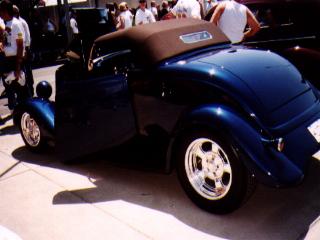 Seems to me every car built by the talented crew at Pinkee's (with a little help from friends) gets worldwide recognition and this hot rod is no exception. A pro's Pick at the NSRA Nat's, Boyd's Pick at one of the Goodguys events, a Top 5 Finalist for the "Goodguy's Most Beautiful Street Rod" award, and a Top 25 Pick at Pigeon Forge makes this blue 33 highly honored indeed. Street Rodder (the world's street rodding authority) has given this 33 Roadster a full feature in the March issue. The feature was written by Photo Editor Eric Geisert. NSRA's Street Scene, Goodguy's Gazette, Rod and Custom, Super Rod and Street Rod Builder also featured this fine car. This awesome rod also was featured on the ESPN2 TV series Street Rodder TV. Rumor has it Eric and crew are busy working on Lil John Buttera's Willys Coupe, that was orignially built and exhibited in 1987. Be on the lookout for this car. It will be special.