Traditional 32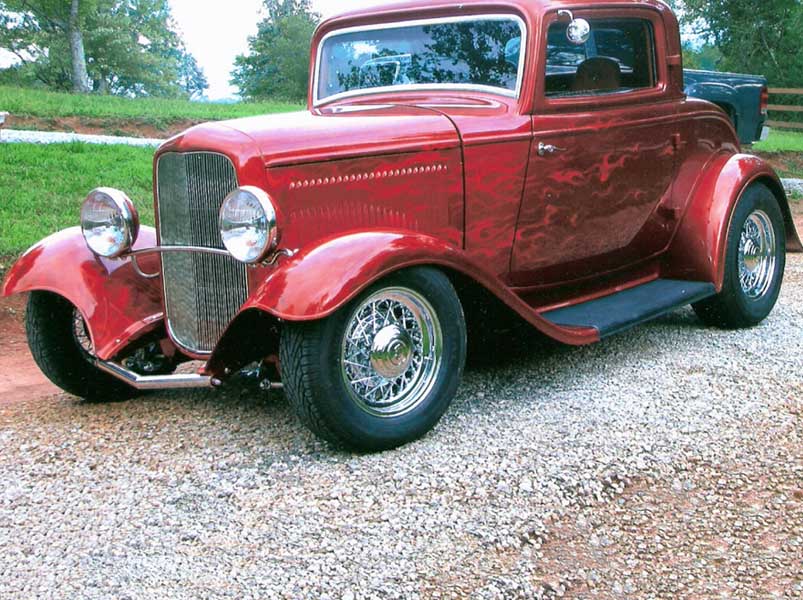 Bill Ritter of Easley SC is the proud owner and builder of this traditional 32 Ford Street Rod. Traditional in a sense, but with many modern amenities incorporated within.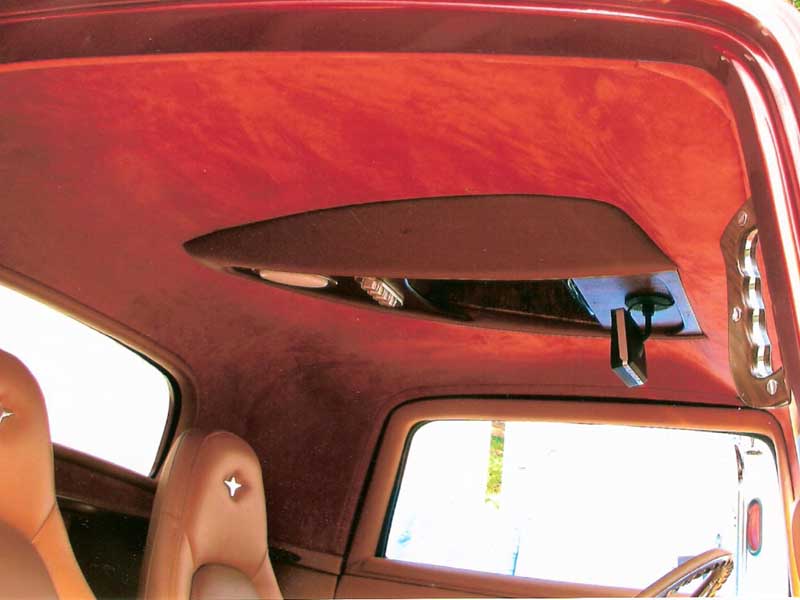 Bill took it upon himself to be responsible for all the disassembly and reassembly and also for all component locations, including the rearview camera Frenched into the bodywork just above the 3rd brake light. This component provides Bill with excellent rear vision with absolutely no blind spots.
The buildup of this 32 3 window started with a Pete & Jakes chassis in which a 9" Ford with a Moser 4:11 Posi (31 spline) was installed using coil over shocks, triangulated 4 link and Wilwood disc brakes. All of these components were dipped in chrome. The front suspension consists of TCI independent front end with coil over shocks, anti sway bar, Wilwood disc brakes, Unisteer rack & pinion connected to an Ididit column. Again, every component was dipped in chrome for the added effect. Once all of these components were bolted together, it was time to assemble the wheel and tire combo of choice. Bill selected a Ben Smeding Performance 383 extreme equipped with a Barry Grant Six Shooter intake and carb unit. A Concept I serpentine belt system was installed along with Sanderson coated full flow headers, 2½" stainless exhaust, Hush Power II mufflers, MSD ignition and a Griffin high flow radiator with a Spal high flow electric fan. This combination of selected components yielded 460 HP @ 5400 rpm and 488 ft/lb of torque @ 4300 rpm on the Dyno. This magnificent assembly was then bolted to a Phoenix built 700 R4 with a 2500 rpm stall converter. Inland Empire Drivelines provided Bill with an aluminum drive shaft to connect all this horse power to the triangulated bulletproof 9" Ford rear end.
With the chassis and driveline complete, it was time to work on the body. Redneck was called upon to provide one of their 32 3 window street rod bodies, complete with the full fender package. Some of the features of Bills build include stainless steel hinges, Frenched power antenna, 32 Ford commercial headlights, Rootlieb one piece steel hood with 20 louvre sides, 2 way hinge system with linear actuators for lock and unlock modes, Bob Drake running boards, Bob Drake taillight assemblies with an LED upgrade, Drake chassis spreader bars upfront and rear (polished stainless) and a stainless steel grille from Dales Manufacturing.
The bodywork and paint were accomplished by Rebel Racing & Kustom Paint located in Rabun Gap, GA. This car was their very first street rod. Rebel Racing primarily does drag cars and ground up restorations of muscle cars and has been doing so for over 25 years. So, one might think that if this was their first street rod built it might be a bit less than optimal, but not so. This 32 came out very well. Rebel shot the car with 2006 Corvette Daytona metallic orange complete with real fire applied to the car. The real fire dances and changes shade and hue under certain light and viewing angles which is very attractive.
Did we happen to mention that this car is a driver? Well, it is and Bill would not want it any other way.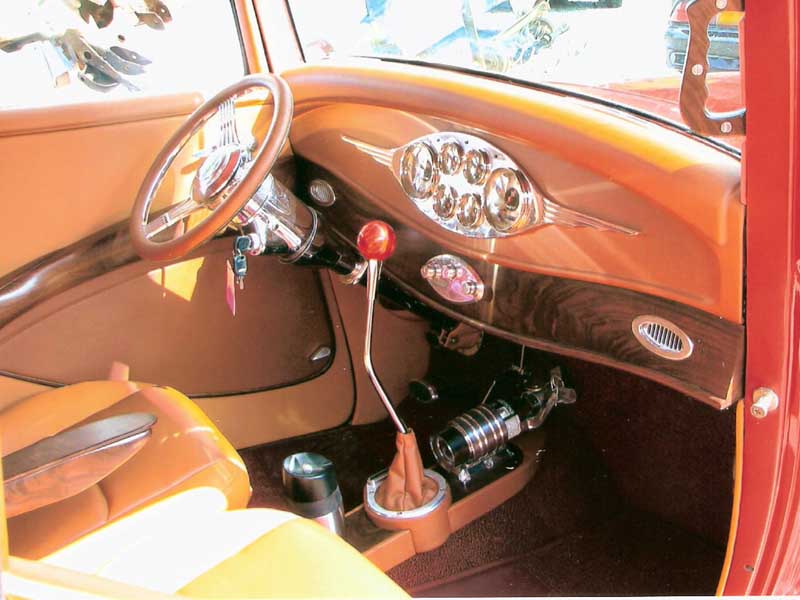 Next up on the build was the interior. For the dashboard Bill called upon us (J & B Microfinish) and had us make one of our All American 6 hole dash inserts machined for Classic American Nickel gauges. Bill also asked us to provide him with our All American seat medallions to continue the theme. The dashboard was covered in ultra leather while the lower dash was made out of solid walnut complete with a rolled bead designed to match the original 32 dash lower contour. Rebel Racing made this solid walnut dash piece as well as the solid walnut arm rests, contoured rear shelf behind the seats, seat supports with an enclosed drawer under each seat, and the "A" pillar handle.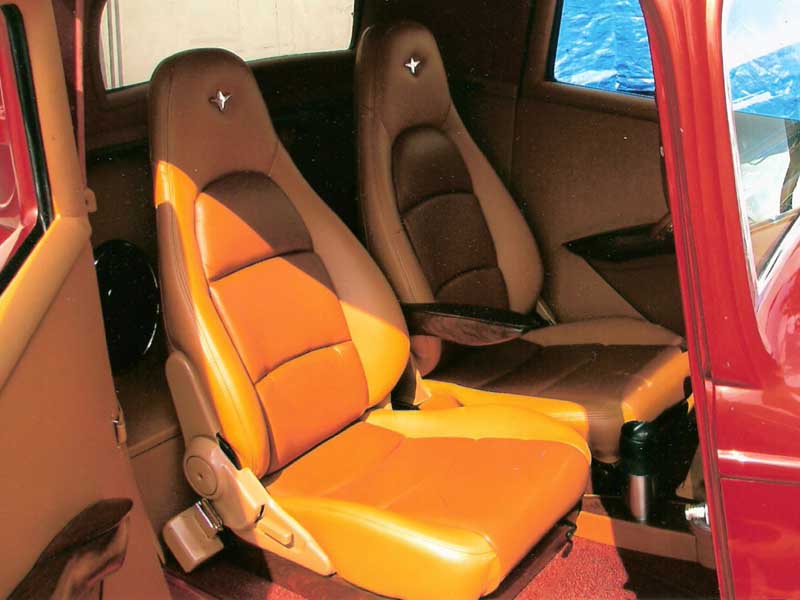 The interior work was accomplished by Fredís Upholstery of Franklin NC. Fred used ultra leather on the Mazda Miata seats, trunk, window frames and steering wheel. Ultra suede was used on the headliner and inside the trunk lid. This interior is a nicely done combination of traditional mixed with contemporary styling.
At the World of Wheels in Atlanta, January 2010 it won Best of Class for Street Coupes and the Street Rodder Magazine Outstanding Streetable Hot Rod award. In Billís own words "The journey can be as much fun as the destination", and we believe that statement to be true, for time and time again we have met others in the hobby with the same thought. The spirit of hot rodding lives on!