Retro Power's Old Ironsides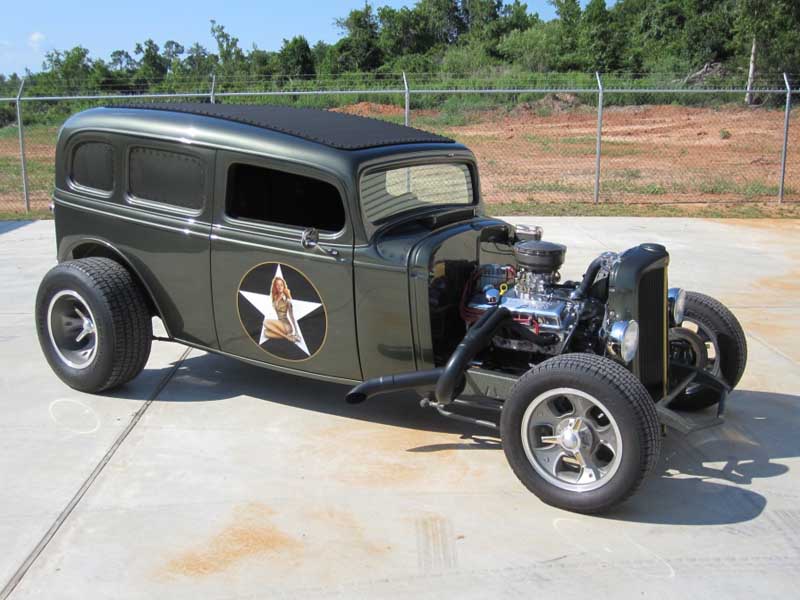 Built to pay tribute and honor to the men and women who serve and protect our country, past present and future, Retro Power of Liberty TX presents this stunning 1933 Chevy, named "Old Ironsides". Mike and Michael Riley owners of Retro Power started with a 1933 Chevrolet 4 door Master and converted it to a 2 door sedan Phantom delivery, and in the process created a very innovative hot rod.
Starting with the chassis, the original frame rails were buttressed with 1 x 1 vertical square tubing and 10 gauge boxing plates. Pete & Jakes supplied the motor mounts, rear ladder bars, tubular trans mount, tubular x member, shocks and tubular shock mounts. Posies supplied the transverse rear leaf spring. ECI firewall mounted brake pedal assembly, Torino manual brake booster and GM front disc brakes round out the braking system.
Looking into the suspension, a Pete & Jakes front cross member, shocks and shock mounts complete with Viper hairpins were utilized along with Posies transverse front leaf spring and a Super Bell dropped tube axle. The rear end consists of a Ford 9 inch with 31 splines, Trutrac 3.70 Posi unit and Ford Racing drum brakes.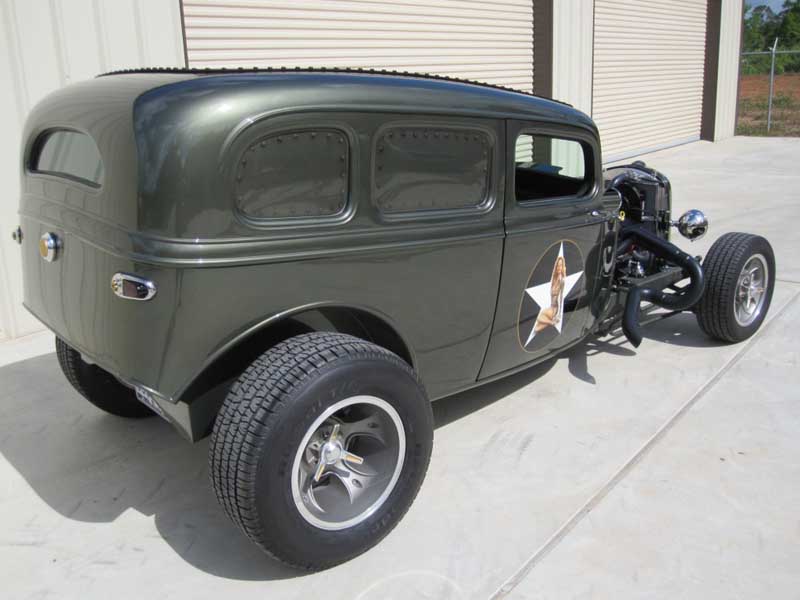 Team III Fueler wheels were the rolling stock of choice. 15 x 6 with 205/60-15 T/A radials on front and 16 x 10 with 285/60-15 BFG T/A radials out back.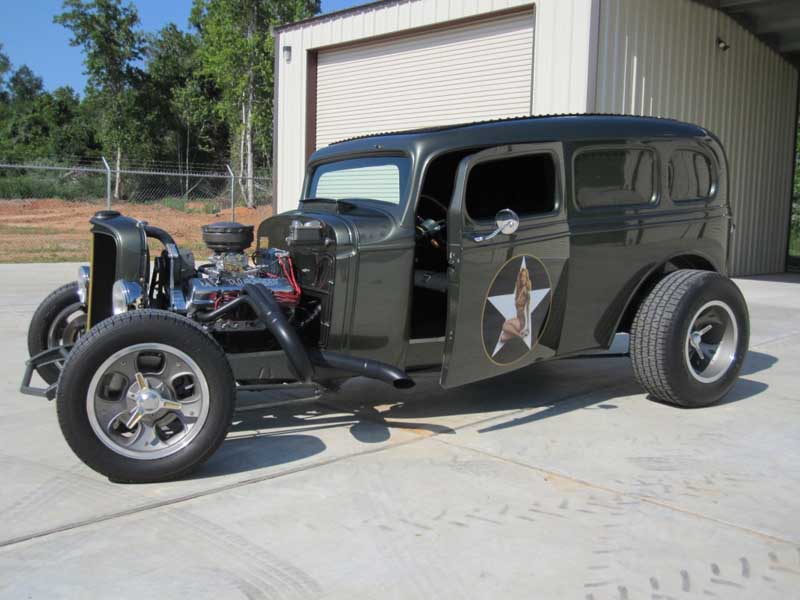 The Rileys wanted a potent power plant to propel their hot rod down the road so a Smeding Performance 383 Stroker was used pushing out 420 HP and 476 FT/LB of torque. The engine exhibits all the latest and greatest hot rod traditional componentry, including an Edelbrock air-gap intake and a 750 CFM carb, Smeding Performance aluminum heads and a .490 lift camshaft. Schoenfeld headers were mated to a Retro Power exhaust system that includes their custom fabbed auger style muffler inserts. An original 1938 Chevrolet oil bath air cleaner converted to use a dry air filter was used to give this 33 Chevy an "old timey" look without all the upkeep of the oil bath unit. The valve covers, designed by Retro Power were engraved with the name given to the car, "Old Ironsides" by Undercover Innovations. A custom built aluminum radiator built by Brice Thomas Radiator rounds out the engine detail.
A fully built TH 350 with a Hughes 2500 rpm Stall converter and Transgo shift kit by Transmission Exchange provide the firm gear changes. Houston Drive Train was called upon to build one of their custom drive shafts to finish out the all important drive train.
This Phantom delivery is all steel and has been chopped 2 ¾" at the front and 2 ½" at the rear window posts. Next up the roof section and front doors were lengthened 2 inches. While the front doors were hung suicide, the rear doors were welded into the body and the body beads were recreated with custom lead work. The rear doors and quarter windows were replaced with custom fabricated filler panels. The firewall was also custom fabricated and it features sculpted bead work. With the body channeled over the frame rails 6" at the cowl and 1" at the rear wheel wells, this body mod opened the door to other body mods. Lower cowl panels were reformed with and exaggerated arch. Custom fabricated rear wheel wells were re-arched to follow the lines of the rear tire and wheel combo. Custom fabricating belly skins is a really cool trick and the Retro Power team tied them to the rocker panels and frame rails. To tie all this work into the rear of the car, a custom rear tail panel was made that highlights the transverse rear leaf spring and again finished off with custom beadwork that ties both quarter panel corners together. To conclude all these wild body mods the grille shell was channeled 6" and all the original wood support structure of the body was removed and replaced with a custom made structural steel frame.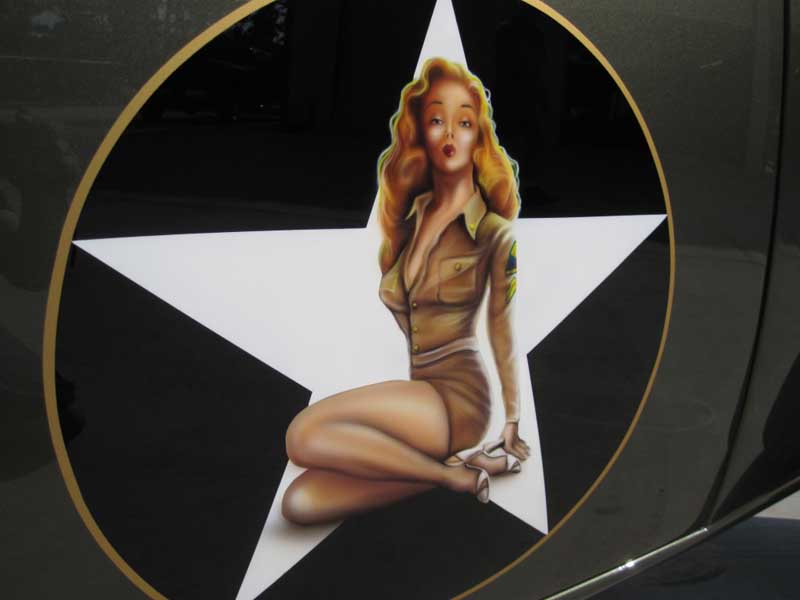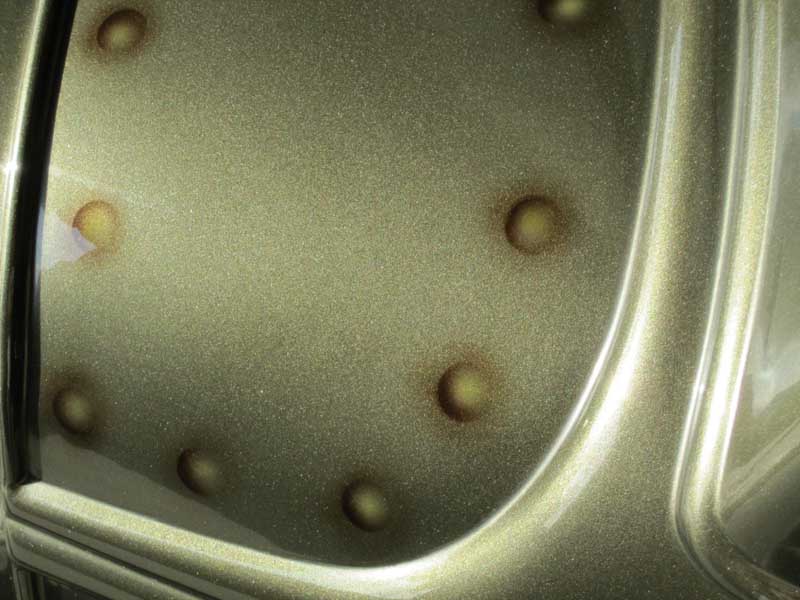 With all the body modifications done, it was time for the Retro Power team to do the paint and body work. PPG Canteen Green was chosen for the base color and after it was applied to the body, Christopher Smith of Space City Airbrush was called upon to do his magic. He airbrushed all the rivets on the cowl and around the perimeter of the rear window filler panels. Christopher also airbrushed the vintage military inspired pin-up girl (twins) on both the front passenger doors.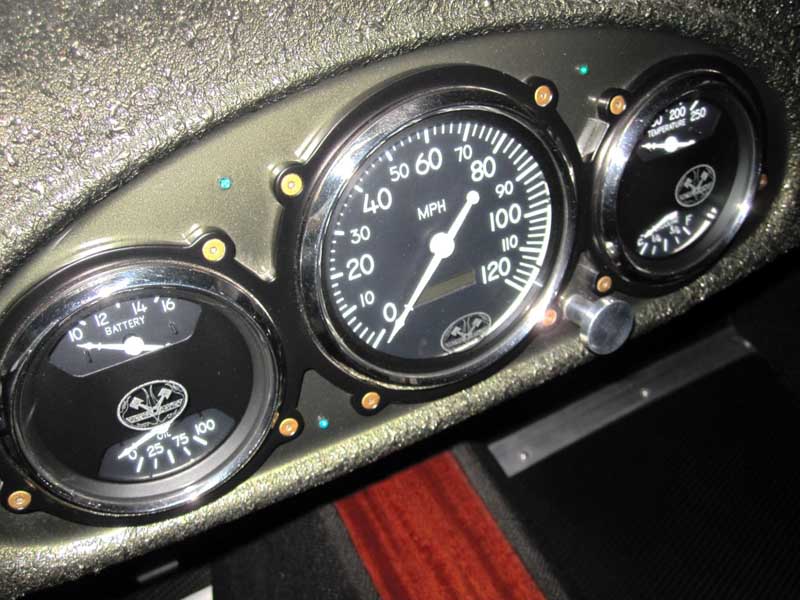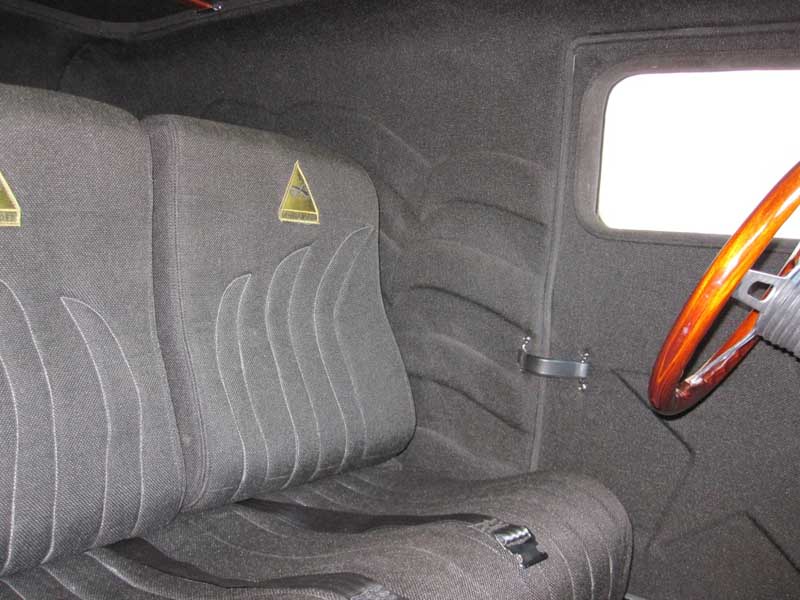 Looking into the interior, a Retro Power designed, J&B Microfinish fabricated bomber gauge bezel was used along with Retro Power designed gauges made by New Vintage USA. The dash exhibit's the same textured finish as the chassis. An Ididit black powder coated steering column and an American Autowire Highway 15 wiring harness was installed. Black tweed was the material of choice to cover all the necessary panels with a 3D sculpted star on the front passenger doors and an American flag theme on the rear one-piece panels. The top insert is made from a sheet of oak and covered in canvas with button snap screw fasteners. A custom made mahogany steering wheel, console and top support bows provide extra detail. All of this interior work was performed by the talented folks at Retro Power! A really unique front seat cover, complete with 1st Armored Division patches was sewn by Isidro. Rounding out the interior detail a spun aluminum fuel tank and ammo box reside between the rear wheel wells. A very unique shift handle was fabricated from a genuine 30mm AP shell with a bullet machined from solid stock.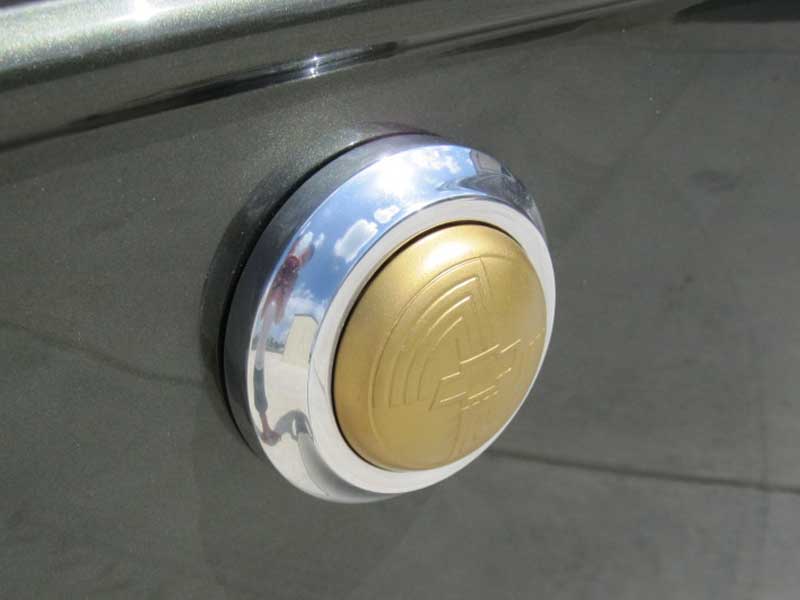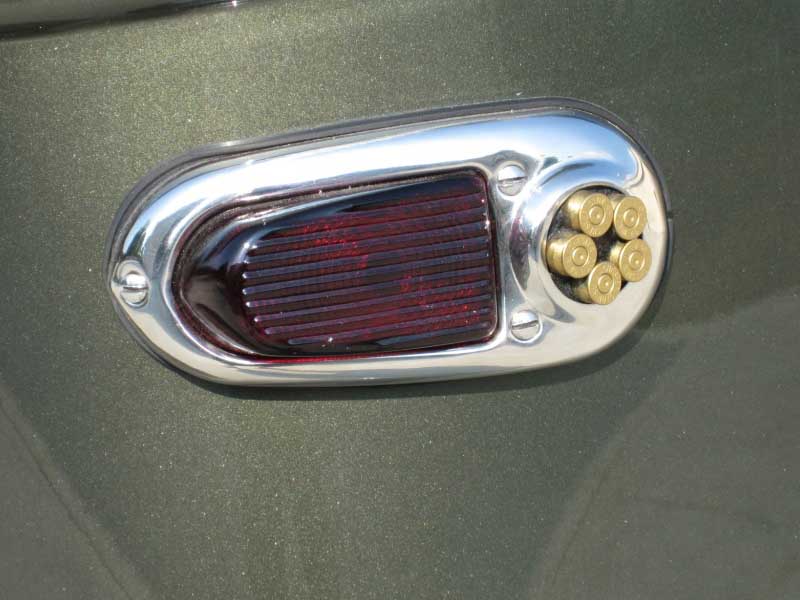 Other details, and there are many, include rear taillights from a 1950 Belair with genuine .45 caliber auto shells in place of the original reflectors. Retro Power also designed the fuel filler cap from a 1966 Nova gas cap, 1953 Chevrolet horn button and aluminum rings made by us (J&B Microfinish).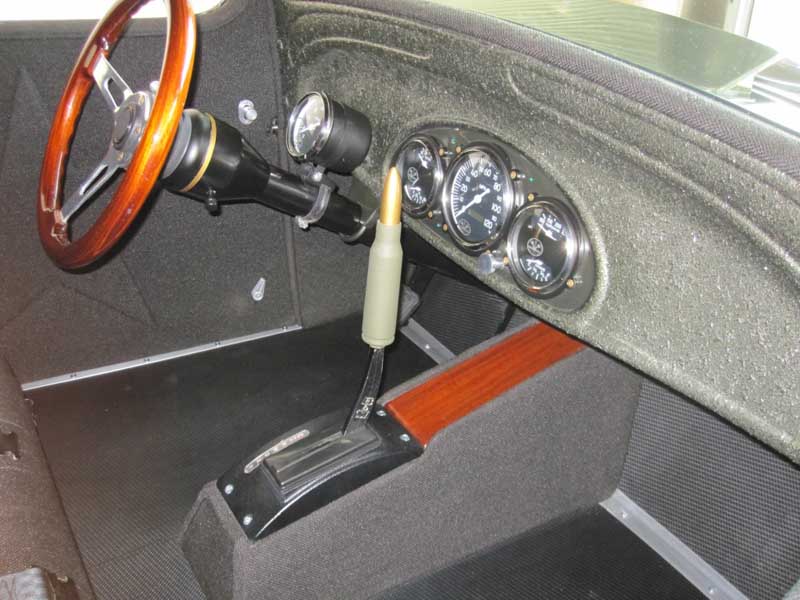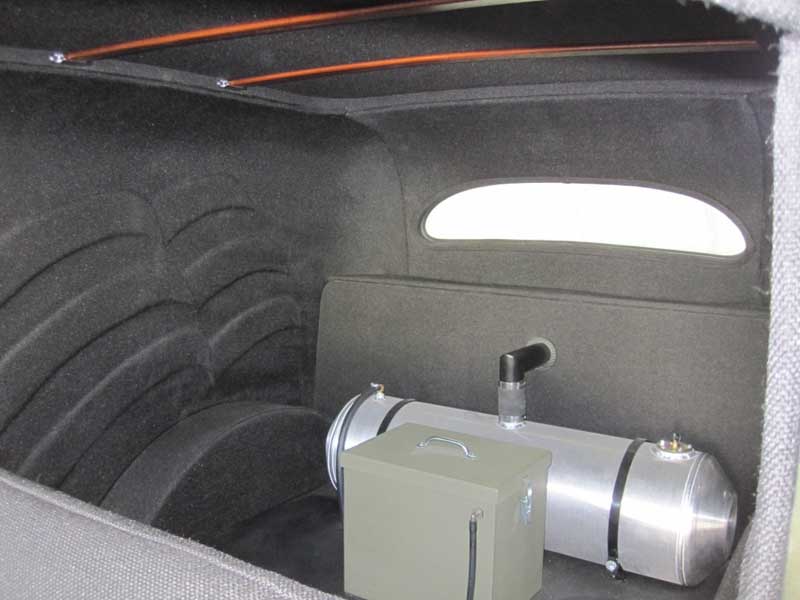 If you read all the detail preceding this closing paragraph you will now know what I know. That is, Retro Power is a small group of people whom have incredible talent, and a deep sense of detail for building hot rods. Stay tuned to this website, there's more from this shop yet to come!!!