Thumper - 40 Ford Deluxe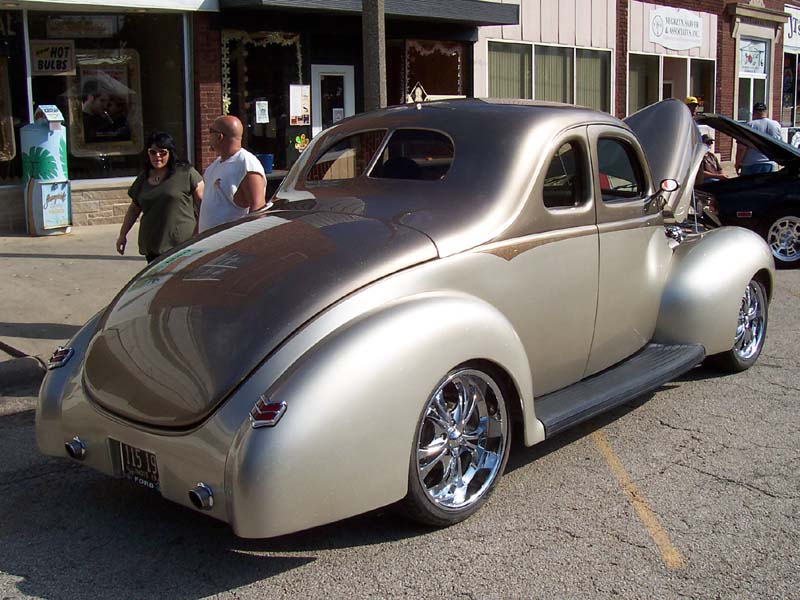 Martin Sampson from Kirkland, WA owner of this 40 Ford, originally approached Larry Seabert of Technicolor Auto Crafters, Dwight, IL about building a rod that exemplified elegance and it had to have plenty of performance to boot. After some discussion a plan was set and the building process started.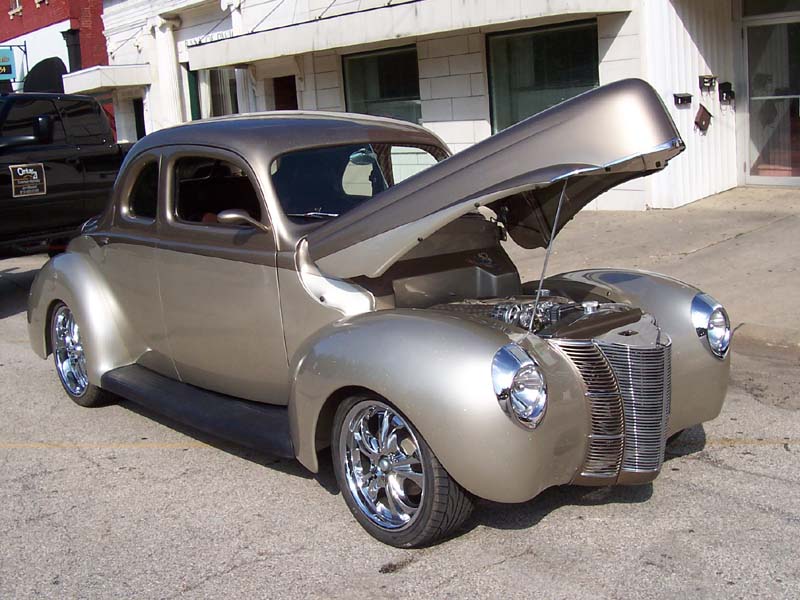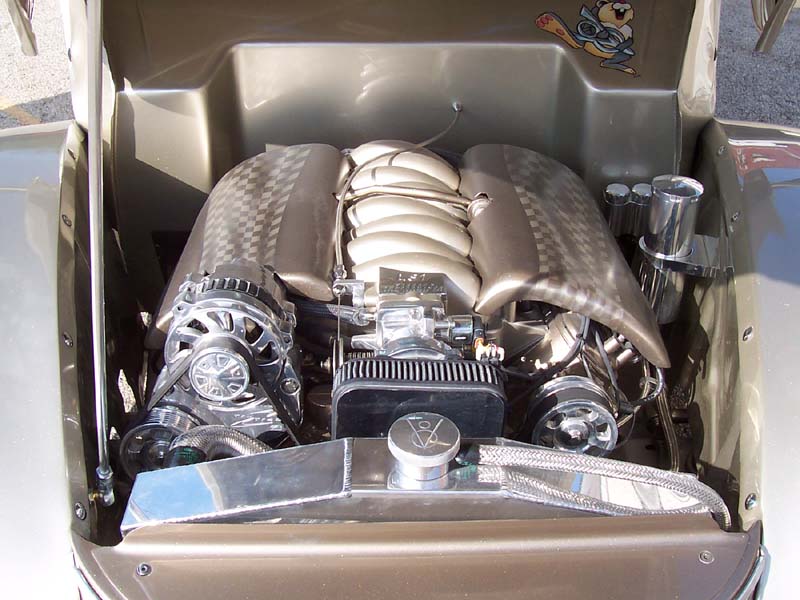 Starting with a 40 Ford Deluxe coupe, the car was totally stripped and dismantled and what part was not being worked on was being stored for restoration at a later date. The chassis was the first plan of attack, and the stock 40 Ford frame was assembled using a Chassis Engineering bolt in I.F.S., engine and trans mount kit and a rear end mount kit. The differential of choice was off of a 70 Camaro that was narrowed. The gear set is the same ratio as an 02 Camaro, so it would allow the 02 Camaro LS1 engine and the 02 Camaro 4L6OE transmission to co-exist with one another. Rocket Boss wheels were used: 18" front and 20" rear and were mounted to Faulken FK452-235/40R18 and FK452-255/35 R20.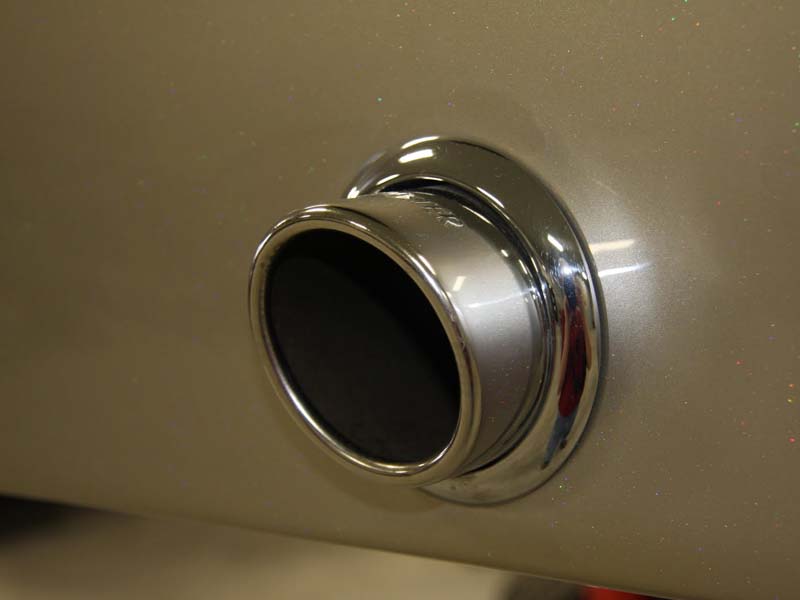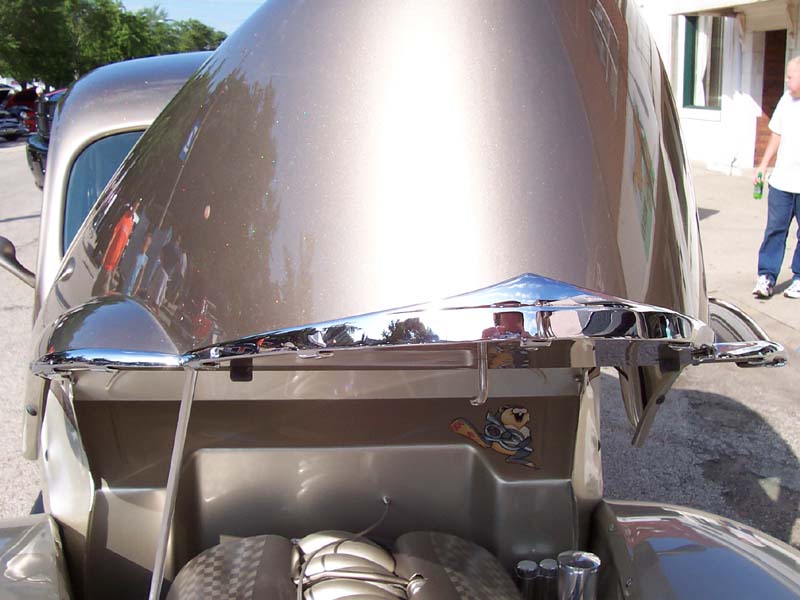 Quite a few modifications were done to the body. Included in these body mods were elimination of the stock bumpers, 1 piece hood, hidden hinges, V butted windshield with glass urethaned from the inside, shaved handles, filled drip rail, rear fenders and tail pans extended 3 ½" so they would be level with running boards, Frenched license plate and exhaust through the rear pan. We (J&B Microfinish) made the rear pan exhaust trim, turned from a solid chunk of 4" round 6061-T6 aluminum. We (J&B Microfinish) also made the front hood trim and grille bar trim out of brass in which it was dipped in chrome for the finishing touch.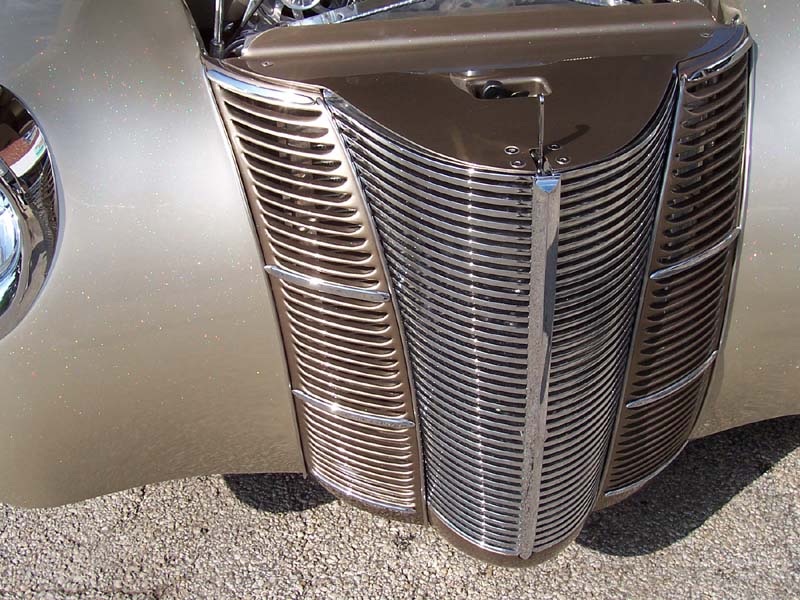 The body work and paint were accomplished by Larry Seabert & Technicolor Autocrafters using PPG global base/clear coat with Vibrance Prizmatique added to the clear coat for added sparkle. The colors used for the two tone are Savannah and Sierra Sand. All pinstriping and graphics and the Thumper mural in the engine bay were performed by Steve Connor of Conman Painting. The aircraft style wiring chores were performed by Seabert Electronics of San Antonio, TX. Other modern amenities include a Billet Specialties serpentine belt system with power steering and air conditioning, remote controlled radio/stereo system with XM Radio and a Flaming River push button start system.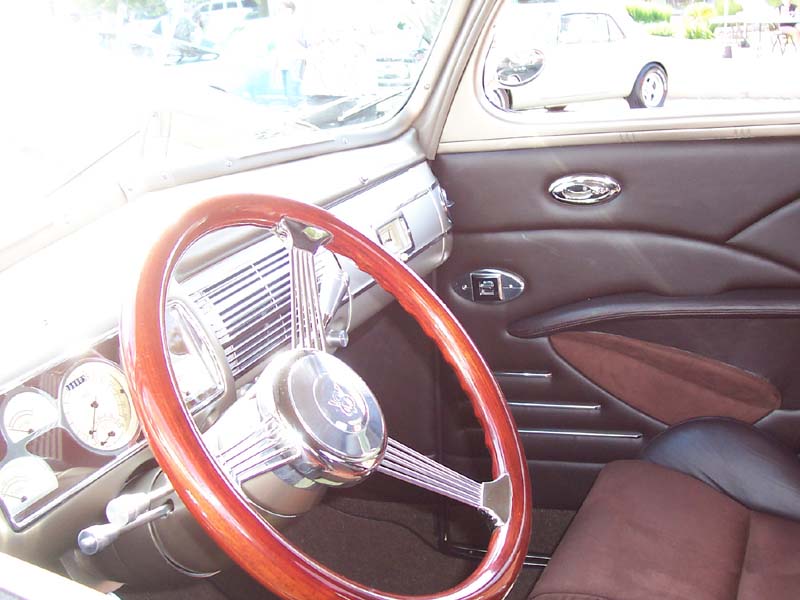 Inside the cabin you'll find an ultra leather and ultra suede interior, complete with German square weave carpeting stitched by Twin Cities Upholstery. We (J&B Microfinish) milled the power window switch trim. The modified dash board (by Technicolor Auto Crafters) coexists nicely with the rest of the car and has been outfitted with a DC Street Rods instrument cluster complete with some very nice Classic Instruments gauging.
Many hours of thought and hard work went into this build. Martin flew in from Kirkland, WA a couple of times and would stay a week at a time to help assemble the car. Now that's dedication, and after all the effort of everyone involved the final result we believe is success.