Lakeside's 35 Ford 3 Window
2008 Goodguys Street Rod d'Elegance Winner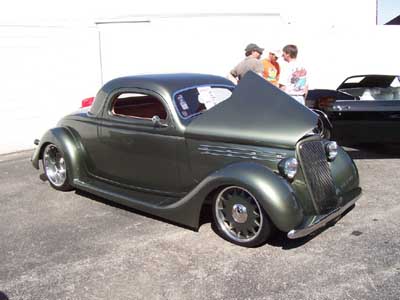 Roger Burman and crew (Lakeside Rods & Rides) have changed many peoples thoughts of how a 35 Ford should look like in street rod trim. Doug & Flo Hoppe of Sioux Center, IA are the proud owners of this fine machine. Doug, an avid Ford in a Ford fan, selected the engine and trans for this hot rod couple. The engine of choice is a Roush 402 c.i. small block, complete with Roush's new fuel injection set-up pumping out 510 horsepower. This engine is mated to a C-4 Ford automatic transmission that has been built with a shift kit and a 3000 stall converter.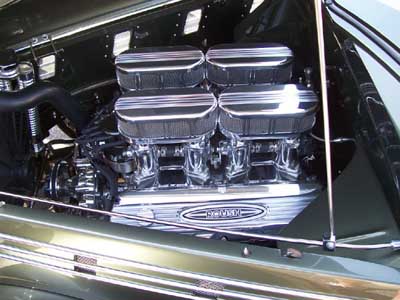 The build up of this street rod consists of the following: TCI Frame (much modified by the Lakeside crew), Currie 9" Ford differential (with an aluminum center section and chrome axle tubes), TCI polished stainless steel Mustang II front end, and 18" x 7" front and 20" x 10" rear Colorado Custom, one-off billet wheels.
The all steel Ford body has received many modifications. The top has been chopped 2 ½", wedge sectioned 2 ½", the wheel base has been stretched 2" and the grille shell has been laid back 1 ½", complete with a one-off Don Stark grille insert. More modifications include re-arching of the fender openings, the 3 piece hood has been pancaked and custom gravel pans were shaped to fit the custom made bumpers. We, (J & B Microfinish), fabricated the ribbed and contoured billet license plate frame for this 35 3 window coupe. Rounding out the body mods are the custom made taillight stands, complete with 37 Ford taillights. A nice touch indeed.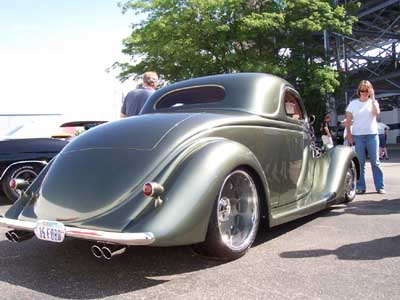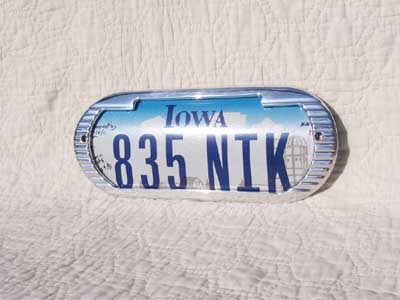 Doug and Flo decided to go with PPG Estate Green as the color of their 35 and the Lakeside crew laid the color and clear coat on nicely. The straightness of the body, as well as the consistency of all body seams and gaps makes this street rod a standout and worthy of acclaim.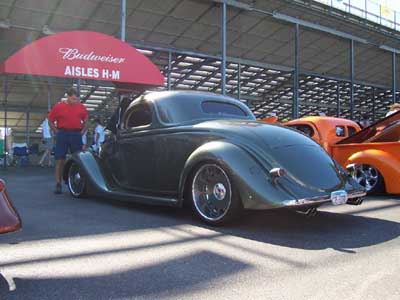 The interior consists of a Lakeside Rods & Rides built dash, in which Curt Bacon of Fort Dodge, IA applied the wood graining. Classic Instruments of Boyne City, MI manufactured the one-off instrument cluster, as per Rogers request and was designed to have a retro theme consistent with the styling of the car. Tracy Weaver and crew of The Recovery Room once again came through with their awesome leather upholstery work. Doug & Flo's 35 3 window has already made its mark in its debut season. At the NSRA event in Springfield, it collected a Pro's Pick and at the Indy Goodguys event it gathered in not only a Rad Rides by Troy Pick, but also won the Ford in a Ford Pick to boot. At the Goodguys Southwest Nationals it was awarded a Boyd Coddington Pro's Pick. This 35 Ford 3 window coupe won the prestigious 2008 Goodguys Street Rod d'Elegance award at Delmar, CA and was featured in the November 2007 Street Rod Builder with a full front cover & 5 page feature and is also on the front cover of the July 2008 Goodguys Gazette..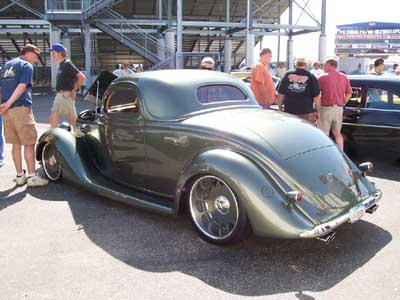 This 35 Ford is the third outstanding 35 Ford in 3 years that has come from the Lakeside R & R shop. Of course, the other two, the 35 Radster which won the Triple Crown this year and a 35 Ford fenderless Roadster which was a "Hot Rod of the Year" finalist (both owned by Kevin & Karen Alstott) are all reminders of the quality oriented and innovative thinking that takes place at Lakeside Rods & Rides.