---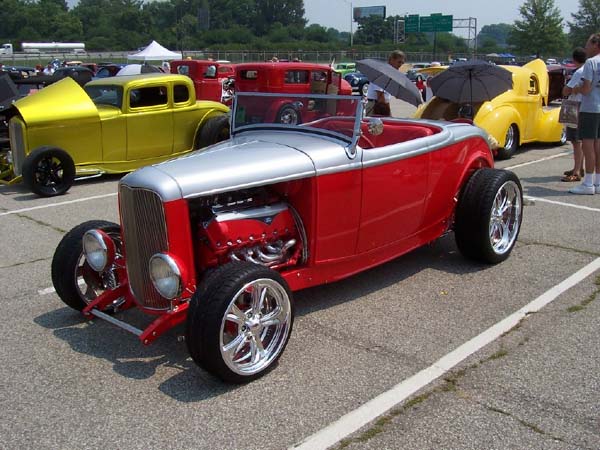 Engines of choice for most street rodders inevitably include the small block Ford or Chevy. This is probably due to the fact that these engines offer ease of installation and the aftermarket carries a wide array of speed parts ready for assembly.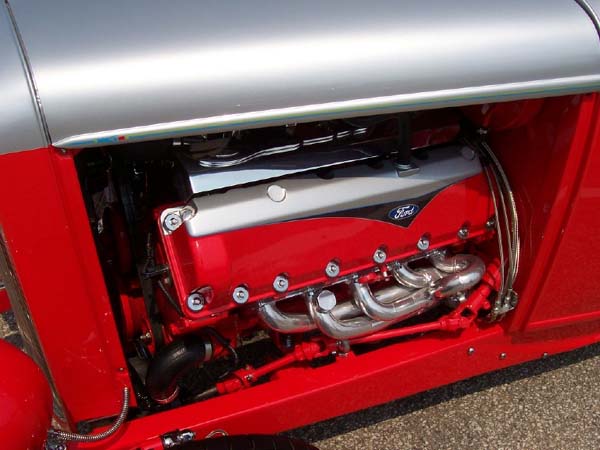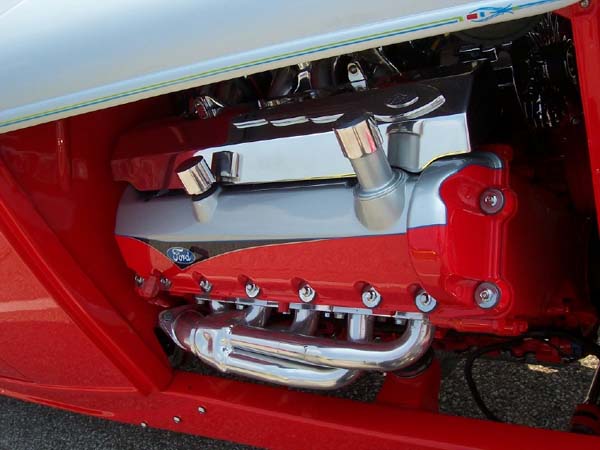 However, it takes progressive thinking and raw mechanical skill to install a Ford V-10 into the small confines of a 32 Ford engine bay once reserved for a flat head V8.
Everett Gray, (Gray's Garage) builder and owner of this refreshing V10 equipped Highboy has done what no other has done before him. Built to celebrate the 75th anniversary of the 32 Ford, this street rod will go down as one of my personal favorites, from a shop that through the years has built more 32 Fords in various configurations and body styles than anyone I know.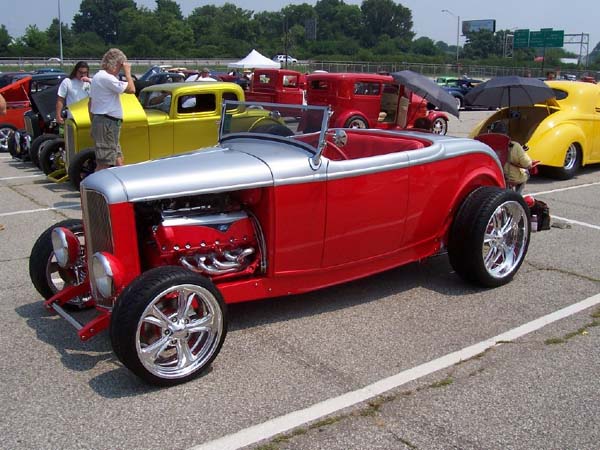 To build a Highboy of this nature, one has to start with a stout chassis. Knowing that many modifications were necessary, Everett had the chassis perimeter jigged by Blake Willis. Everett then reworked and modified the chassis from the engine to the rear to accommodate the V10 drive line. He then retrofitted a Jag independent rear end with narrowed tube half shafts. The transmission of choice is a Ford E40D overdrive unit, capable of handling the V10 torque. Everett, not happy with the stock appearing engine, employed our (J & B Microfinish) fabrication skills and had us make a one-off set of billet injector covers and a billet oil breather and oil cap to add some visual punch.
Speaking of visual punch, Everett asked Derrek Johnson of Performance Associates Coachworks Customs to paint and modify the V10 valve covers. Rounding out the chassis detail, Everett installed a Heidts front end and bolted on a set of Billet Specialties 18" x 7" front and 22" x 8" rear wheels, complete with 215-35 ZR18 front and 285-35-ZR22 rear tires. Steve Menke handled the stainless exhaust work for this much modified 32.
Kilborn supplied Everett with the 32 body, and after the usual prep work it was shot using PPG hot rod red and PPG silver two tone. Derrek Johnson got the nod for all body work and paint and the finished car looks smooth and cool.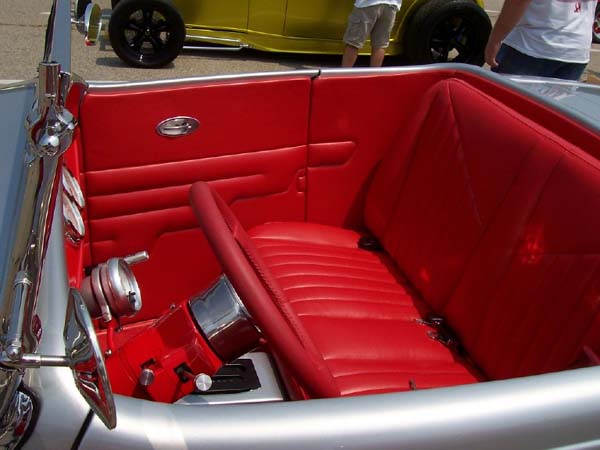 The upholstery was stitched using red naugahyde throughout by Kevin Jackson, complete with a stitched wing shape on the door panels that looks a lot like our company logo.
Everett and Lorraine Gray chose the NSRA Nationals in Louisville to debut their latest creation. Their 32 Highboy got much attention, even though there were 11,463 other cars participating. While at that show they were approached by Buckaroo Publications photographers on Thursday about a full photo shoot for an upcoming magazine feature. Look for this street rod in a future edition of Street Rod Builder, Super Rod, American Rodder or Rodder's Digest. This beauty was chosen as Best Bitchin at the Goodguys Midwestern Nationals, received Ford Muscle at the Goodguys Chicagoland Nationals and was awarded Ford in a Ford at the 2008 Goodguys Heartland Nationals.