Pope's Cutlass "S"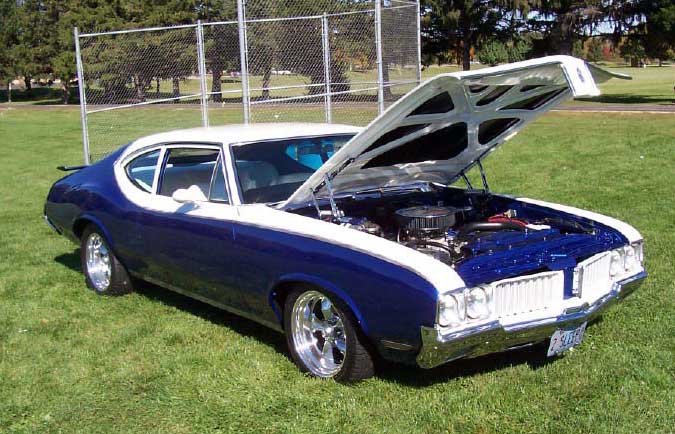 How many Cutlass's have you seen restored in a hot rodded style lately? Not many I'll bet. That's why this car is so unique. Done up in a truly "Dare to be Different" fashion, this street machine has gathered a lot of attention abroad. Frank Pope of LaSalle, IL is the proud owner and builder of this fine Olds. Frank purchased this car from the original owner in Arizona along with another parts car from the same location. This "A: bodied Olds is a rare numbers matching 1970 2 dr. post Cutlass "S", complete with a 455 engine, turbo 400 trans., 2.56 axle, 442 handling and suspension package, bench seats, radio, power steering, drum brakes, 14" x 7" stock rims with dog dish hubcaps and a trailer towing package. The original owner needed a car to pull his camping trailer and thus optioned this car for that specific duty. He originally probably had no idea that someday this Cutlass would transform into the street brute that it is today.

When Frank got the car to his residence, a complete frame off restoration was started. First the frame was powder coated, and a complete suspension rebuild was accomplished using poly bushings in all areas where they are needed. Two inch drop spindles were added to achieve the desired ride height and disc brakes were bolted in place for the proper stopping power. Body work and modifications include total stripping of the paint, shaving the door handles, adding a ram air hood and rear deck lid spoiler, replacing the stock rear bumper, custom painting and air brushing of the body side trim and ghost painting over 1,000 subtle and tasteful stars and rockets on the hood and body panels of the car. Body work was performed by John Dornik Auto Body of Oglesby, IL and the custom paint was applied by The Custom Shop in Flanagan, IL. The color of choice was Glasruit and PPG Viper blue and GM white pearl with a blue tint.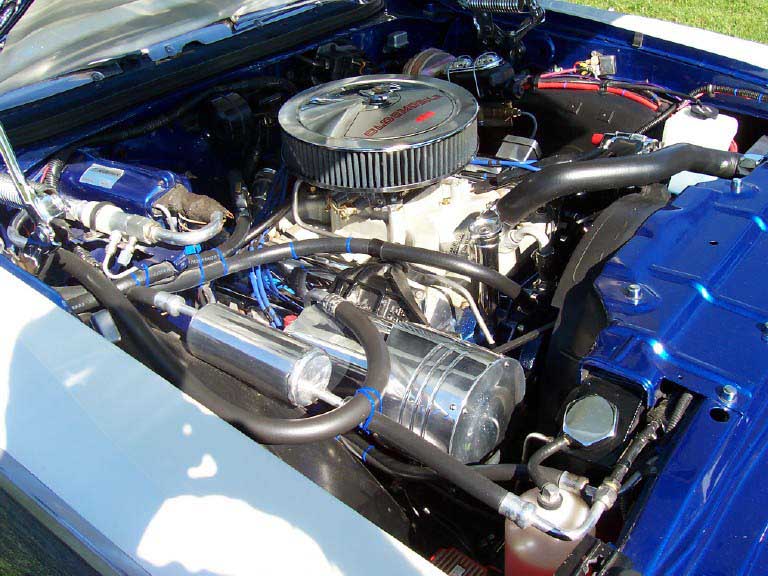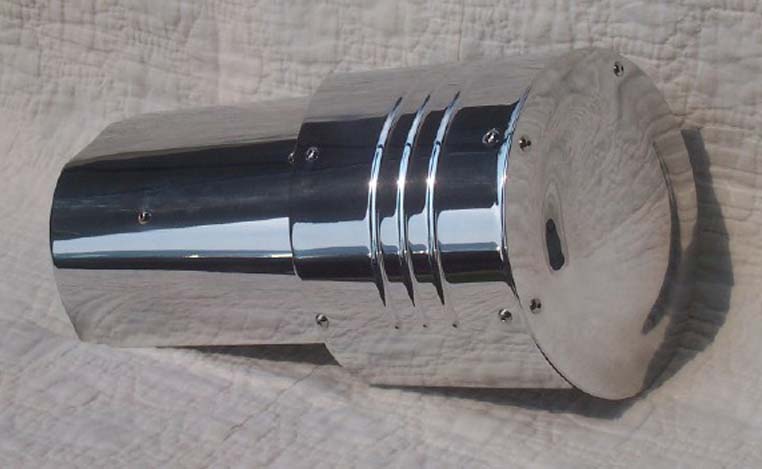 Frank rebuilt the 455 "torque monster" motor with some highly desirable "go fast" goodies which includes forged pistons, Edelbrock carb, intake, aluminum cylinder heads and camshaft kit. Next a Becool radiator was installed and the ignition consists of a billet MSD distributor with a MSD box. Hooker supplied the exhaust in which it was all thermal coated. The OEM Turbo 400 transmission was replaced with a Hurst shifted Turbo 200 4R overdrive unit which will allow for lower RPM highway excursions. The 2.56 OEM rear gear was replaced with a 3.42 Posi unit to give Frank's Olds more low end grunt. We (J & B Microfinish) fabricated a polished, ball-milled battery cover and also hammered and rolled an A/C compressor cover and shroud out of aluminum sheet stock. The compressor cover gives a centrifugal supercharger look to that unit and has made a few spectators take a second look.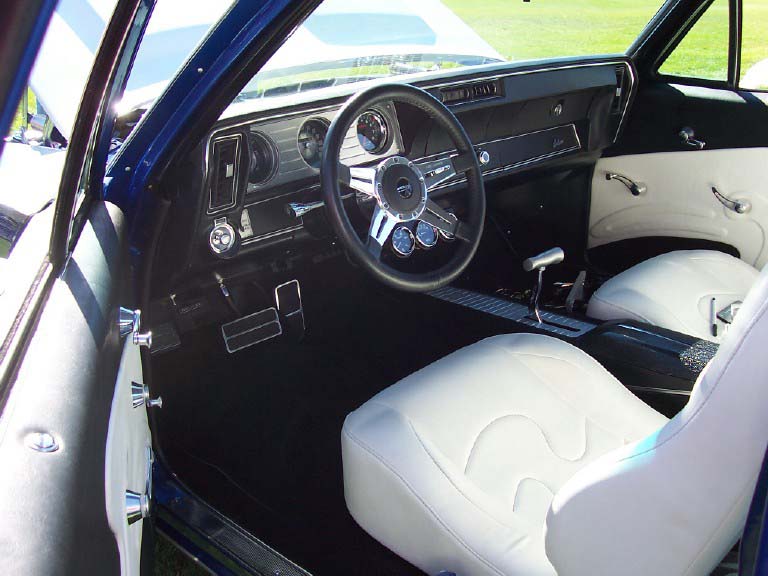 Next up was the decision to go with a totally fresh and custom interior to take the place of the original interior that had been destroyed by the harsh Arizona sun. The custom seats and door cards were covered in white leatherette with a stitched Cutlass "S" pattern sewn into them. Frank requested our services once more and had us (J & B Microfinish) make him a one-off billet, ball-milled dash insert and console top, with a brushed finish. These two items, along with the billet door handles and window cranks, gives the interior the "custom touch".

In addition to all the custom work in the preceding paragraphs a complete sound system was installed. A CD/DVD/MP3 player was placed in the glove box and with an LCD and a hidden Sony X plod amp in the custom upholstered trunk. This car is also equipped with a blue neon light kit with additional hidden neons to highlight the trunk area when the system is playing.

As stated in the first paragraph, this "hot rod Olds" has gathered much attention. Winning Best Paint, Best Interior and Best of Show awards at many events throughout the Midwest, Tri-state area, this car got the recognition it deserved. The James Dean Rod Run staff awarded Frank's Olds the "Wet Look" award and the Clearlake, IA Car Cruise and Show staff awarded Frank's car the Best Paint award. The crowning moment however was when none other than Chuck Hanson of Horsepower TV fame chose Frank's Cutlass with Best of Show honors at 2006 Route 66 Mother Road Festival in Springfield, IL.

While this Cutlass "S" may not be your father's Oldsmobile, it is a customized rectification of a rare numbers matching 1970 Cutlass "S" that in some ways exceeds the boundaries placed there by others before it. A low stance, a custom pearl two-tone paint job, a custom Leatherette interior with many modern amenities and a high performance drive train with suspension upgrades are what spells "hot rod" in today's custom car world. This car exhibits all of these features and this is what it's all about in this sport we know and love.