Super Chevy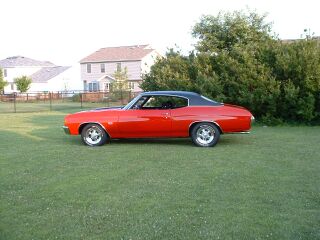 Here's a 1972 Chevelle SS that exemplifies the definition of the word "detail". this car owned by Steve & Bev West of Normal,IL is one clean car!! Upon close inspection of this big block car, one might notice a lack of wild paint and interior. In its place is a cranberry red paint job executed by Piercy Auto Body of Carlock, IL and a subtle custom interior.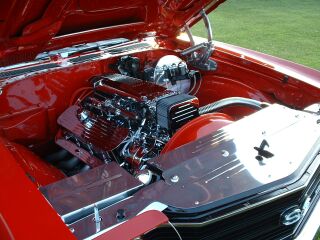 Under the hood is 454 RAT motor thats been bored .030" over. Its mated to a modified TH400 trans. The under carriage is detailed with chrome A-arms, sway bar and a full stainless steel exhaust system.
This SS was just recently featured in "Chevelle" Magazine.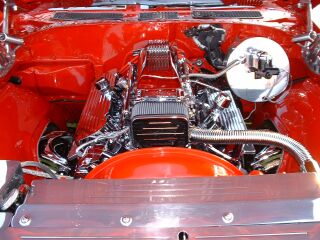 We fabricated a billet dash and console plate in the interior. We also fab'ed a custom battery box, core support covers, front shroud, radiator bracket/cover,brake booster cover, brake booster check valve and big block wire looms for this "Heavy Chevy".
The awards have been many for this street machine. How does "6" Best Engine, "3" Best Paint, "2" People's Choice, "1" Attention to Detail, and "2" Best of Show Awards grab ya?
This car has also done well on the national scene. This Super Chevy won its class at the Indy and Memphis Super Chevy Events (2002),and was also awarded the "Best Chevelle" at both of these events. It has also been awarded class wins at Topeka and Indy in 1999, 2000, 2001. In 2011 Fastest Street Car Association award Bev & Steve Best of Show in Chicago, IL, Indianapolis, IN & Bowling Green, KY.