Retro Power 33 Chevy Coupe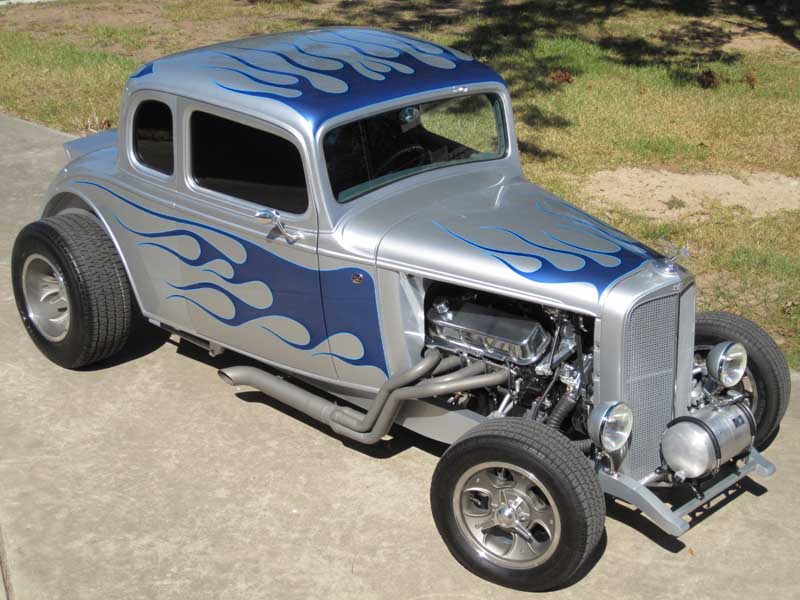 With the popularity swinging towards building 30's era Fords, here's a rod that dares to be different.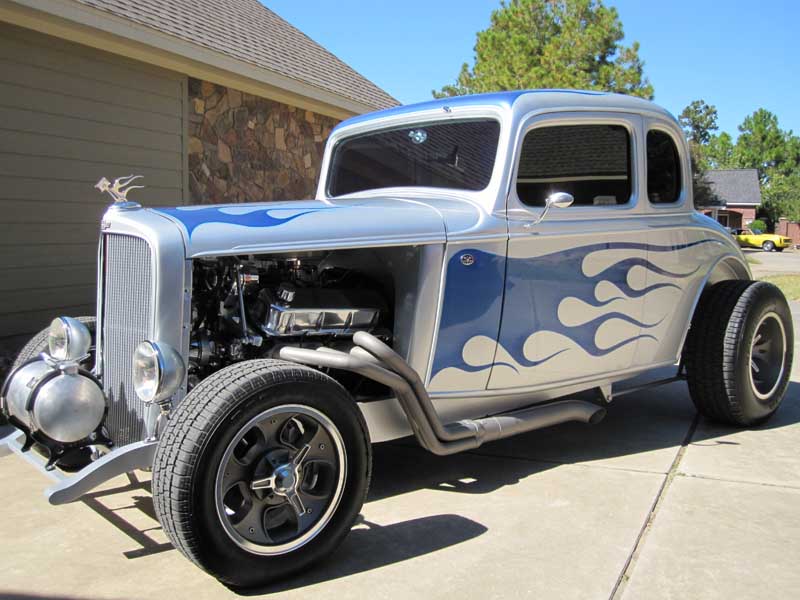 Owned and built by Mike Riley Sr. and Mike Riley Jr., this 33 Chevy Master 5 window Coupe makes a statement. This talented duo and their crew at Retro Power, located in Liberty, TX have built some really nice stuff in the past. The Riley's decided they needed to build a shop car to further their reputation as one of the premier shops in Texas, hence the 33 Coupe was born. Built from a straight axle drag car of the 6o's, they wanted to keep its drag racing roots alive and this is why the Moon fuel tank still resides up front along with other design reminiscent of its glory days.
As of press time, this hot rod is only 2 weeks old and in the first day after its completion, 180 miles were logged on a trip to ensure the Coupes drivability. Every car or truck Retro Power builds is built for speed and also is built to be driven.
To outline the build, we'll start with the chassis. The Riley's started with a Roadster Shop frame with a 3" set back for better weight distribution, the rear of the frame was bobbed and the front section was bull nosed. A triangulated 4 link with a 9" Ford differential, complete with a set of 31 splined axles, Eaton posi unit (3.70 ratio), disc brakes on all 4 corners and billet coil over shocks were assembled to the chassis by the Retro Power crew. Retro Power also installed a Heidts Superride IFS with tubular upper and lower control arms, rack and pinion steering, disc brakes with Wilwood billet calipers and adjustable billet coil over shocks. The front and rear tire and wheel combo consists of Team III Fueler 15x6 front wheels mounted to BFG T/A 205/60-15 rubber and on the rear 16x10 Fueler Wheels mounted to BFG T/A 285/60-16 rubber.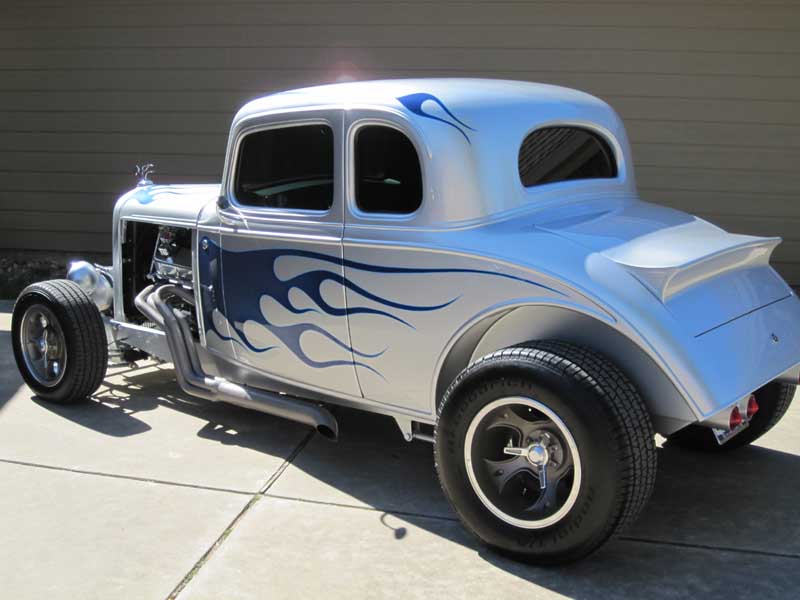 Wanting excessive horsepower, a GMP 454 HO Motor was installed (450 HP, 500 lb/ft torque) and a set of Sanderson Headers were assembled to the big block. The headers were color match powder coated by Polydyn to match the cast finish of the Team III wheels. A Keisler Tremec TKO 600 5 speed manual trans complete with a hydraulic clutch was selected and installed. Houston Drive Train Service provided Retro Power with one of their custom built drive shafts to link the engine/trans to the 9" Ford.
The much massaged body is an original all steel Body by Fisher piece that's been modified and improved upon. Modifications are many including a 4 inch recessed firewall, 4 inch extended dash board, custom fabricated rear truck lid spoiler, rear frame section bobbed and replaced with custom fabricated rear tail panel and taillight housings, custom fabricated rocker panel belly pans, custom fabricated rear wheel tubs. To improve upon the rigidity of the body, the original wood support structure was removed and replaced with steel tubing, each section being specially made to follow the contours of the original wooden pieces. The body skin was then welded to the new steel support structure and these pieces were then tied together via custom cross bracing under the floor pan. The body and frame was then welded together as one unit. The door handles and hinges have been shaved, the vent windows were removed and replaced with one piece glass and the cowl vent filled and smoothed.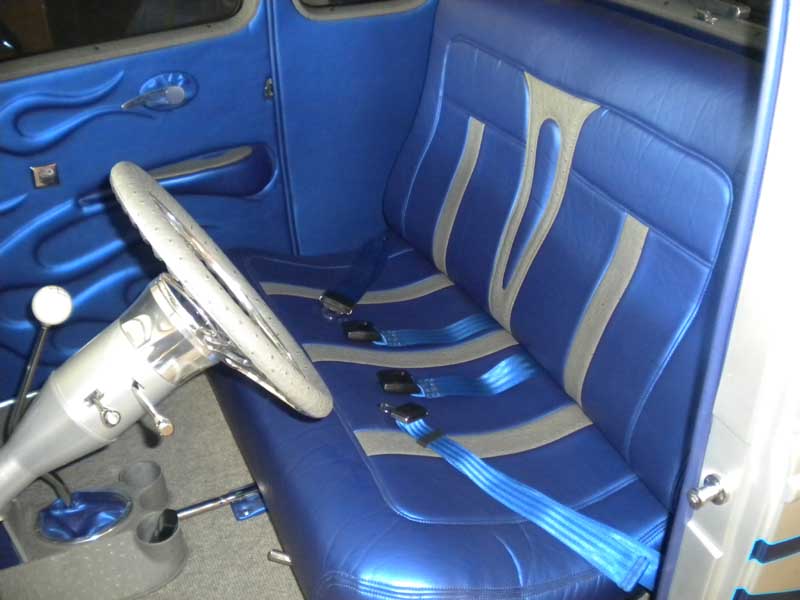 Whew! There's been a lot of work done to this "bad boy". Color of the paint is always a prime consideration. After all, it's the element that draws you nearer so all the body mods and detail can be studied by the onlooker. Retro Power selected Crystal Silver Star with PPG Denim and Imperial Blue fade flames outlined with Process Blue pinstriping and the results are right on. Retro Power performed all the body work and paint and used lead as a shaping compound as it is still the best material to use in many applications.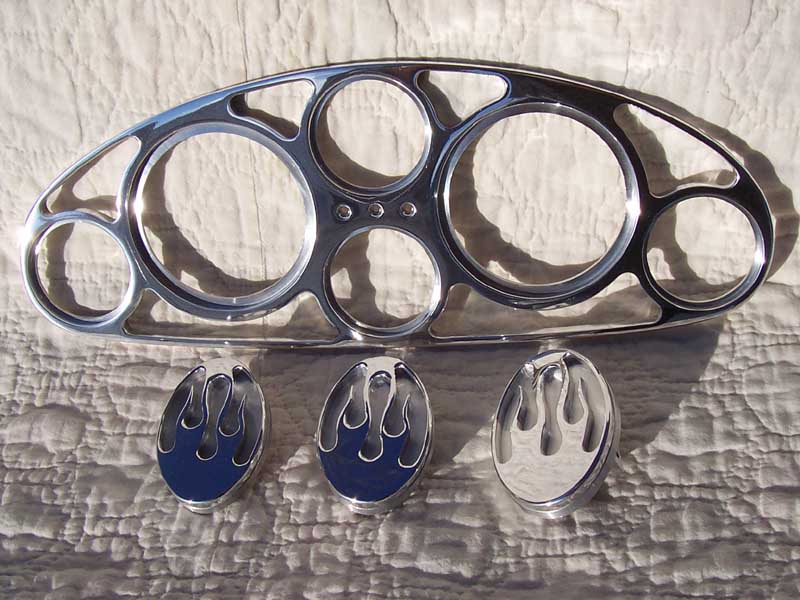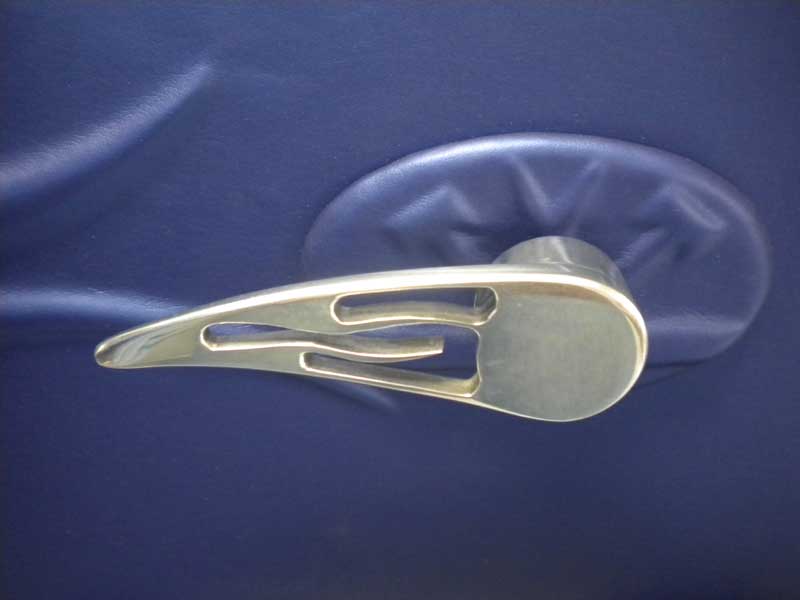 Looking into the interior, the original dash board was extended 4 inches with custom fabricated drop down center console and cup holders. The Retro Power designed, J&B Microfinish fabricated one-off billet gauge cluster was color matched to the exterior paint. New Vintage custom made gauges complete with the Retro Power logo silk screened to the gauge faces grace the dash area. Retro Power designed and we ( J & B Microfinish) custom fabricated many other one-off pieces for this magnificent Master. The flamed door handles and gas, brake and clutch pedals, shift boot ring, seat adjuster knob, flamed steering wheel, flamed air cleaner and the wild piston/flamed hood ornament were custom designed by Michael Riley Jr. and provide a unique styling element unlike any other hot rod in existence.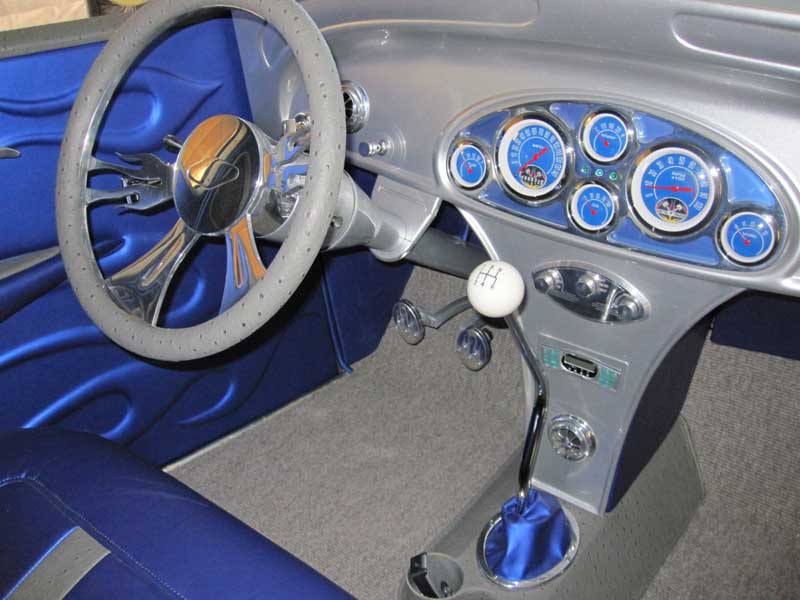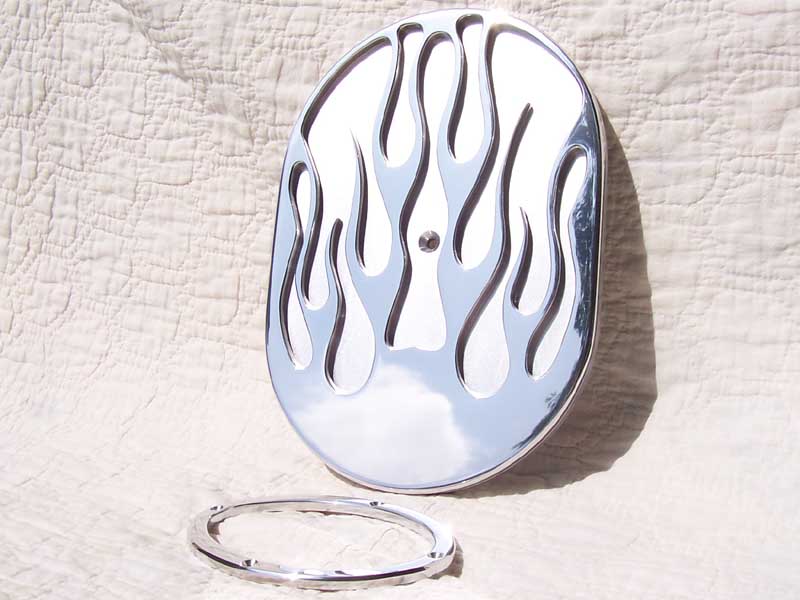 The upholstery, designed and installed by Retro Power exhibits Tanzanite blue ultra leather, charcoal ostrich accent and gray German weave carpet. The seat foam frame and upholstery fabric was purchased from Bowen Foam and Fabric. Electrical detail includes and American Autowire Highway 22 harness, Specialty power windows, custom Autosound hideaway stereo, Dakota Digital Commander remote control system and Linear actuators for the truck lid. The King Bee halogen headlights with built in turn signals and 1956 Belair LED taillights add a nostalgic touch worth recognizing.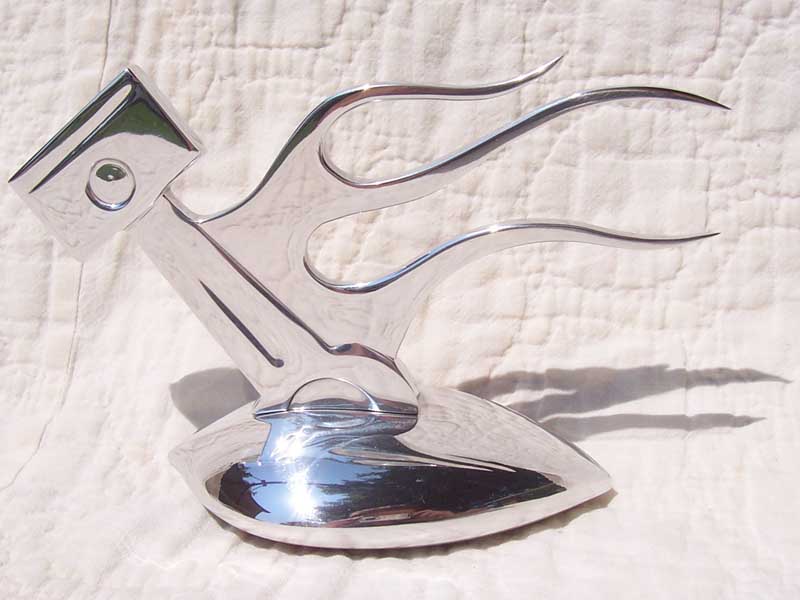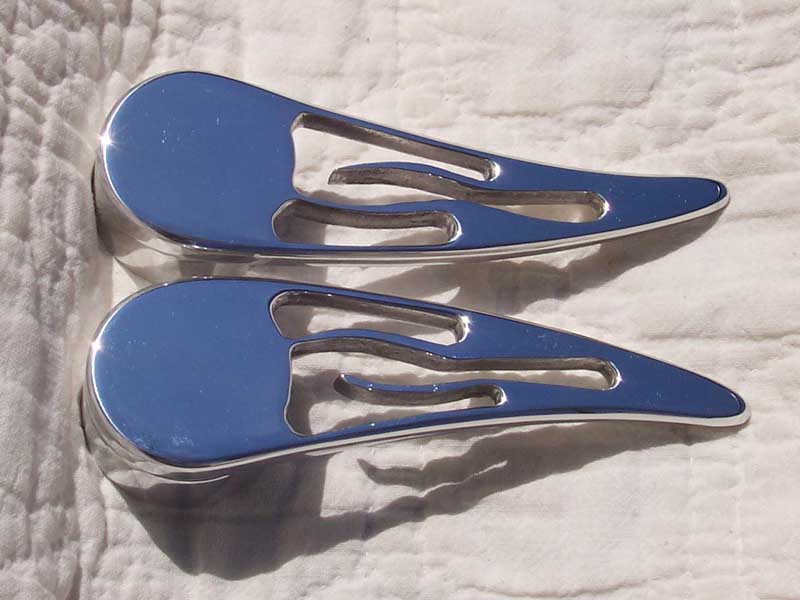 As previously mentioned as of press time this hot rod is only 2 weeks old and already on it's first outing it was a class winner and we are sure there are many more awards to come. Congrats to the Riley's and the Retro Power crew in building a unique and refreshing hot rod.