J&B Microfinish 1946 Ford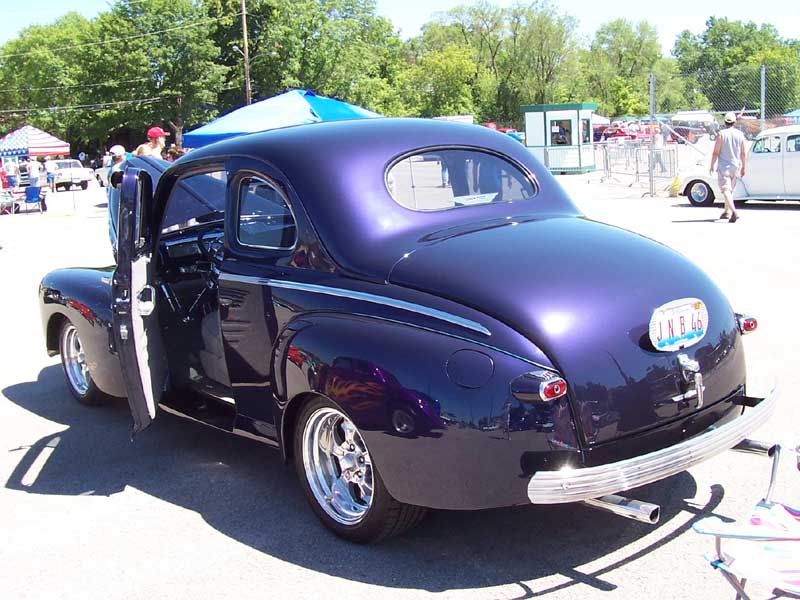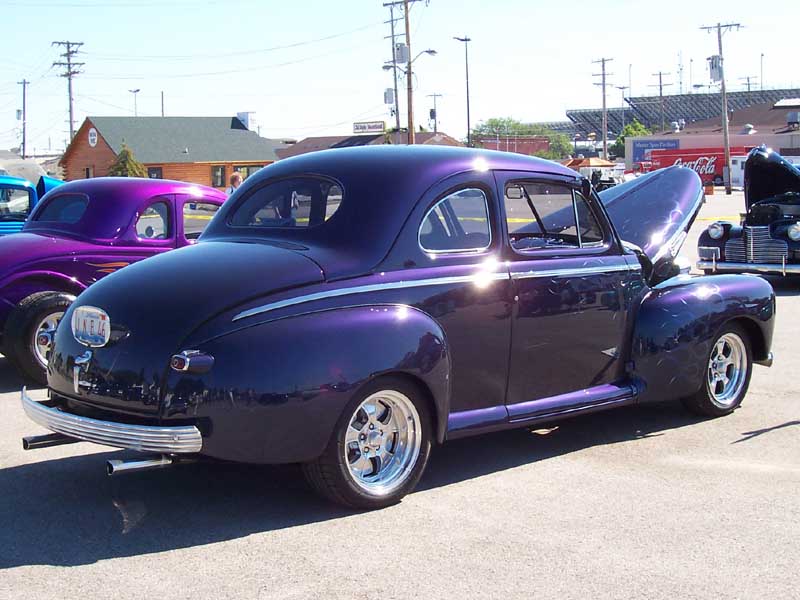 Our love of hot rodding goes way beyond manufacturing billet hot rod accessories and components. The 1946 Ford Coupe displayed on this page is our contribution to the world of street rodding.
This hot rod is powered by a 351 Cleveland with much massaged 4 BBL heads, Comp Cam, Edelbrock Performance Intake and 4 BBL carb, headers and electronic ignition, all bolted to a C-6 automatic transmission modified with a B & M shift kit. A Bulletproof Currie 9" rear end was bolted to a custom made set of leaf springs, a driveshaft loop and a set of gas shocks. The front end of this fat boy is a Mustang II unit installed by Everett Gray of Grays Garage. The wheels of choice are American Racing "Hopsters" -16" in front and 17" out back.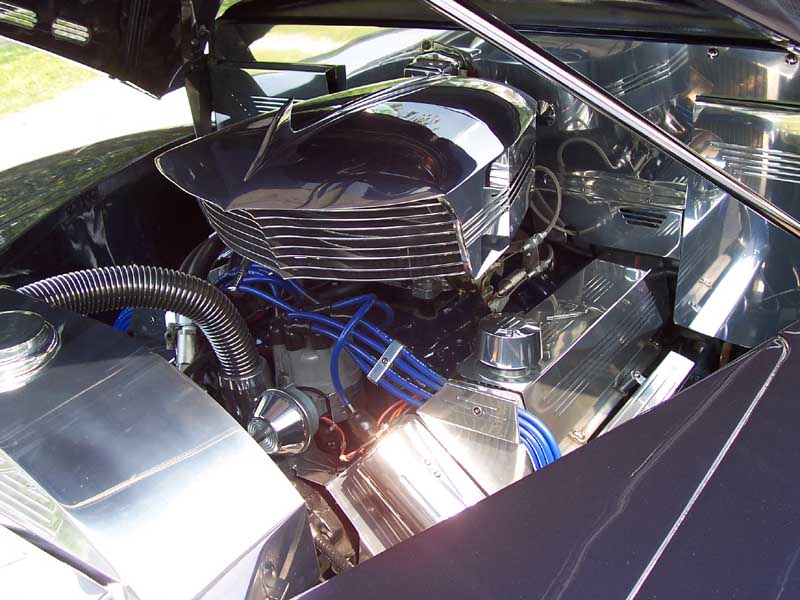 This hot rod coupe exhibits many billet pieces made at our facility including: radiator shroud, firewall, air cleaner, valve covers, wire looms, head cover, fan spacer, vacuum advance cover, fuel filter, hose separators, radiator cap and a dipstick handle in which our son Jeff made at the age of 12 in the engine bay. We have also custom made a radical air breather housing and a radiator cover.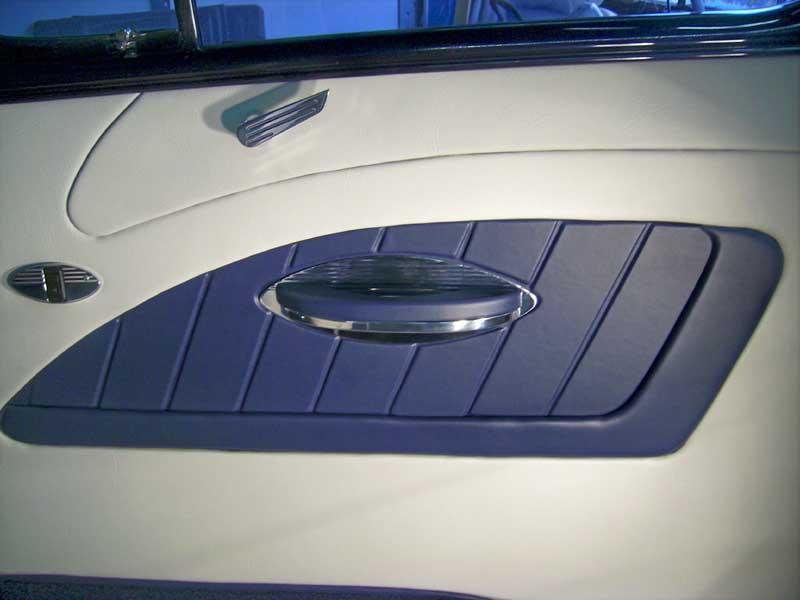 The interior billet pieces include our Retro arm rests, door handles, power window switch plates, gauge rings interior light trim, steering wheel, tach cup and column attachment, column drop, column dress up kit, dash and glove box door trim, rear view mirror, ash tray handles, dash knobs, door sill plates, heater box cover, brake pedal, dimmer switch cover, floor mats, gauge panel and third brake light cover. The exterior trim consists of flamed hood vents, flamed taillight housing trim, tire valve caps, front gravel pan, tailpipe extensions, bumper nut covers and various other trim pieces.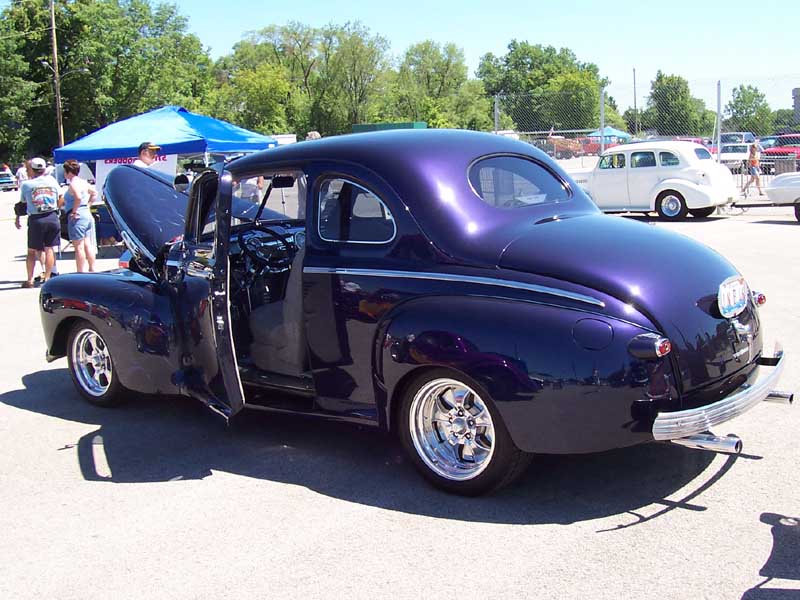 The majority of body work and paint was executed by Rick Lotshaw with help from Jack Obronta (Garage Jobs). Tim Strange (Strange Motion Rod and Custom) and Mike Hahn. Body color is 1994 Saturn Blue metallic with a House of Kolor violet pearl top coat. The ghost flames were shot using 4 different pearls, including 2 different blues, a silver and white which is used for the flame tips. The body was nosed and decked, fender reveals hammer welded smooth, dechroming and the bumper tucked 3".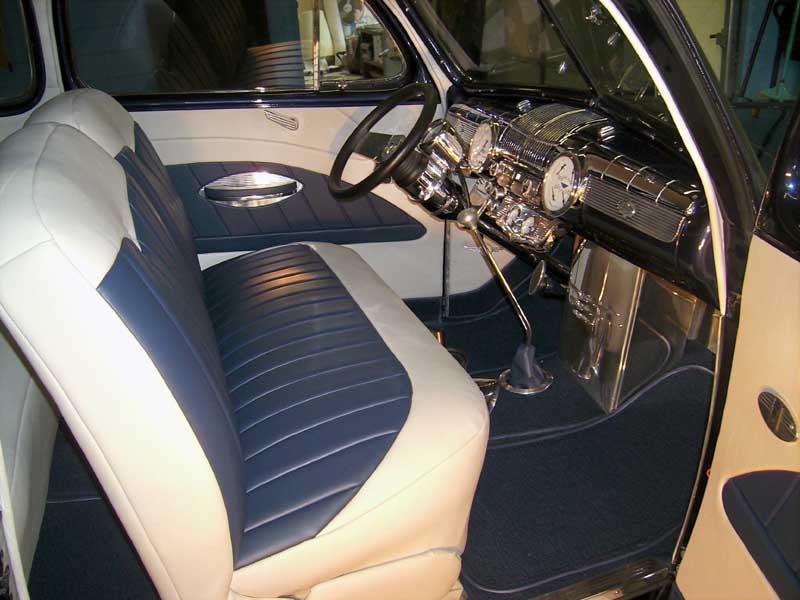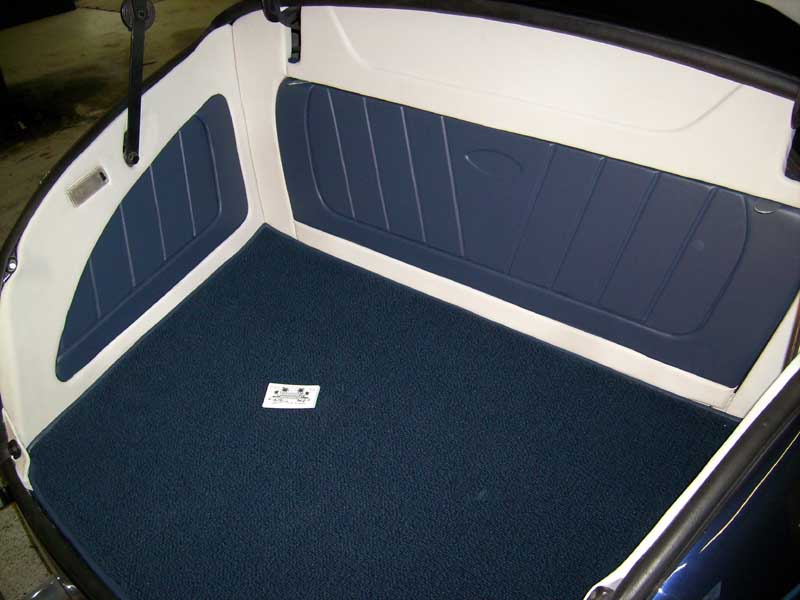 Bennett's Upholstery, Lamoille, IL covered the seats, headliner, floors, rear deck, trunk and door panels with Moon Misty & Imperial Blue Leatherette with German Square Weave carpeting. Nice Job Dave Bennett!! One-off Classic Instruments Gauges were made and installed and add that extra elegrance and beauty that only Classic Instruments can. The Ididit chrome column and the Lokar shifter blend in with the rest of the polished billet we fabricated for our 46 Ford.
As you may have figured out by now, this rod was built to be driven. We have driven to many areas of the Midwest including Louisville, Indy, Des Moines, Springfield, Columbus, Joliet, Waukesha, Kalamazoo, St. Louis and many other cities. Along the way this 46 has been in event shots of a couple of major magazines and has been given a front cover and a feature in the July 2012 edition of Cruisin Style Magazine and has also been added to the calendar in the December 2012 edition of Cruisin Style Magazine. In addition it was featured in the February 2014 Indy Goodguys event coverage in the Goodguys Gazette and the February 2011 Goodguys Gazette as the Right On Resto Award Winner at the Peak Chicagoland Nationals, Hotrod Hotline Newsletter (January 2010), 2006 NSRA Nationals Yearbook, the Oct./Nov. edition of Midwest Musclecar Magazine and Northern Rodder Magazine (April 2004) edition. With much planned for the upcoming year, we will be taking the sport of street rodding to the limit. Hope to see and hear from all of you down the road.