The King
2004 "Ridler Award" Winner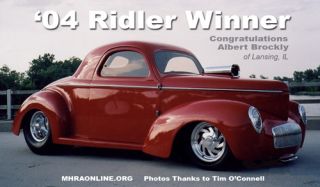 Al & Leora Brockly are not your common street rodders. One look at their 37 Willy's will tell you that. This magnificent machine was bought in 1957 for $350.00 and has its roots buried deeply in drag racing heritage, as two years later it was ready to race. And race it did! This 37 Gasser was built to run up against the likes of Stone, Woods, and Cook, Big John and others. The "King" as it was affectionately known, was at one time a national record holder. These were some great times for drag racing and alot of fun was had by all.
Al was a successful drag racer, but had other dreams for this Gasser. The Detroit Autorama as many of you know, presents the "Ridler Award" which is the most prestigious award given to a hot rod in the world. This prestigious award always intrigued Al, because of the notoriety this show has attained through the many years of its existence.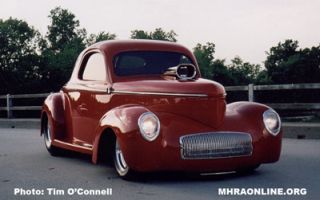 Several fabricators along the way helped build this "one of a kind" hot rod. After all, it took 17 years to build this masterpiece. The chassis was fabricated using 1 1/2 inch chrome moly tubing for strength. An early Boyd Coddington aluminum front end was mated to the chassis. Al then cut out a cardboard template for the rear end housing and presented it to his fabricator, and in turn the template was used as a guide and a sheet metal houseing was made in which a Ford 9" center section was installed.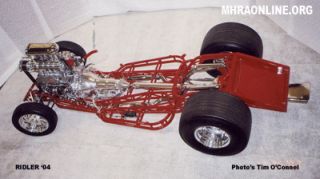 The engine is not your garden-variety 355 small block either. This engine is an all aluminum and all American Donovan. Hilborn injected and blown, this engine puts out a whopping 1100HP! This is the engine Al used to drag race back in the 60's. Al bought the Hilborn injection unit sitting atop the engine at a swap meet when he was 15 years old.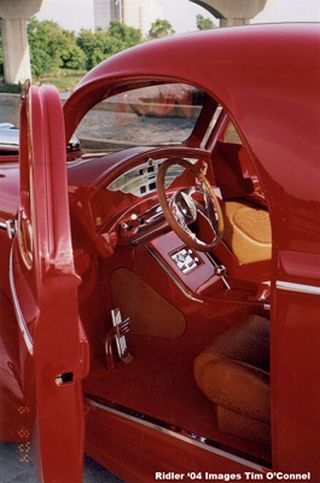 The upholstery is exotic as it is beautiful. Shober Trim and Upholstery covered the interior with ostrich hide. This is another detail that sends the on looker reeling.
A rough template was then supplied to us (J & B Microfinish) and after some redesign and refinement, we (J&B Microfinish) redesigned and handmade a winged billet dash insert unlike any other . We machined this winged insert out of high grade 6061-T6 billet and then polished it to perfection. This insert is shaped to a "Wings In Flight" theme and adds another dimension to the interior. Jason Arrigo, fabricated much of the sheet metal work in the dash and surrounding areas.
The body work and paint by J&D Enterprises in Lockport,IL is without a flaw. Fit and finish is one of the many details these cars are judged on, and I've got to say this hot rod stands tall in this department. Ron Kral gets credit for shooting the car using PPG Milano Red Base Coat/Clear Coat.One look at the engine compartment and you may notice the smooth firewall, the double walled hood sides, and wheel housings, with not a stone left unturned. Throughout this feature, I have been referring to this Ridler rod as a 37, but in actuality this is a 41 front end mated to a 37 Willy's back. Yet another show stopping feature to the educated eye.
This years Autorama featured many worthy Ridler contenders, the best the world has to offer. For the past three years builders from California have won the Ridler hands down. With Steve Moal / Lil John Buttera, Dominator Street Rods and Rutterz Rods in the field one had to feel the odds were stacked against a win. However, Sunday February 29th at 7:00pm the Ridler was awarded to a car that jusifiably brought the award back to the Midwest. Yes that's right Al & Leora Brockly will reign for a year as the recipients of an award that's known throughout the world. New for this year is the "Builders Award" focusing on the winning builders, which is long overdue. You can check out this masterpiece on "Rides" airing on TLC, The Learning Channel, March 16th at 8:00 pm central time.
The King has been pictured on the front cover of both Street Rodder and Northern Rodder. In addition to being on the front cover, it was featured in Street Rodder and has also been featured in Street Rod Builder, Super Rod, American Rodder, On The Road and NSRA Street Scene magazines.
Congrats Al, Leora, and the many craftsman who made Al's dream come true by winning the "Ridler Award".