Phil & Deb's 46 Woody Wagon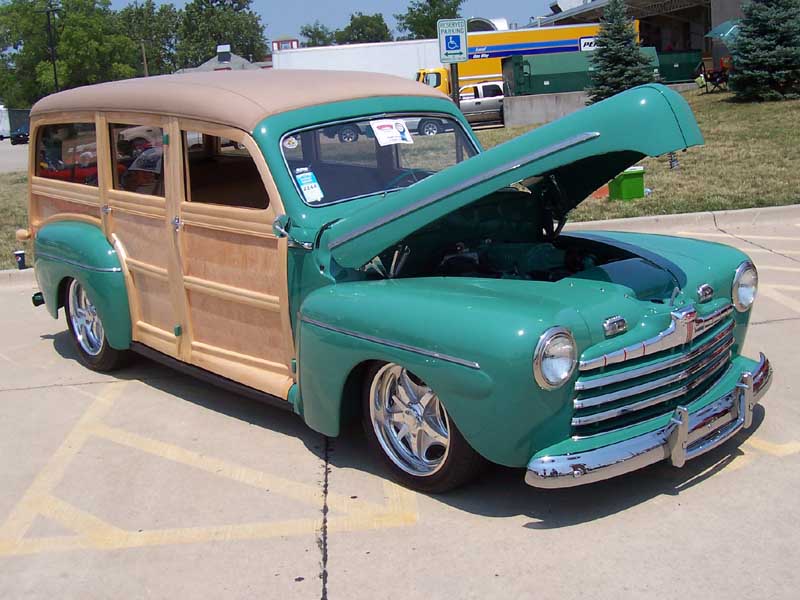 Woody's have always been a favorite among the hot rod crowd. When I look at one, I immediately think of The Beach Boys, Southern California and surfing. So who would have guessed that a vehicle that is normally thought of as a California based vehicle would reside in Dwight, IL?
Phil and Debbie Becker's fine 46 Ford woody wagon, shown here, quite possibly is the finest woody wagon that we have every worked on. Where some owners of hot rods being built today sign checks to have the work done by someone else, Phil being a very hands on kind of guy did most of the work on his woody wagon himself!! Phil disassembled the car, fabricated many sheet metal parts, wired the car, installed the air conditioning system and basically did most of everything else required in the build except the paint, wood and upholstery.
Starting with the frame, the original unit was completely boxed. A Heidts Superride front suspension, complete with coil overs, 6 piston Wilwood brakes and a power rack and pinion were installed. Outback, a venerable 9" Ford rear end assembled with a 3.73 gear, with big Torino bearings pressed onto Strange axles was assembled to the chassis. Wheels and tires were then selected and installed. Schott wheels were chosen, 17 x 7 up front and 18 x 8 for the rear. The tires mounted to the great looking Schott wheels are Michelin Pilots 205-50R17 and 255-60R18 respectively.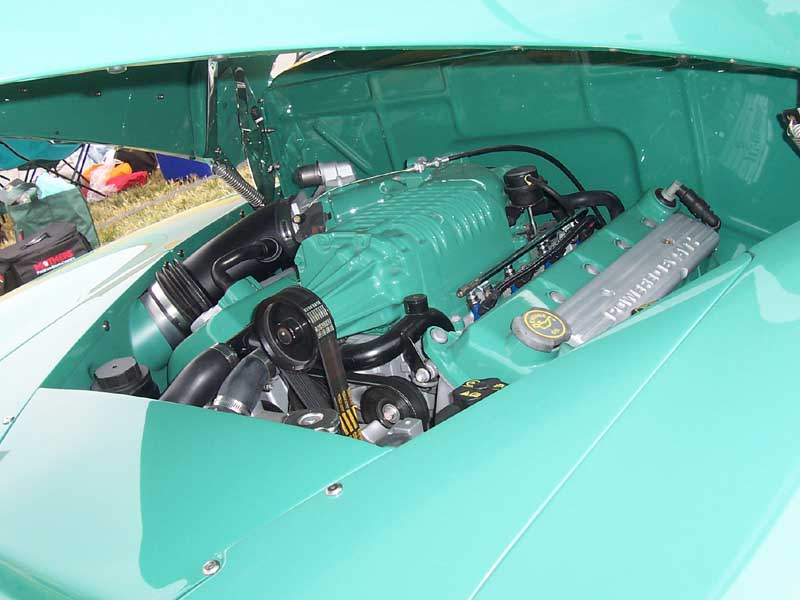 Phil knew the engine selection could make or break the final outcome of the wonderful woody, so he decided to install a 2004 4.6 litre, dual overhead cam super charged Cobra motor. I couldn't have agreed with him more!! This engine not only looks incredible in the engine bay, and it propels this 46 Ford like a "rocket ship". Retrofitting this massive engine to the woody wagon didn't come easy, however. Due to space limitations, a lot of work was done in fabricating and rerouting the radiator tubing and hose, the oil filter was retrofitted and relocated to the inner fender behind the left headlight and the air filter system was relocated to behind the right headlight. The Detail Zone from Dover, DE supplied Phil with one of their engine management systems. Phil chose a 4L70 Ford Automatic transmission bolted to a Wilke built custom aluminum drive shaft.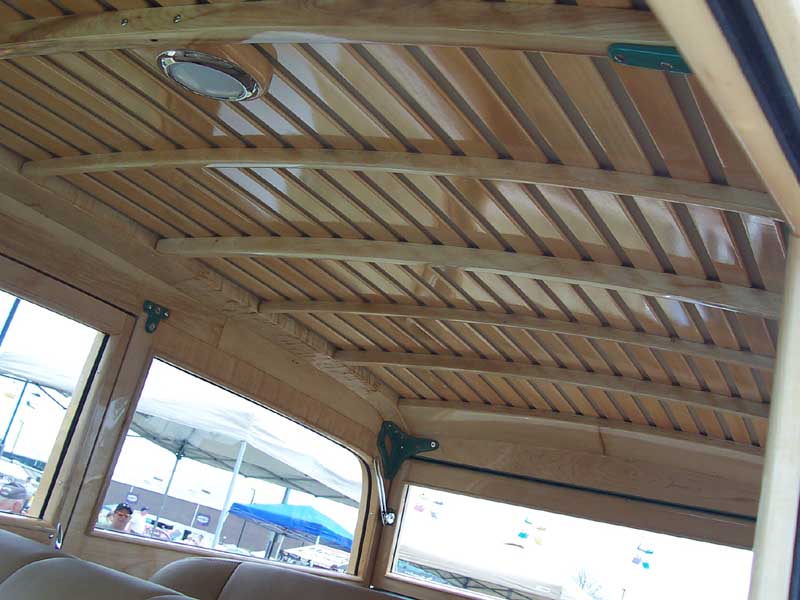 With the chassis and drive train complete, now is the time to do the body work and wood. The Becker's woody has an original Ford body. Phil knew that the original frame work for the wood was going to need some work. So an entire super structure was made to in sure rigidity. The inner and outer wood panels were made of birdseye maple, while the super structure was made out of hard maple. Basswood was used for the inside ceiling slats. This amazing wood work and clear coating was done by Dave Martin of New Old Wood of Brussels, WI. More body mods include v-butting the windshield, elimination of the vent windows, slider windows and mid partition back window. A new roll pan, inner fender panels and rock shields between the bumpers and body were all handmade.
Next up the body was trailered to a good friend, Larry Seabert owner of Tech-Ni-Kolor Body Shop in Dwight, IL where a custom mix single stage DuPont Chroma Premier paint was applied over laser straight body work that his shop also performed. The color has been given the name "Just Green", and I think that describes the color perfectly.
The interior design is a very important part of any hot rod and this wagons interior looks incredible. The stock dash was improved upon by new chrome trim by Bob Drake. Phil at this point, decided to replace the old, tired stock gauging and proceeded to give Classic Instruments a call so they could supply him with one-off 5" and 2 1/8" gauging that fit the design of this car perfectly. Classic even shipped the superb gauge pointers to Phil so he cold paint them "Just Green". It's this kind of detail that sets one car apart from another.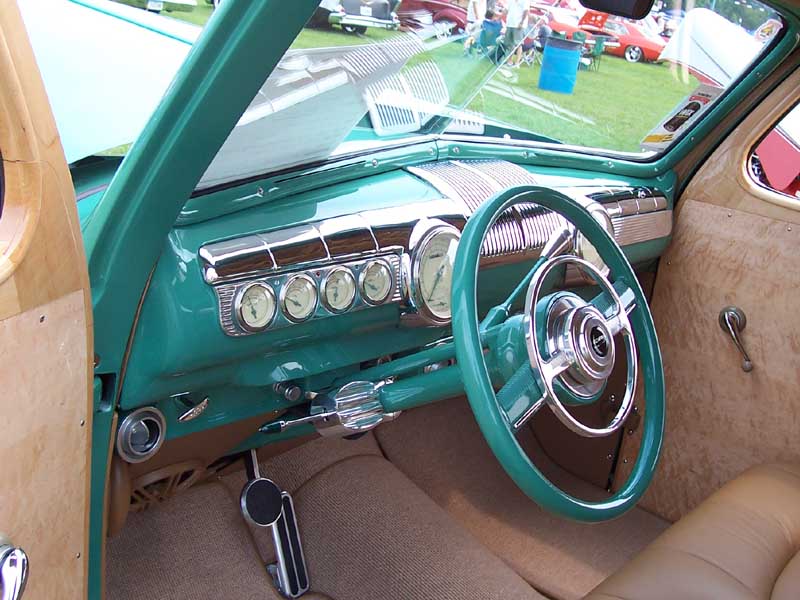 Next up Phil called us (J&B Microfinish) and had us make up one of our 46 Ford dash panel and bezel kits (part #1583), complete with the glove box door trim option. Upholstery was aptly stitched by Schober's Upholstery using tan leather and tan German square weave carpeting throughout. Schober's also covered the top with tan Mercedes Benz Hartz Cloth.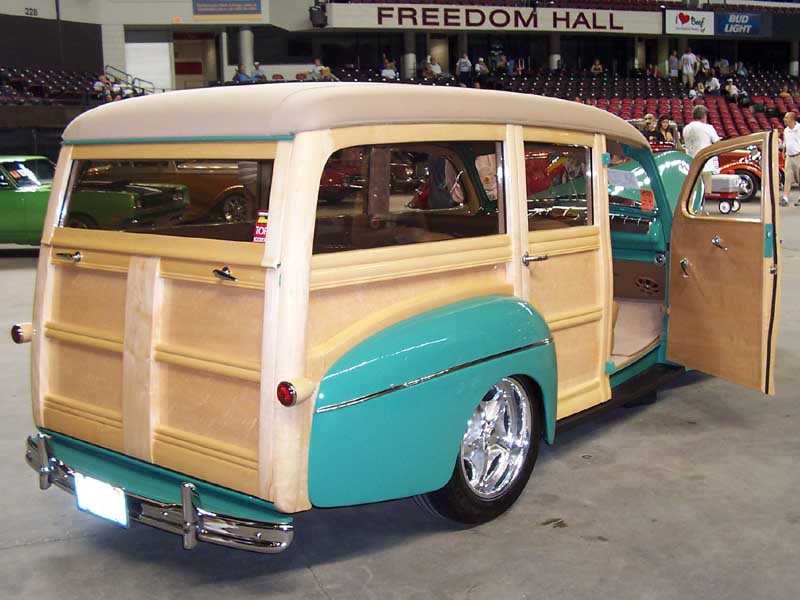 Other detail on this wonderous woody include the stainless trim, restored by us (J&B Microfinish). All chrome was restored and triple chrome plated by John Wright's Custom Chrome Plating. The windows have been custom tinted in a bronze color to accent the wood that New Old Wood created. Two of the final details worth mentioning are the top tailgate was made to cover and seal the top of the lower tailgate to eliminate the gasket and a 2004 Cobra fuel pump was retrofitted to the original fuel tank.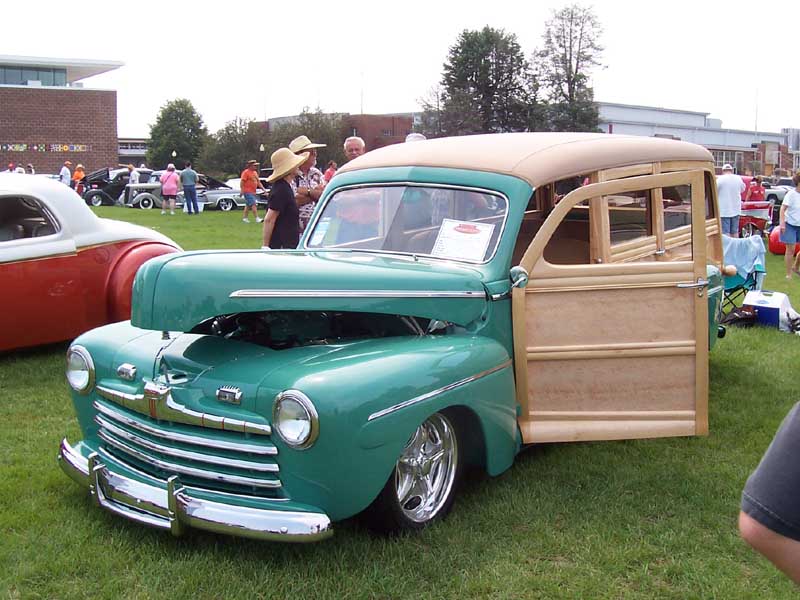 With this car freshly restored (it's been on the show circuit less than a year), it has already won some major awards and rightfully so. The first big award was the Chicago World of Wheels event where it was chosen as one of the Top 20 Best of the entire event. Considering there was over 600 participating hot rods at this show, including Ridler Award winners, this was quite an accomplishment. Next up the woody was transported to the Nashville Goodguys event where it was given a Meguiars Magnificent Masterpiece award. With the Heartland Nationals being one of the biggest events on the Goodguys schedule (it set an attendance record this year at over 3700 cars) Phil and Debs wild woody won a Roger Burman Builders Choice award, in which 1 is given to each of the 10 best cars at the event! Columbus is the biggest of all Goodguys events and this years event, although weather wise was very hot, still lived up to its reputation, and even with attendance down slightly the nations best showed up. The Becker's 46 Ford woody wagon won a Street Rodder Top 100 Pick, which qualifies it to be in the running for the Street Rodder Magazine's "Street Rod of the Year" that will be selected later this year. We'll keep you posted if this car wins the award. At the NSRA Nationals in Louisville, Phil & Debs Woody won a Pro's Pick Award (Top 12).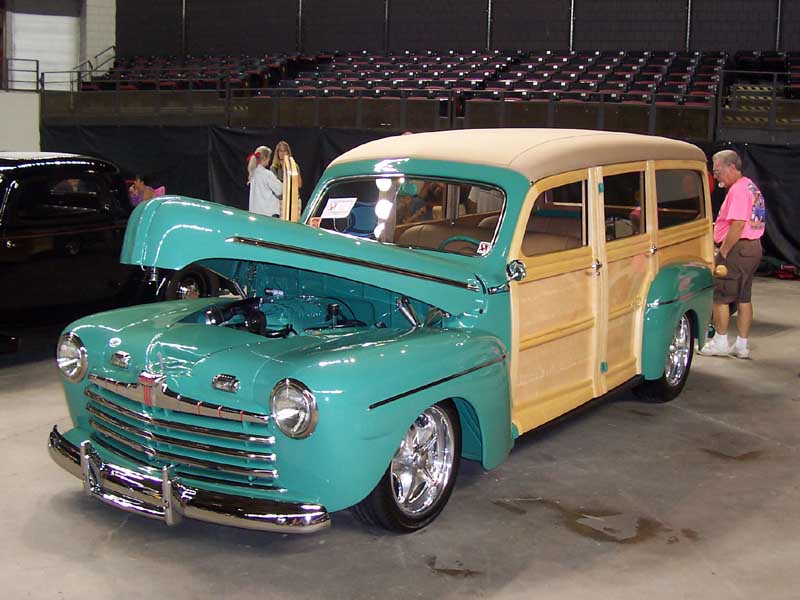 Success comes in many forms and with the "miles of smiles" the Becker family have witnessed in the building and displaying of this car and their 2011 Goodguy's "Street Rod of the Year" winning 32 Ford built by Dave Lane, Phil, Deb and the rest of the Becker family definitely have something to be very happy about and we are very happy for them for sure.