Burman Twin Pack
Goodguys Hot Rod of the Year Finalist & America's Most Beautiful Street Rod Finalist
Creativity is at the forefront of all successful rods built in today's rodding world.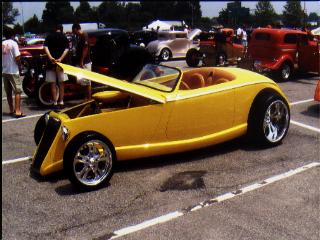 The two rods featured on this page exemplify creativity and take it to a new level. Roger Burman and crew at Lakeside Rods and Rides are the building team responsible for these two masterpieces.
Starting off with the 1935 Ford Highboy, it is to be noted that Marcel's Custom Metal in Corona, Ca completely hand formed the body from scratch using 18 gauge steel. After inspecting this 35 Ford, I've got to say its no wonder why they're considered the best coachbuilders in the world. Roger Burman originally drew up a concept drawing years ago and when Kevin and Karen Alstott, the owners of this fine piece, saw Rogers concept they gave Roger the "GO". The color of this 35 Highboy is PPG pearl yellow aptly applied by the Lakeside R&R team. Kevin & Karen selected the pearl yellow.
The wheels of choice are Boyd Coddington 18"x7" up front and the "massive" 22"x12" out back.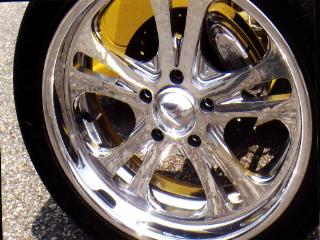 Roger sent us (J & B Microfinish) a sketch of a "flipper" style wheel center, and we promptly made a set of these wild one-off centers and shipped them so Roger could continue with the build. The centers provide another way in which all of the designed styling cues work in harmony with each other.
The stretched and fully gusseted chassis sports a 118" wheelbase with Boyd spindles, QA1 coilovers, Flaming River rack and Wilwood calipers.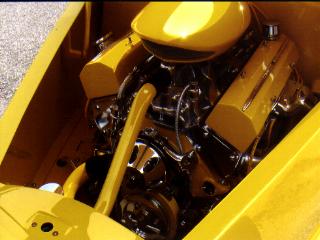 The 355 small block was assembled with many "go fast" goodies. Included in the list are JE 11:1 pistons, Eagle H beam rods, and crankshaft, Cloyes timing chain, Aluminum Dart heads, Edelbrock air gap intake, Demon carb, MSD ignition, Sanderson headers and Stainless Specialties mufflers.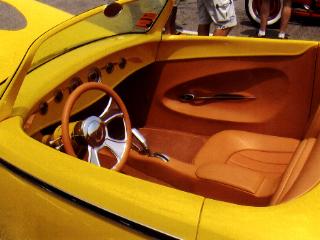 The Recovery Room of Plattsmouth, NE stitched the interior in a very elegant adobe colored Ultraleather, requested by Kevin and Karen. The heavily sculpted interior in conjunction with the Classic All-American gauges makes for a truly unique surrounding for the occupants.
So far this 35 Highboy has been featured in "Street Rod Builder" magazine with a 6-page feature. It has also been displayed in the Street Rod Builder Magazine, GoodGuys Gazzette and Street Rodder Magazine. In addition to the magazine coverage it has also been awarded a "Boyd's Pick" at the Goodguys Indy Bash and a "Righteous Roadster award" at the Goodguys Heartland Nationals and was a top 5 finalist for the Goodguys Americas Most Beautiful Street Rod Award Finalist at the West Cost Nationals in Pleasanton, CA and Goodguys Hot Rod of the Year Finalist in Indianapolis, IN.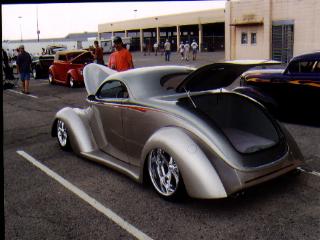 The next Lakeside Ride, owned by Doug and FLo Hoppe of Sioux Center, Iowa, is a 1937 Ford that was another big hit this past summer at National events it attended.
This Minotti won both a "Boyd's Pick" and a Street Rodder Top Ten at the Indy Hot Rod Nationals and "Best Bitchin' Award" at the Heartland Nationals in Des Moines, IA this past summer. This is no small feat considering the competition at hand. Definitely a crowd pleaser, this car has the signature Burman design down pat.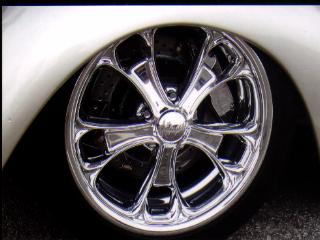 The details are endless, starting with the TCI frame, that has been outfitted with polished stainless control arms up front and a Currie finned aluminum 9" Ford with chromed axle housings out back. The wheels that Doug and Flo selected are Boyd Coddington 18"x7" and 20"x10" in the front and rear respectively. Roger again asked us (J&B Microfinish) to make a set of one-off wheel centers for the car, and this time requested that we engrave "Intimidator" on the dome of the centers.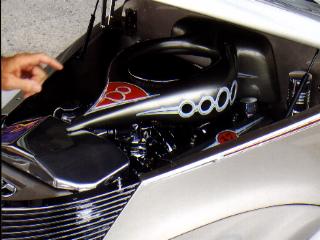 The 355 cubic inch small block is mated to a T56 six speed gearbox. One of the details that Lakeside is known for is the sculpted engine covers that have graced many of their latest and greatest creations. Again Roger and his crew have come up with another winner on this street rod.
The body is a work of art, thanks in part to Minotti. Minotti has created a truly sleek car that is worthy of attention. After the usual body prep, the car was shot by the Lakeside R&R crew, using PPG sunlit sand, and hombra green which visually gives this two-tone much appeal. Doug and Flo were responsible for selecting the colors. Curt Bacon of Fort Dodge, IA applied the way out graphics, which gives the car the right amount of "ZING".
Looking inwards to the interior, the Recovery Room of Plattesmouth, NE stitched another one of their works of art using Ultraleather as its covering. It has been highlighted in a 6 page feature in Street Rod Builder and displayed in NSRA Street Scene, Street Rodder Magazines and the Goodguys Gazette.
As can be seen in these two heavily modified street rods, the high tech smoothie segment of this sport we so emphatically enjoy is very much alive and well, thanks in part to the crew at Lakeside Rods & Rides.