Wiggins RPU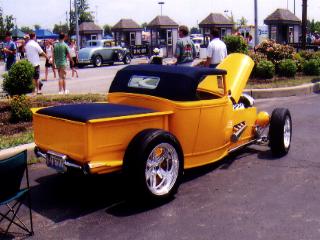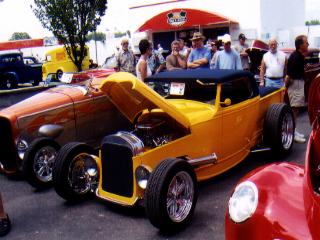 What can we say about Ron Wiggins, owner and builder of this magnificent 1929 Roadster Pickup. Here's a street rodder who knows how to have fun and who has an extreme talent for building hot rods. You may recall his 1928 Model "A" sedan (magenta w/ pearl white scallops, wide whites mounted on Halibrands), that graced many magazines in the early 90's. The same detail that's evident on the Model "A" has been taken to new levels on his most recent project on this page.
Deco styling is the theme for this hot rod, and is apparent in the bodywork, upholstery and many of the stainless pieces Ron made for his sometimes topless rod.
Some really cool detail shows through when viewing the body. Ron started with an abandoned 1929 Ford Murray four door sedan. This sedan was purchased for $5.00 from a landfill complete with title. What a deal!
Ron then scratch built the chassis with the side rails to look like a 32 frame, tailored to fit the body and pickup bed in a highboy style. Ezra Machine provided the bedsides, while Ron fabricated the rest of the bed. Many deco details were then thought of and executed on the body, including 1/4 by 1/4 stainless ribbing throughout, custom made console, eight level ribbed firewall, 1950 Pontiac taillights recessed in custom tapered bed tunnels made from exhaust megaphones, rear bumper made from a 1949 Chevy, a 1954 Plymouth, and a 1953 Buick, 18 gauge flush fit rolled bed pan, side and front sprint-like nerf bars, front radius rods were melded into side reveals of the frame from 18 gauge flat sheet stock. All of these details were thought of and made by Ron. The paint and prep work was accomplished by Ron with help from Dave Mounce.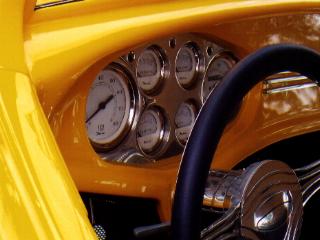 The interior seats and panels, designed by Ron, were scratch built and upholstered in navy ultra leather by the very capable hands of Kent Biedenharn and Lonnie King of Twin City Upholstery in Bloomington,IL. The aluminum hardtop and bed cover was also covered by Twin City, using navy Hartz cloth and white and blue ultra leather. Ron contacted us (J & B Microfinish) and had us design and build billet clutch and brake pedals and a billet 1" thick 6 gauge dash insert in which Faria White Face gauging was utilized.
Rounding out the interior detail, a Sony Sound System was employed complete with a 4 channel amp, Boston Acoustics speakers and a 10" woofer mounted in a home built stainless console enclosure that rocks.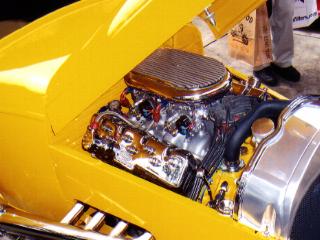 Check out the powerplant in this rodded roadster. Its a 351 Cleveland Boss out of a 1971 Mustang, complete with a hand fabricated low profile 2 x 4 intake manifold mated to a WC-T5, five speed and a Halibrand V-8 quick change with 4:11 cogs. The billet wheels are one-off by Boyds and were designed to have a 6 spoke "sprint deco" look. These wheels were machined to be true knock-offs which is a very cool feature.
Ron wanted to introduce this RPU to the world at an event that has long been known as the best indoor show in the world. His destination was the Detroit Autorama, and considering this would be the very first event the 29 would be displayed at, it qualified him a chance to run for the prestigious "Ridler Award". Although Ron didn't make it to the great eight, he did win his class. He was also approached by photography editors for Street Rodder, American Rodder, and Rodder's Digest about future feature photo shoots. Thus far Rons car has been given a front cover and "Ford Racing" centerfold along with a 5 page feature in the April 2005 edition of "Street Rod Builder" in addition to full features in both the January 2005 editions of Rod and Custom Magazine and Custom Classic Trucks. It has been featured in the April 2005 Rodder's Digest "Tech Tips and Assorted Builder's Tips" segment along with being displayed in Street Rodder, Northern Rodder Magazines, the Goodguys Gazette and Rod and Custom. This righteous rod was shot for the front cover of the Goodguys Gazette at the 2004 Indy Hot Rod Nationals, where it was also awarded a "Boyd's Pick". Ron's RPU took part in the "Goodguys Street Rod of the Year" competiton, held at the Columbus Goodguys Nationals in July where he came away with one of the Street Rodder Top 10 picks. At the September NSRA Northern Nationals in Kalamazoo, MI, he was selected "Top 5" Pro's Pick. In August Ron attended the NSRA Nationals in Louisville and came away with a Top 12 "Pros Pick" Award. This is quite an award because there were 11,000 plus hot rods in attendance.
Don't be surprised to see this Ford powered hot rod pickup flying down the interstate someday soon. Ron and his wife Karen like to drive their creations and believe that half the fun is driving to an event.
From the landfill to the Detroit Autorama, Ron has managed to create this work of art using a potpourri of car parts from as many as seven different cars. Congratulations Ron and Karen on another stunning homebuilt hotrod.