Pinkee's Rod Shop


A 1933 Ford Roadster "1998 Ridler Award Winner" and a 1933 Chevy Woody "Street Rodder Magazines "Street Rod of the Year Winner"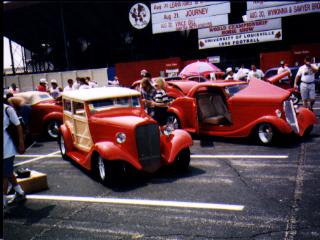 The two radical rods pictured above are Eric & Cristin Peratt's "Ridler Award" winning 33 Ford Roadster and their "Street Rodder Magazine's Street Rod of the Year" 33 Chevy Woodie. Their new rod shop, named Pinkee's in Loveland, CO features many sheet metal fabricating machines not commonly found in other shops. Eric handmade most of the body panels on both of these rods. The fit and finish of these panels is phenominal, and one has to understand that Eric managed all of this fabrication before he turned 30 years of age. It is to be noted that Brent Query of Brent's Restoration in Rochelle, IL helped Eric with some of the body work and also sprayed the Pinkee's red paint on both cars.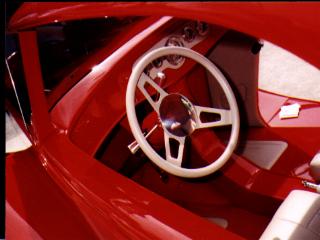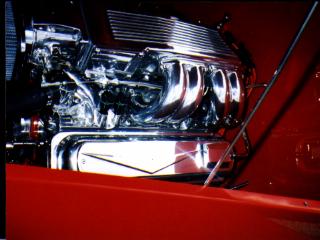 We at J&B Microfinish were called upon by Eric to create billet pieces that were unique to the rodding world in both function and beauty. Check out the steering wheel hub, gas tank cap, wire separators, u-joint covers, and several chassis components on the 33 Roadster. The Woodie exhibits a Peratt designed, J&B fab'ed shifter and linkage that was truly innovative. The steering wheel inset and hub, valve cover tops and breathers along with the wire separators were also fab'd at our facility. Both of these magnificent machines gathered much attention. These cars were featured on the front cover of Street Rodder, Rod & Custom, American Rodder, Rodders Digest, The Goodguys Gazette and Street and Custom Rodding Illustrated. They were also featured on the TV show NHRA Today and the NSRA Nationals Video. The 33 Roadster was also extensively featured on the FOX TV sitcom "Titus".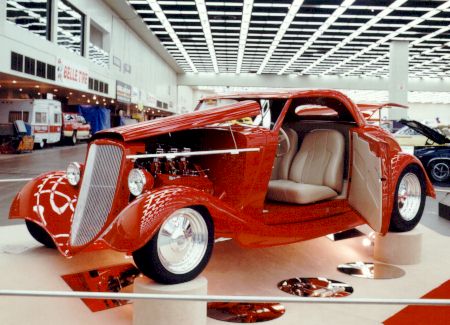 After winning the prestigious "Ridler Award", Eric and the new owner of the 33, Ken Reister transported the roadster to the Oakland Roadster Show, where it became the runner-up car for the "America's Most Beautiful Roadster Award". It was also awarded the Outstanding Detail Award, Steve Archer Award, and many others. The following week, the car was taken to the Portland Rod & Custom
Show and won the show's highest award, the Gold Crown Award. Congratulations to Eric and his crew on a job well done.