Gray's Garage 32 3 Window Coupe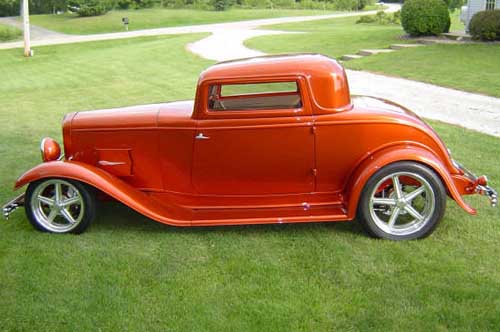 Gray's Garage known for building some of the finest 32 Fords ever built have once again built a stunning 32 Ford with a retro/contemporary style. Patrick and Linda Magee of Stoney Point, NY are the proud owners of this "Little Deuce Coupe".
The stance of this hot rod is near perfect, thanks to a chassis made by Everett Gray. Everett actually started with two original frames, and cut and welded parts of each frame together so that the finished product would be 10 inches longer than stock to accommodate a 330 c.i. Desoto Hemi and a 700 R4 transmission, equipped with a Hot Heads adapter. An independent Jaguar differential was used, which has been a trademark of most builds the Gray's Garage crew have successfully accomplished through the years. Up front a Heidts SuperRide was installed and 17" and 20" Intro wheels and Nitto tires were fastened to the rolling chassis.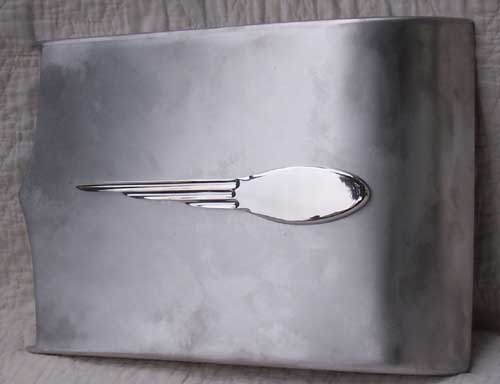 The body, handmade by Glauss Restorations of St. Libory, NE was stretched 10" and chopped 3". The longer, lower configuration really gives this 32 a very appealing look. Chuck and Everett asked us (J & B Microfinish) to hand fabricate unique styled hood side blisters/vents to accommodate the extra wide Hemi power plant. These vents will also allow the radical Hemi to breathe and cool easier in the small confines of a 32 engine bay.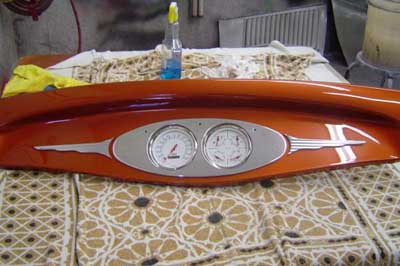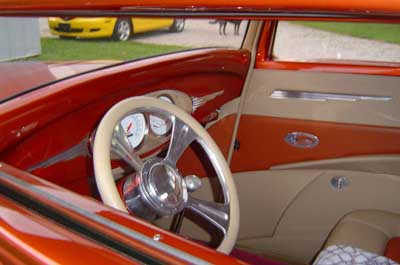 Chuck Gray, known abroad for his masterful paint and body work once again applied his magic to the exquisite 32 Ford. Chuck used PPG products throughout and decided that their "Orange Crush" color was the right choice. To further accent the color, Chuck chose to purchase and install copper tinted glass and the final look is awesome. Chuck was also responsible for all the assembly and wiring.
With all the mechanical and finish work completed it was time for the interior to be upholstered. Once again, Chuck chose Tazwell Custom Upholstery to finish off the interior. Tazwell used a high grade leather material and the results speak for themselves. Everett, Chuck and I, early into the project, discussed ways in which we could highlight the 32 dash. An oval theme was a sure bet, but after a picture of our new All American insert was shown to the father and some team, a decision was made to go with it, with a few exceptions. One design change was to machine the gauge bores with a 15 degree tilt. This idea allowed for easier reading of engine parameters for the driver. The second design change was to machine the winged extensions separate of the oval. This latter change gave birth to the design of the winged door trim and also the creation of 2 oval/winged trim pieces mounted to the left and right hood side blister/vents. This theme carried out to various parts of the car gives the overall design a thoroughly thought out execution and further enhances the look of the car.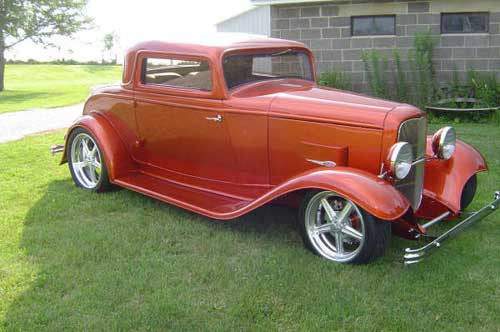 With all the thought and hard work done, it was time to tour a couple of rodding events across the Midwest. Chuck and Everett were rewarded with a "Shades of the Past" Top 25 Award at Pigeon Forge, TN. A truly prestigious award and one they will always remember.
Several years in the making, this 32 3 window is another fine example of the craftsmanship and elegance that is displayed on the cars built by Gray's Garage. As Patrick and Linda tour shows next year, it is no doubt this 32 will continue to turn heads and impress upon people the results than can be obtained by careful execution of applied talent.