John Lamb's 56 'Bird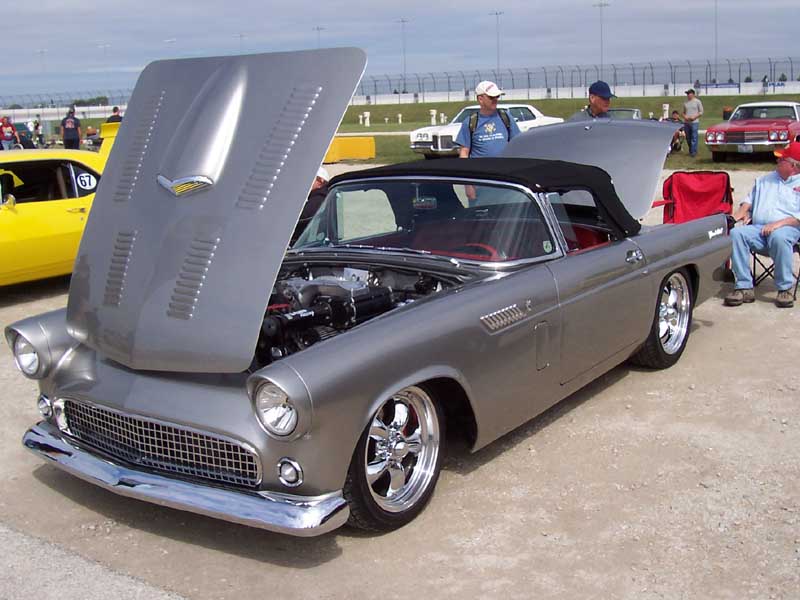 In 1955 Ford designers and engineers unleashed a revolutionary design that took the automotive world by storm. Alas, a 2 seat sports car that was made to compete with the Corvette, in both styling and performance.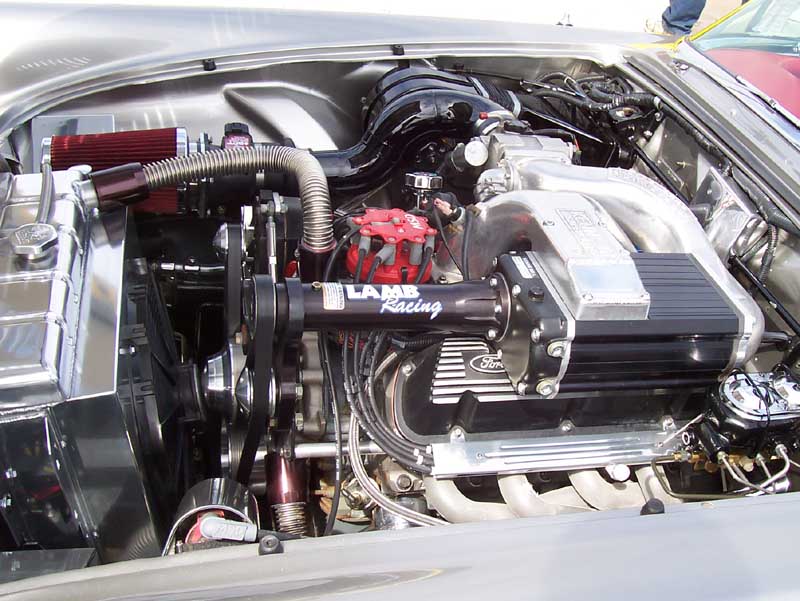 John Lamb of Seneca, IL owns this elegant ol 'Bird, designed by John and his son, Jeff to have both styling and performance, just the way it was intended initially. Only this time, with a whole lot more ponies than the original Y block powered 56 T Bird. John wanted more than the usual horsepower for his ride. So he opted for an injected Bob Kurgan tuned 302 motor, equipped with a Kenne Belle (8 lb.) Super Charger. This blower motor has been also equipped with Brodix 5.0 aluminum heads, Comp. Cam, 40 lb GT 40 injectors, Kenne Belle Boost A Pump, MSD Ignition, DSS Girdle and a Griffin fan and radiator. This engine swap no doubt gives this Bird a new set of wings, that's for sure.
The blown 302 is mated to a Trans Pro C-4 with a 2800 RPM stall Mick's Performance converter that is connected to a Ford 9" traction lok assembled with 3.89 gears. Sasser ceramic coated headers were installed and a custom 2 ½" Mandrel bent exhaust system was made incorporating Magna Flow mufflers.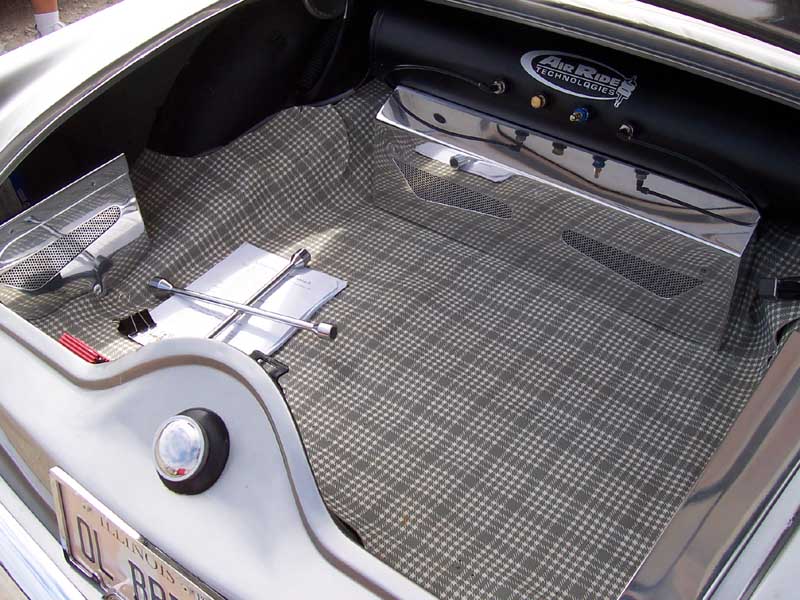 The suspension set up includes a Fatman Stage II front end, complete with a Flaming River manual rack, tubular control arms, Air Ride 4 link and Air Ride 4 way Ride Pro shocks. The wheels of choice are American Racing 17x8 with Dunlop 225-45R17 front and 245-45R17 rear rubber. John wanted the performance of the brake system to match the performance of the high horsepower engine so he selected and installed a Master Power 4 wheel disc brake system. To add a special touch to the appearance of the engine compartment and trunk, several covers and compartments were made by us (J&B Microfinish), including compartments to enclose the battery, air compressor, and air tank solenoids in the trunk. In the engine compartment, we handmade covers for the coil, ignition wires, and various other electrical components.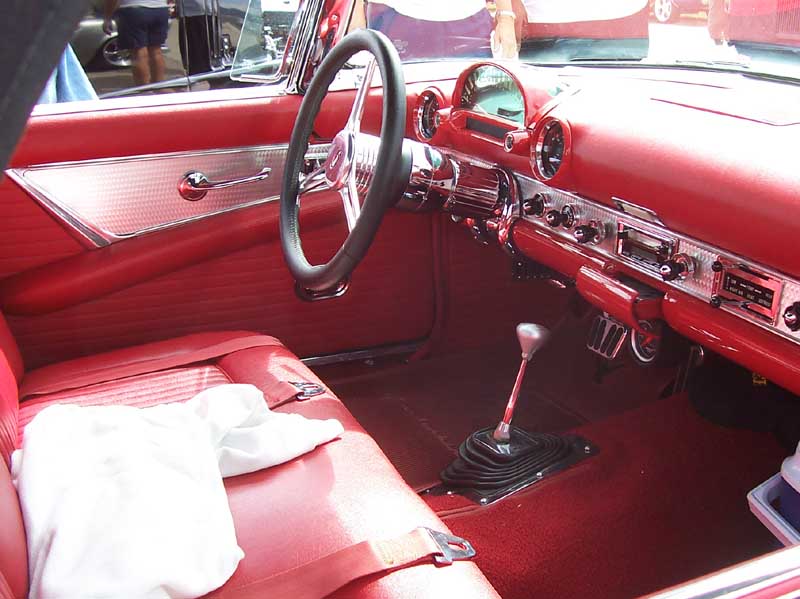 Stock upholstery covers the interior of the mid-fifties Thunderbird. The only modifications are the use of a Grant steering wheel, Classic gauges and a Lokar shifter. Xcaliber Auto Restorations handled the body work and paint, using PPG Titanium Polycolor that gives this custom a very distinguished look.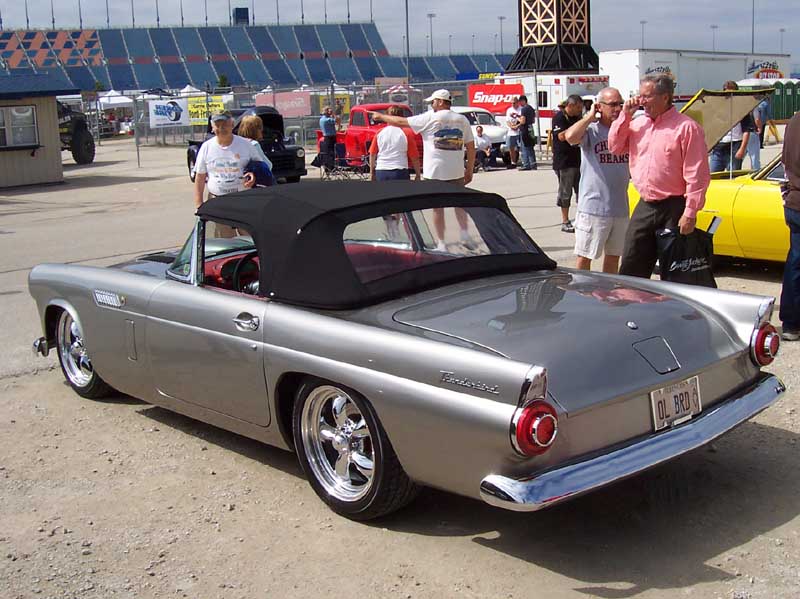 This 56 Bird is quite appealing to most. John has won many awards at both small and large events throughout the Midwest, including a Goodguys and a NMRCA event. Mustangs and Fast Fords magazine featured this 3000 lb beast not only once, but twice in their monthly publication.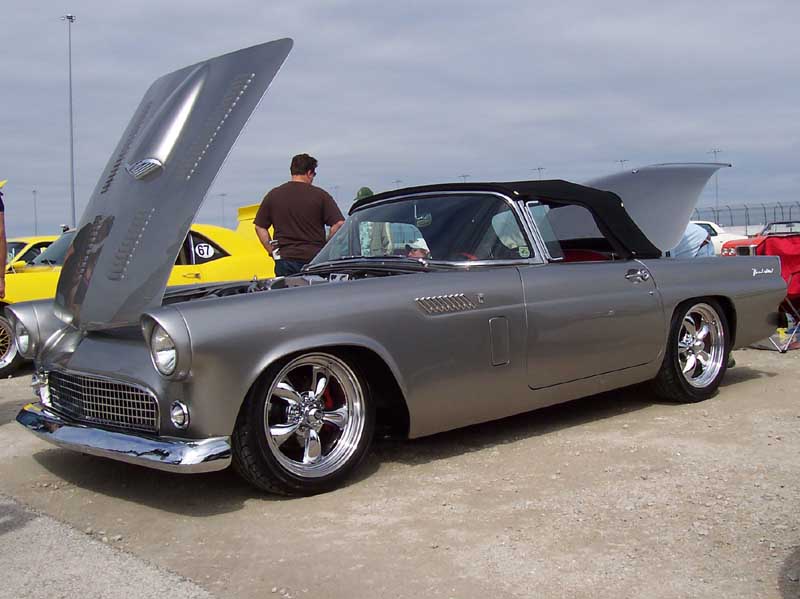 John and Jeff's knowledge of being drag racers really helped with the construction of this fine automobile. Jeff was an avid drag racer for 10 years with a Modified Super Stock Mustang. He was one of the few Fords in the field and put down low 8 second times consistently. As far as the 56 Bird is concerned it is proof positive that this car is a driver, and is driven to every event it attends. Congrats John & Jeff in creating a reliable car mechanically and a show stopper in appearance. A rare feat indeed.