SINSTER 37


Roger Burman of Lakeside Rods and Rides needs no introduction. He and his crew have built some of the most innovative rods and customs ever built.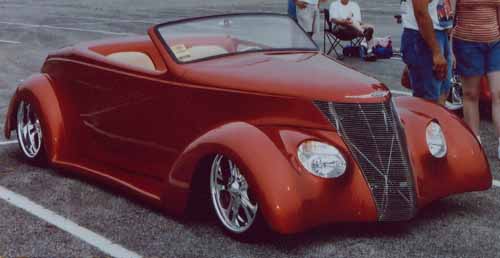 This 37 Minotti Roadster (1 of 6 made) owned by Kevin Alstott of Fort Dodge, IA displays this innovative thinking in both design and styling. This ride utilizes a complete C5 Corvette driveline including the Z06 Corvette engine, which allows this rod to have excellent performance and handling characteristics. A complete custom fab'd tube chassis was mated to this C5 driveline. A radical custom fab'd sheet metal air cleaner housing rounds out the engine bay.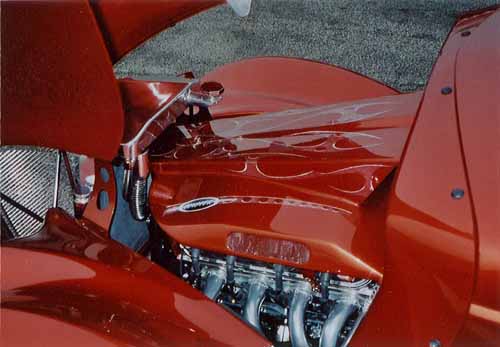 The slicked up body includes the use of Subaru headlights and some custom Lexan taillights that were sanded flush with the body. The hood, hoodsides and grille were grafted together and with the use of a motor and a pair of gas struts it was made into a unique tilt hood that opens and closes with a flick of a switch.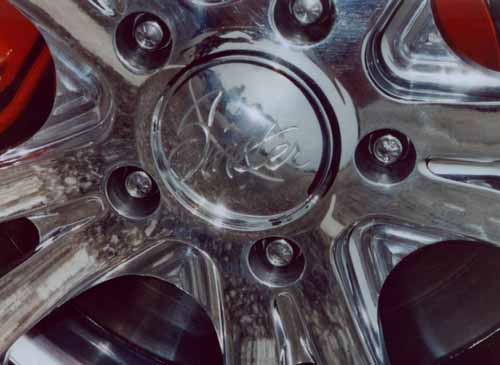 The wheels of choice where Boyd Coddington Shadow, 18's in the front, 20's in the back. Check out the domed wheel centers. They were fab'd at our facility out of 6061-T6 billet. These centers have been engraved using the name of the car "SINSTER" across the dome, for extra appeal.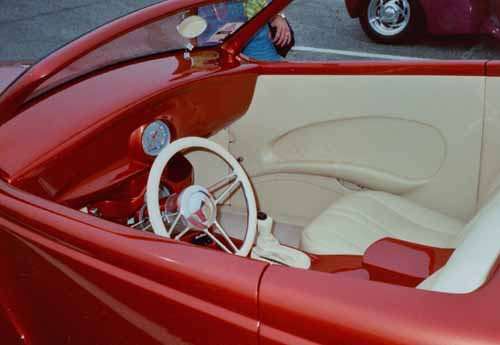 The way cool interior features a hand built steel dash and console that flows nicely with the outer bodylines. The ultra leather interior stitched by The Recovery Room of Omaha, NE gives this car a modern and luxurious look.
This radical rod at its debut, (Goodguys Nationals), was awarded a Boyd's Pick and a Street Rodder Top 10, and at the NSRA Nat's in Louisville, KY this rod was awarded a pro's pick. This radical rod has been featured in Street Rod Builder, American Rodder, and the Goodguys Gazette.