NSRA Giveaway 2003


When a very well known organization and a very reputable street rod shop come together and agree to create and giveaway a "State of the Art" street rod, it can only mean one thing to the participating enthusiast. AWESOME!!!

The National Street Rod Association has been known for its giveaway cars. The 2003 Giveaway built by Street Rods by Michael of Shelbyville, TN just very well may set the bar up a notch or two from previous giveaways. Michael and Rose Young and crew are taking all the necessary measures to insure a truly exciting and innovative hot rod. This Giveaway 32 is all Ford. And shouldn't it be? Happy 100th Ford Motor Company.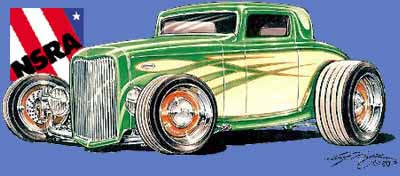 We have been asked to be an associate sponsor of this project and have contributed a custom one-off "true" oval billet air cleaner assembly complete with the Ford script engraved into the top. This item was featured along with the NSRA giveaway car in the April 2003 edition of Street Scene Magazine. It was also featured on the front cover, along with a full feature in the July 2003 edition.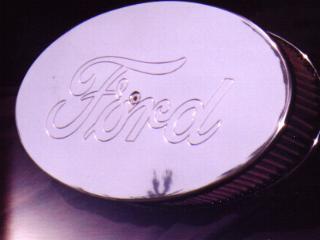 This radical rod is scheduled to appear indoors at this years NSRA Nats in Louisville, KY in the Street Rods by Michael display.
You can follow the build-up of this 32 Ford on the web sites Street Rods By Michael website or Street Rodding website. If you have any questions or comments email us at bertrand@bwsys.net.
Saturday, August 3 at 4:00 p.m. sharp, the 2003 NSRA Giveaway 32 Ford was unveiled. The "Street Rods by Michael" vendor booth was completely overrun by people anxious to see the rod they could win next year. While standing in the crowd I heard many favorable remarks.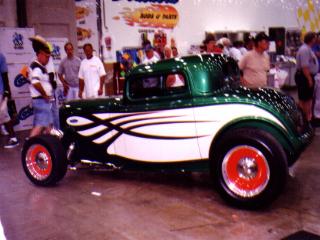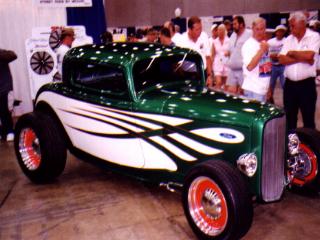 From conception to reality, this car is a hit and we're looking forward to seeing the lucky recipient win this work of art.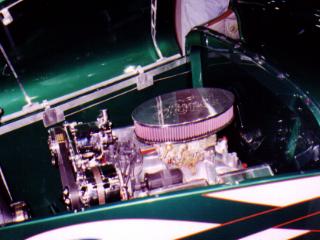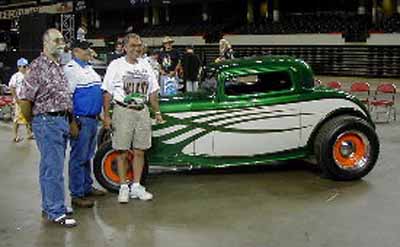 And the winner is: Bob White of Bethlehem, PA--Congratulations Bob