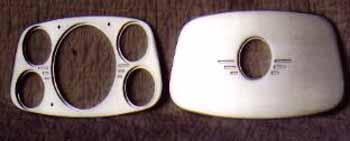 #1580 - 33-34 Ford "Retro" Dash Insert and Matching Glove box Door
Looking for a way to add a special touch to the interior of your 33 or 34 Ford? Well, here's a way to add some life to the dash area. The billet dash insert shown above is designed to fit Classic Instruments new line of gauging. Classic calls their new gauges "Speed-Tach-ular". The 5" center gauge contains both a speedometer and a tachometer. This feature gives the driver quick and easy viewing of critical driving parameters and aesthetically gives a nostalgic look to the dash area of your favorite hot rod. Also shown above is our billet glove box door machined with clock bore. (Also available without the clock opening).
Both products shown are displayed with a brushed finish. You can order both the insert and glove box door polished to a "mirror finish" also. As with every insert we manufacture, the gauge bores can be machined to accept other gauge models or brands. This product was featured in the June 2005 edition of Street Rodder Magazine and the 2006 annual edition of Street & Custom Rodding Illustrated Magazine.
Please Note: Classic Instruments "Tetra" gauges will fit into the standard openings of this panel. With the "Tetra" gauges, 3 gauge openings are required, as shown with the "Deuce" dash above.
Brushed 33-34 Ford Dash Insert $129.95
Brushed Matching Glove Box Door $99.95
Polished 33-34 Ford Dash Insert $139.95
Polished Matching Glove Box Door $109.95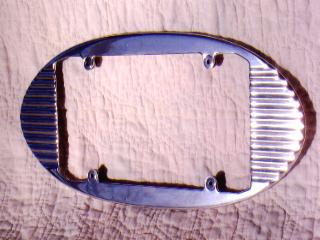 #2155 - "Oval Plate"
Getting tired of looking at the same old rectangular license plate frame on your hot rod? Shown above is our brand new license plate frame, designed with a "deco" look. This billet oval frame, ball milled and polished to perfection will compliment any rod or custom alike. The "oval plate" measures 7" tall by 16 1/2" long, is a 1/4" thick and comes complete with stainless fasteners. Custom sizes and shapes are available, so don't despair, just give us a call with your measurements and we will be glad to help.
Standard 7" x 16 1/2" is $99.95 Polished.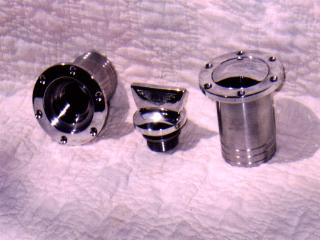 #2154 - Billet Gas Filler & Cap
Here is an accessory that's sure to highlight your rod, street machine, custom or truck. The gas filler fitting shown in the photo was installed on the 2002 Goodguy's "Custom Rod of the Year" (51 Ford Phantom Wagon) in Des Moines, IA. This product is made of only the finest aircraft aluminum billet and comes with 6 stainless flathead screws and nuts to secure it to the vehicle. A billet key is also supplied. This product is available in two finishes:
Polished- $209.95 or Brushed-$199.95.
Eliminate having to use a gas filler door, and at the same time make a statement. Order your billet gas filler fitting and cap today!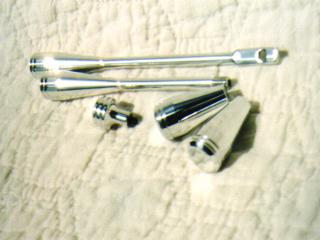 #1578 - Billet Solid 3-pc Column Dressed-Up Kit
This steering column dress-up kit, machined from solid 6061-T6 billet features no seams between the knob and lever, because each lever and knob have been machined from one piece of billet. This provides the builder a smoother, more distinctive looking product. This dress-up kit comes in two finishes:
Polished- $49.95
Brushed-$44.95.
This kit is shown here with our dash knobs, also available in two finishes
Polished- $10.95
Brushed- $8.95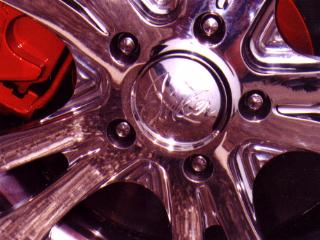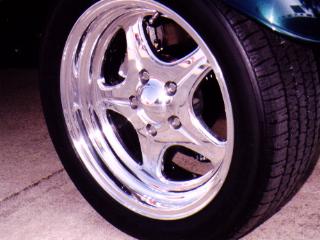 #2153 - Billet Wheel Centers
Boyd's Wheels have always been one of the the favorite wheels of choice amongst rodders throughout the nation. Pictured above is our Billet Domed Wheels Centers designed to replace the cast aluminum centers Boyd's supply with their wheel. This idea allows the enthusiast the option to attain a smoother look. Engraving is an option and adds yet another avenue to set your ride apart from the rest.
Polished $199.95 for a set of 4.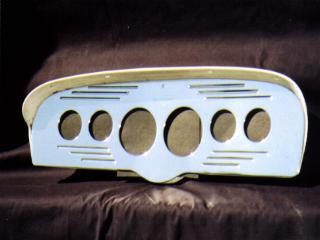 #1576 - 61-66 Ford F-100 Billet Dash Insert
Hot Rodding a 61-66 Ford F-100 is a hot new trend in the truckin' circle. Pictured here is our new 6 hole insert that allows the builder to install aftermarket gauges and beautify the interior at the same time. Made from 6061-T6 billet aluminum, it can be ordered in either a brushed or polished finish.
This insert fits a standard cab dash, but can be used for a custom cab if the steel insert from the standard cab is utilized.
** Please note: This item does not include original steel insert. **
Contact us for more information.
5 Hole Brushed $120.00
5 Hole Polished $135.00
6 Hole Brushed $135.00
6 Hole Polished $150.00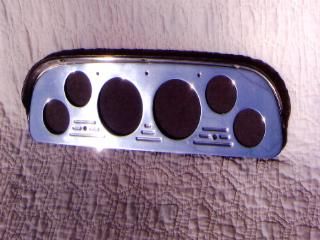 #1541 - "57-60 Ford Truck Billet Dash Insert"
1953-1956 F-100 trucks are no doubt the most popular classic truck of all time. However, new truck trends are starting to emerge. Other years, such as the 61-66 F-100 pickups are gaining the respect they deserve. One of our favorite years of trucks is the 1957. This truck has a certain "cool" about it, and more and more are being built these days. Shown above is our new billet 57-60 Ford truck dash insert, that allows the builder to use after market gauges in place of the original factory ones. The billet insert comes standard with gauge bores that will accept Classic Instruments gauges. The gauge bores can also be custom bored to accept all other brands and types. Looking for a way to add spark to your original dash board? Well then, this billet insert is for you!
Brushed 5 hole $109.95
Polished 5 hole $119.95
Brushed 6 hole $119.95
Polished 6 hole $129.95
6 hole billet insert shown above mounted inside original 57-60 Ford Truck steel insert.
** Please note: original Ford steel insert is not included with this product. **