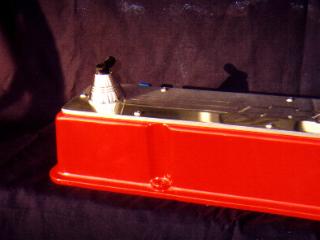 #1892 - PCV cover
PVC valves have always been an area on the engine that could use some detail. Shown above is our new PCV cover that not only encases the PCV but also covers the unsightly rubber grommet all in one unit. The result is an attractive polished billet piece that sits in a highly visible area.
$19.95 polished
Please specify grooved or smooth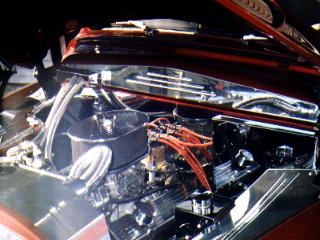 #1891 - Cowl Plate
Here's a accessory that's sure to highlight the underhood area of your mid century Merc. This plate is designed to fit over the front of the cowl area right above the body seam that separates it from the firewall. This area of the engine compartment is a difficult task to finish properly with bodywork or paint. The Cowl Plate is 46 3/8" long and 3 3/4 wide x.090 thick and comes with 2 flat head screws for securing it to the cars cowl. It can be ordered polished for $175.00, brushed for $155.00 and comes with 3 staggered ball-mill lines.
Polished Cowl Plate $175.00
Brushed Cowl Plate $155.00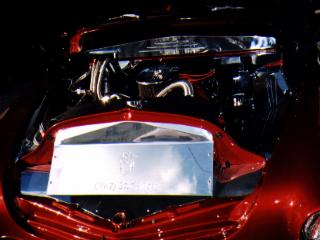 This cowl plate has been featured in Custom Rodder, and American Rodder Magazines. The 1951 Merc in the photo belongs to Tom & Gerry McClellan. This Merc appeared in the movie "Heart Like A Wheel" the story about Shirley "CHA CHA" Muldowney.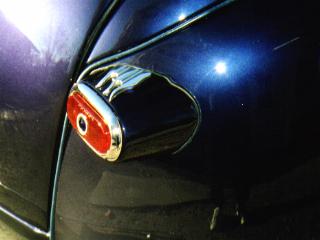 #2152 - 1946-48 Ford Taillight Housing Flamed Trim
Fat fendered Fords are increasing in popularity and here is an accessory that's sure to highlight the rear of your fat boy.
Polished for $89.95 pair
Brushed for $79.95 pair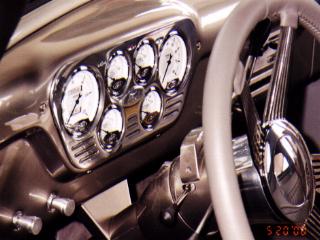 #1573 - 53-55 Ford F-100 6 Hole Dash Insert
Keep your dash and steering column uncluttered with this 6 hole dash insert. This insert features a tach bore for a clean central appearance. We are the originators of this 6 gauge hole layout and since its debut, a few have tried to imitate but none have equaled our quality or bang for the buck.
6 hole polished $134.95
6 hole brushed $119.95
5 hole polished $124.95
5 hole brushed $109.95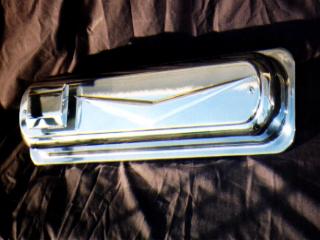 #1888 - Classic Tuned Port Valve Covers
These valve covers were inspired by Eric Peratt of Pinkees Rod Shop and feature a unique classic design for a variety of Rod & Customs alike. These valve covers were featured in Rod & Custom Magazine.
$249.00 pair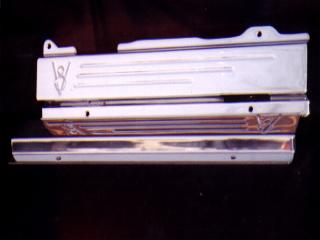 #1889 - Ford Modular Engine Wire Covers
These wire covers inspired by Everett Gray of Gray's Garage, They feature a one-piece design with unique ball-milling.
$139.95 pair