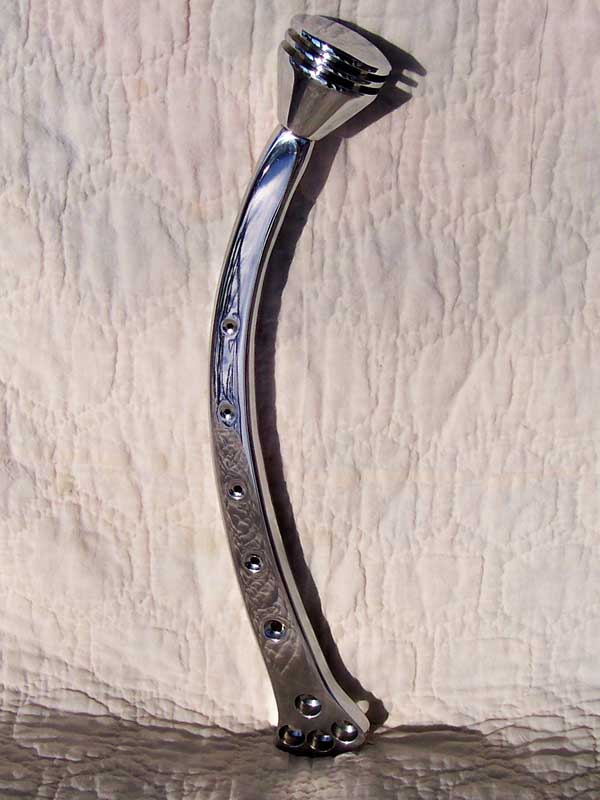 #1591 - "Highway Star" Series "G" Shifter
With the popularity of the 5 and 6 speed manual transmissions being set up and installed in hot rods of the current era, we have decided to design and manufacture an adjustable billet shifter handle. The "G" Shifter is made from 6061-T6 billet plate and features a three position mount, a sleek radiused design and a unique deep grooved, domed top shift knob all designed to complement the latest interiors of today's street machines, street rods, and classic trucks. The "G" Shifter can be ordered in an 8" and 12" long (shown above) handle variety, and as with all of our product line, we can custom make you a handle of a different length and or shape to suit your individual needs. This product will fit Borg Warner T5, T45, T56 and all Tremec Transmissions and comes with a 3/8-24 shift knob mount.
Brushed: $84.95 8" Shifter, Handle & Knob
Brushed: $114.95 12" Shifter, Handle & Knob
For Polished Finish, add $20.00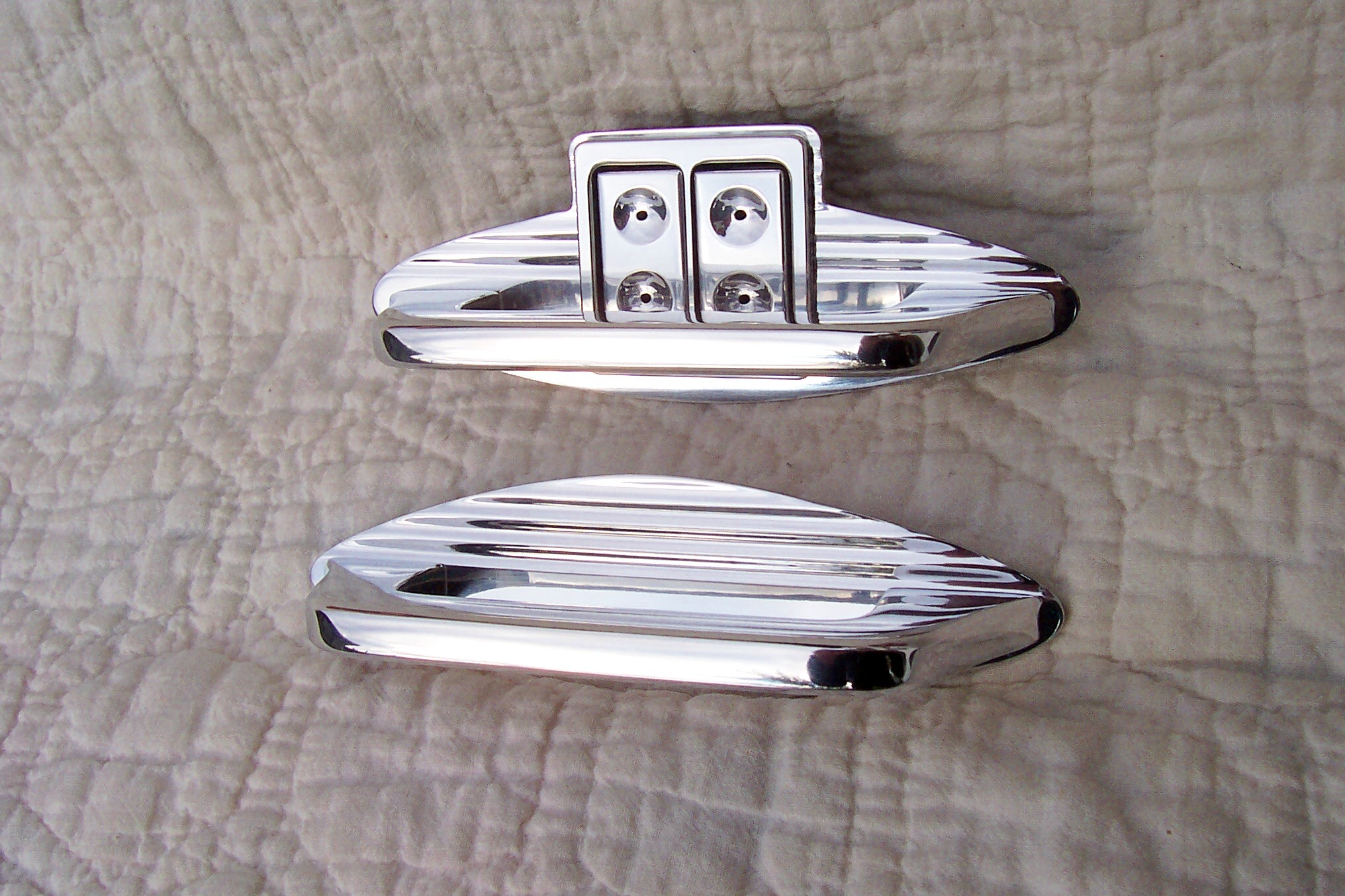 #1600, #1601, #1602, #1603 Billet Door Pull with Optional Backing Plate & Power Window Switch Kit
Styling and flexibility, mixed with simplicity is something we always strive to accomplish when designing our products. Shown above is our new billet door pull, available with or without power window switches and with or without the backing plate. The cool idea behind this product is that it can provide 2 functions in one small area, that measures a maximum of 2 ¼" tall by 6" long, for the power window switch option and 1 ¾" tall x 6" long for the door pull and backing plate without the switches. Your custom design for the backing plate or door handle shape is available upon request.

#1600 Door Pull & Oval Trim w 3 Power Window Switches $279.00
#1601 Door Pull & Oval Trim w 2 Power Window Switches $249.00
#1602 Door Pull & Oval Trim Without Power Window Switches $94.95
#1603 Door Pulls without Oval Trim & without Power Window Switches $69.95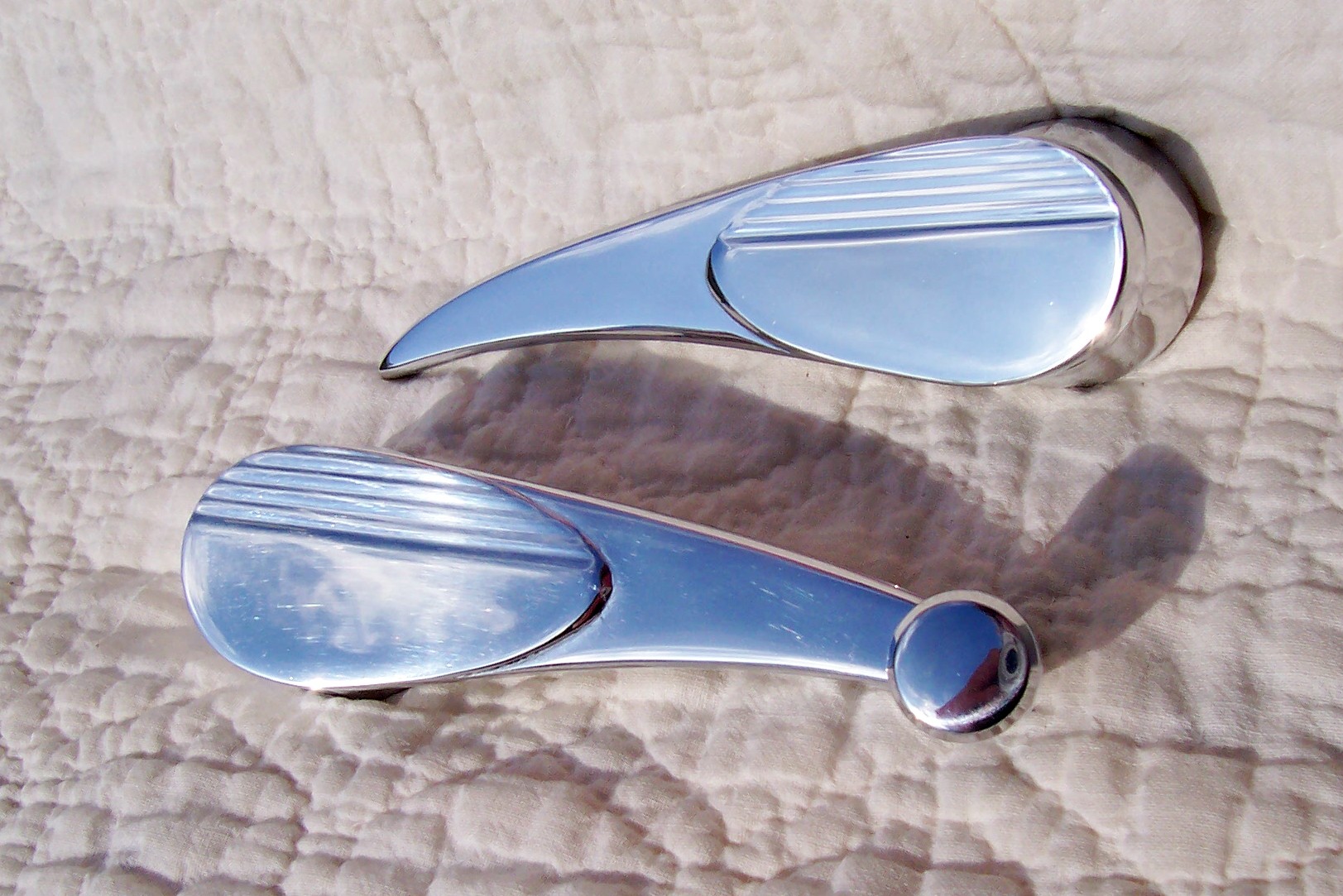 #1597, #1598, #1599 - "Retro" Series Billet Door Handles & Window Cranks
Looking to coordinate our line of products is always an ongoing approach that we have accomplished through the years. Our newest product the "Retro" Series Billet Door Handles and Window Cranks (shown here) have been designed to complement and coordinate with our "Retro" Series Arm Rest. We do this to give a uniform and consistent look so that there isn't a question of mix matching of products from another manufacturer. Available in polished or brushed, this new door handle/window crank kit is sure to please! Both the door handle and window crank measure 5 ½" long. Vent window cranks measure 3 ¾" long.
#1597BDH "Retro" Brushed Door Handle $74.95 pair
#1598BWC "Retro" Brushed Window Crank $74.95 pair
#1599BVWC "Retro" Brushed Vent Window Crank $74.95 pair
#1597PHD "Retro" Polished Door Handle $84.95 pair
#1598PWC "Retro" Polished Window Crank $84.95 pair
#1599PVWC "Retro" Polished Vent Window Crank $84.95 pair

*PLEASE NOTE: WHEN ORDERING PLEASE LET US KNOW THE YEAR AND MAKE OF THE VEHICLE. THANK YOU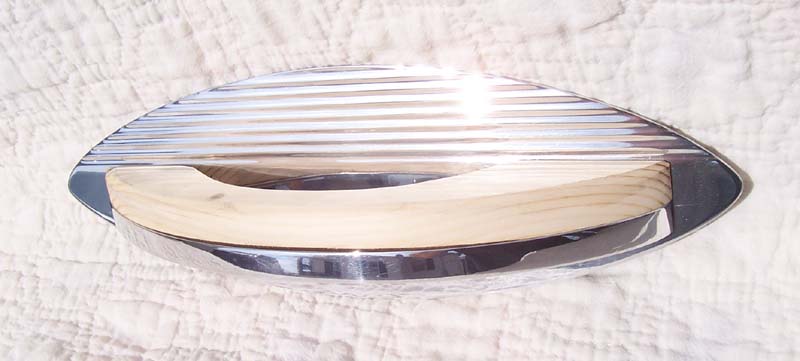 #1589 - Retro Arm Rest / Door Handles
Here's a new product designed to have nostalgic shape and also have simplicity in construction. Made from the finest billet stock, this product will bring quality to the interior of your favorite hot rod. The oval backing plate has been ball-grooved and the arm rest base has been contoured to give it a retro appearance. This product comes complete with a contoured wood block, ready for your choice of upholstery material and stainless installation hardware. The backing plate measures 12" long x 4 1/8" tall at the largest point.
Custom shaped backing plates are available upon request to meet your individual style.
Polished: $129.95 pair



#1594 - "Horsepower Series" Structural Billet Sill Plates
Here's a hot new product for late model Mustangs. These machined, billet sill plates come in two styles: Carbon Fiber Inlaid and Perforated Aluminum Inserts. Either style will highlight and update your current 05-09 Mustang, to present day Street Machine trends. The body of the sill plate is made of 6061-T6 ¼" thick plate and can be brushed, polished, anodized or powder coated for impressive results. Be the first on your block to have a set of these!
Polished or Brushed: $169.95 per pair.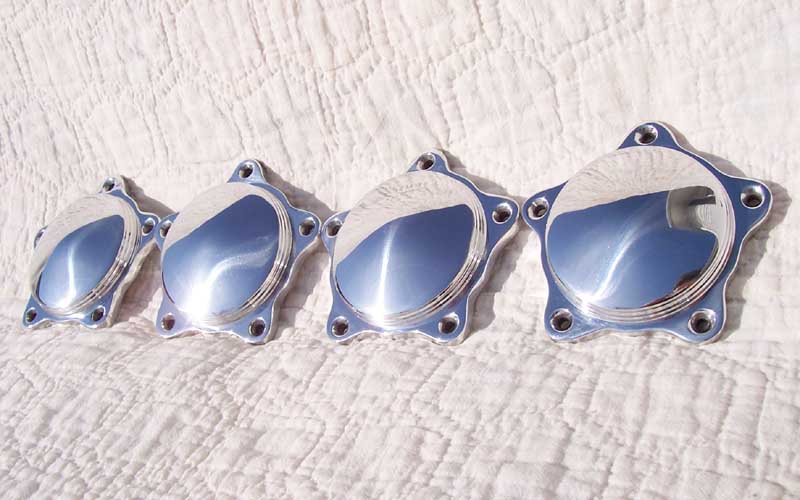 #2156 - Billet Domed American Racing Wheel Centers
American Racing Wheels have been around for many years. The timeless look of their line of wheels is a tribute to the hours of design work that went into each and every model of there line-up. New from J & B is our Highway Star Series, Billet Domed Wheels Centers designed for a cleaner look, while still retaining the retro look of the American Wheel model of choice. The 6061-T6 billet used in this product provides a product with excellent finish and strength capabilities that cannot be approached by cast aluminum. Another benefit is the billet material is more easily maintained. Looking for a way to innovate your ride and set it apart from the rest? Get your J & B Billet Domed Wheel Centers today!
Brushed $199.95 per set of 4
Polished 249.95 per set of 4



#1585 - 61-62 Chevy Billet Dash Insert
With the popularity of resto mods at an all time high, J & B introduces a billet full length dash insert for the 61-62 Chevy sedan, hardtop and wagon. Designed to replace the original worn out and inaccurate gauging, this insert will update the interior to modern day electronic and/or mechanical aftermarket gauging. Shown here with 6 gauge bores and a polished ball-milled finish, it can also be ordered with any number of gauge bores and a brushed finish. The insert show above is made out of ¼" thick 6061-T6 billet plate. However, if you are looking for a less expensive alternative, we also offer an insert of the same shape that is .090" thick.
¼" thick 61-62 Chevy Billet Dash Insert. Polished or Brushed: $199.95
.090" thick 61-62 Chevy Billet Dash Insert. Polished or Brushed: $149.95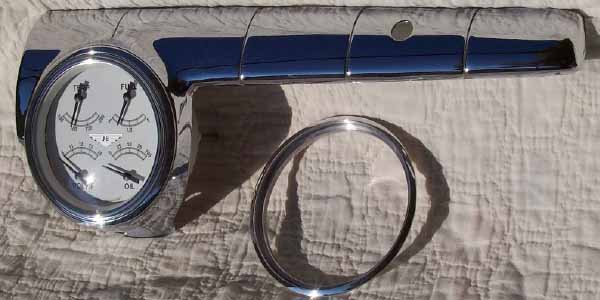 #1583 - 46-48 Ford Billet Dash Inserts
With the popularity of the fat fendered Ford on the increase, J&B has decided to offer a complete array of dash inserts for the 46-48 Ford. Offered in various kit forms, this product will liven up the dash area of your favorite post-war Ford
So, if you're looking to replace the old worn out original gauging and replacing them with new accurate gauging, this product is a must have.
Please specify what brand of gauges you'll be using and whether they are 2 1/16&quot, 2 1/8&quot, 3 1/8&quot, 3 3/8" 4 3/8&quot, 4 5/8&quot or 5" diameter. We can make any gauge fit this product.
46-48 5 Gauge dash inserts $142.95
Adapter Bezel for a 6th Gauge $59.00 extra
46-48 Matching Glove Box door trim $54.95 extra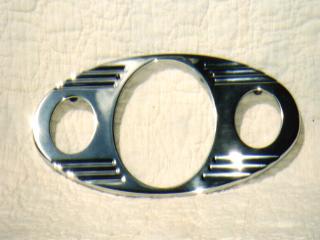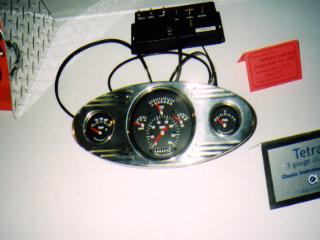 #1579 - "Deuce Dash Insert"
4 in 1 gauging has become quite popular among the street rodding crowd. The "Deuce" dash insert shown above now allows the builder to use the new, great looking, Classic Instruments "Tetra" Gauging in a compact 32 Ford insert that bridges the gap between high tech and nostalgia hot rods. Each insert is machined from 6061-T6 aircraft billet aluminum and is polished to perfection. The "Tetra" gauging is mounted from the back with stainless hardware that's provided with the insert. Looking for a way to set your 32 apart from the rest? Order your "Deuce" today. This insert will also fit any flat dashboards from other years and makes of cars or trucks. The "Deuce Dash" has also been featured in Rod & Custom Magazine.
Polished: $139.95
Brushed: $129.95



#1588 Billet Door Holders
Designed to add extra detail and function, this product is sure to please the avid showgoer. Solid billet construction and a mirror polished finish gives this product the edge. This product will hold the door open 12" to allow the viewer visibility of the interior. Fits most GM cars of the 70's and 80's eras. Custom fit and lengths are available for an additional charge.
$45.00 each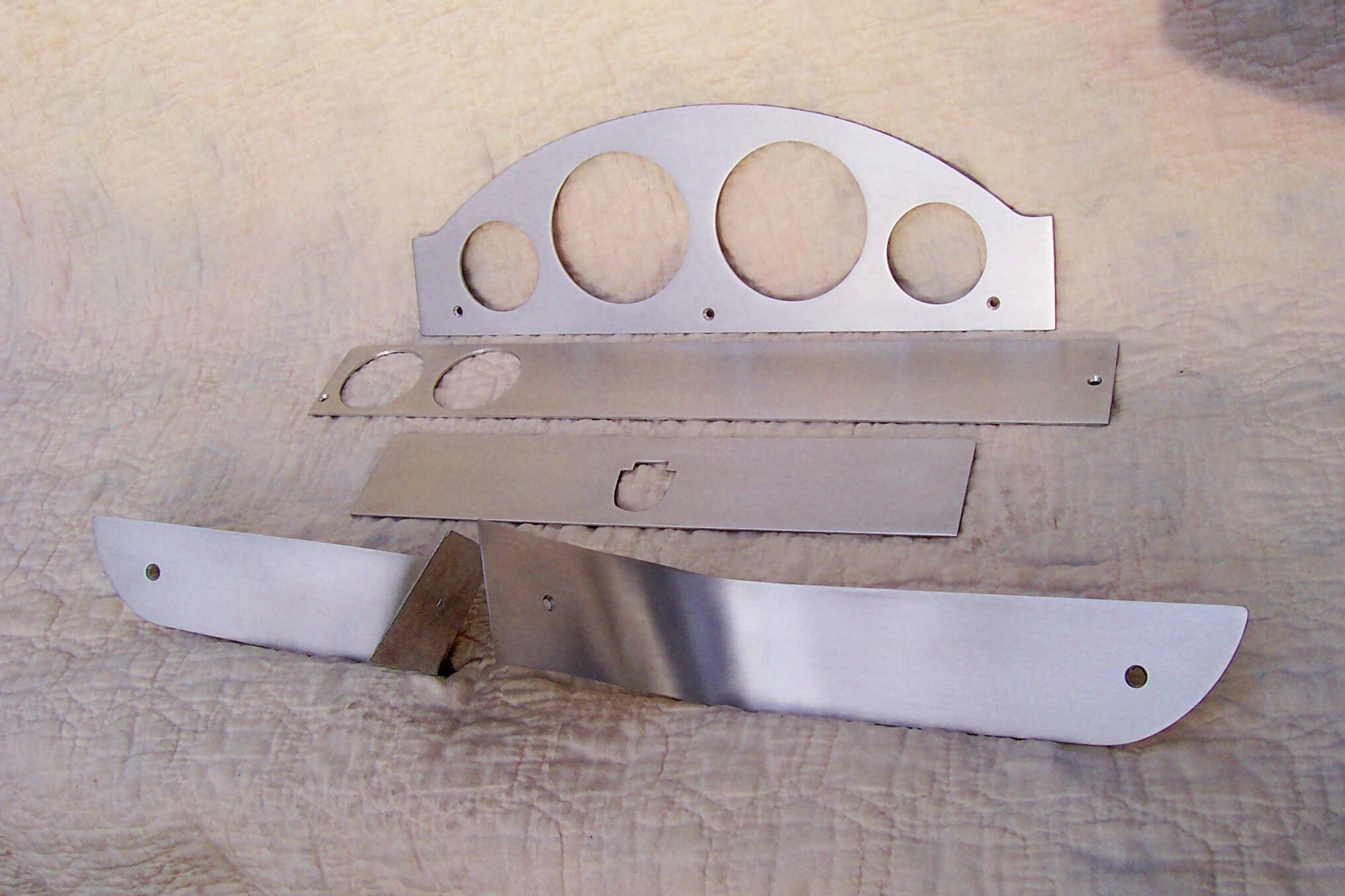 #1584A 1957 5 & 6 Hole Dash Panels
In 1957, Ford redesigned their entire line-up. The styling of this car is exquisite and is gaining popularity with the hot rodding crowd. Having owned and driven a 57 Ranchero for several years, I picked up on the many strengths and some of the weaknesses of this year of Ford. One of the most evident weaknesses was the dash and its gauging. This is why we developed a full length dash panel kits so that after market, fully reliable and more accurate gauging can be utilized. So, if you are looking to update your 57 Ford dash, give us a call and we will make your dream into reality.

Brushed 5 piece kit for 5 or 6 gauge set up $390.00
Polished 5 piece kit for 5 or 6 gauge set up $430.00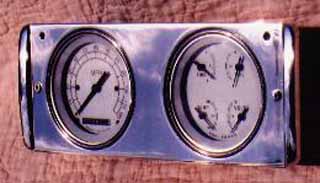 #1581 - "Billet 40 Ford Dash Insert"
The focal point of the interior of any car or truck is the dash board area. By popular demand, here is our contribution for the 40 Ford. This dash insert, constructed of 6061-T6 aircraft billet, is designed to have an extra twist. Included with the dash insert is a plexiglass facia piece which gives this insert an extra smooth and classic appearance.
The gauges are designed to mount from the back. Show here using Classic Instruments Classic White Quad gauging, this insert is sure to turn heads at the next rod run. As with all of our inserts, custom boring for other gauge brands is also available. This dash insert is the highest quality, least expensive 40 Ford insert on the market. Order yours today.
Polished With Plexiglass: $164.95
Polished Without Plexiglass: $139.95